Textilegence July August 2023 issue presents you with the latest developments from the textile and printing industry, especially the new edition of the ITMA, Olympics of textile machinery, which was held in Milan in June. Numerous interesting innovative technologies filled the booths at ITMA 2023 which was organized on 8-14, June. As Textilegence, we talked about the details of all these innovations also the present and future of the textile industry, which is shaped in the light of new demands, in interviews with textile machinery manufacturers.
We talked with Fritz Legler about new weaving solutions from jacquard machines to warp control and customer portal at Stäubli's ITMA 2023. Emphasizing its commitment to sustainability and innovation throughout the exhibition, Brückner shared its groundbreaking technologies with the global industry, empowering its customers to embrace a greener and smarter tomorrow. We listened to the details from Advertising and Marketing Department Head Verena Ruckh at Brückner. Drawing attention with its colourful booth concept at ITMA 2023, Mimaki was the center of attention with its 'print removal' technology as well as its printers that make a difference in the market. General Manager Sales, EMEA at Mimaki Europe and Mimaki Eurasia General Manager Arjen Evertse explained the details of new Mimaki technologies to Textilegence. All and more are waiting for you in our new issue.
Textilegence July August 2023; the most up-to-date and comprehensive content
In this issue, we present you ITMA 2023, which is on the agenda of the textile industry, as well as other current developments: Kudu, the first swissQprint printer with 10 colour channels and a glass option that makes printing on glass surfaces easier and higher quality than ever before, won 2 EDP Awards. FESPA GPE, European Sign Expo and Personalisation Experience were the center of new business opportunities for the sign industry. COMPACTapron, the latest addition to the SUESSEN compacting family, offers more advantages compared to other compacting systems.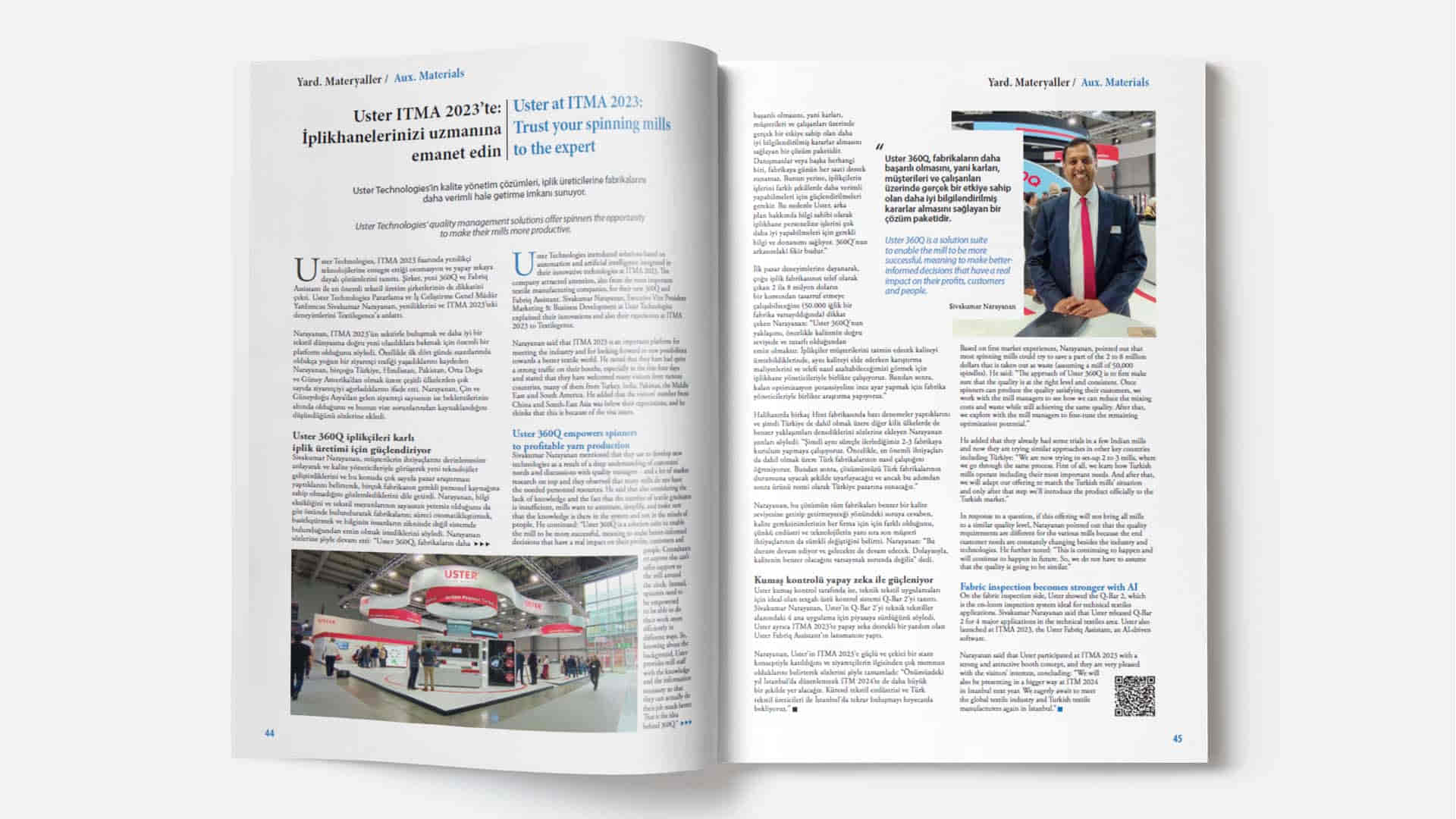 There have been also new developments in the sector within the scope of sustainability. For the first time, the Turkish textile industry has discussed the road map for clean production and water consumption with the gathering of all relevant parties. Scientists from Ege University have developed a 4-stage treatment system that will enable the use of wastewater from textile factories in agriculture.
We invite you to the pages of Textilegence July August 2023 issue to reach the latest news from the textile industry. Have a pleasant reading.