Textilegence June 2023 issue gives a preview of ITMA 2023, which has been awaited with great excitement and curiosity for 4 years. The companies that will participate in the exhibition to be held in Milan on June 8-14 shared their first announcements about their surprise innovations and events with the public. In addition to the latest technological developments in a wide range from finishing to weaving, from spinning to digital printing, we, as Textilegence, share with you in this new issue what awaits ITMA visitors with exclusive interviews with the exhibitors.
Textilegence June 2023 issue carries 'ITMA innovations' to its pages
Textile technology manufacturers are taking the wraps of 'ITMA innovations' they have prepared for 4 years. Itema Group will introduce the EVO Series, which offers innovations in weaving, to the global market at ITMA 2023 hosted by Italy. Konica Minolta will take part in the exhibition with its latest sustainable digital printing solutions, while Uster Technologies will share its latest product Uster Fabriq Assistant for fabric inspection with the global industry at ITMA 2023. Saurer will exhibit its latest solutions enabling sustainability, digitalisation and automation in yarn production at ITMA 2023. BRÜCKNER will present its latest sustainable and innovative solutions for textile finishing and coating. In addition to the announcements of Santex Rimar, Biancalani, Trützschler, Epson and many other companies about the ITMA demonstrations, the evaluations of the sector associations about the exhibition and our special interviews with the exhibitors are waiting for you in our 61st issue.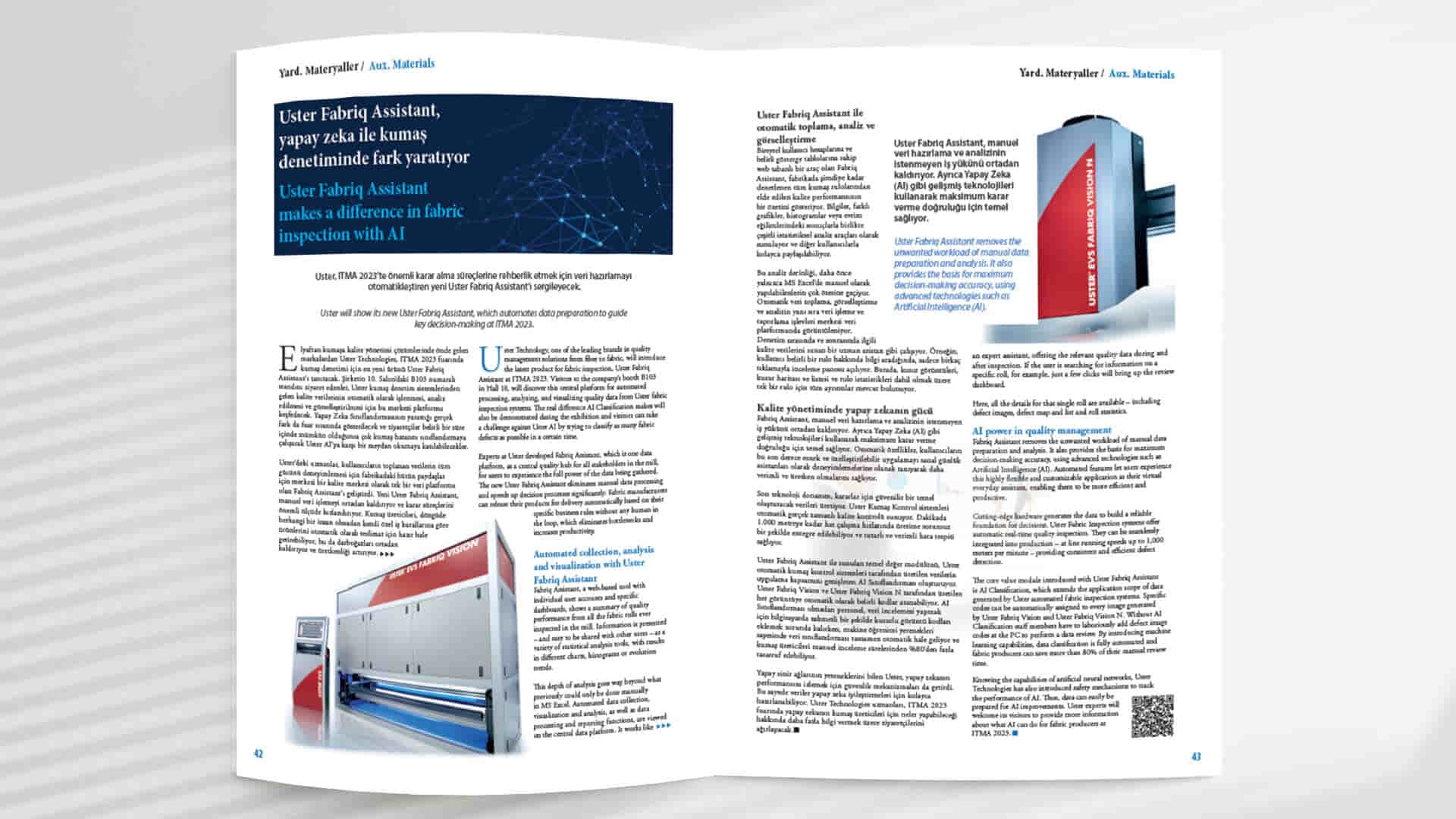 In addition to the ITMA exhibition, which constitutes the main agenda of the textile sector in June, the most up-to-date news from Türkiye and the entire global sector are also brought to you as always: The downward trend in Turkish textile exports continues. DOMOTEX Turkey will be held in Antalya this year due to the use of Gaziantep OFM as a base for aid after the earthquake in the region in February. swissQprint focused on new possibilities for green printing at FESPA GPE.
In our exclusive interview with Epson Türkiye senior officials, we talked about the evaluations on the Turkish market and the new steps the company took in digital printing.
The highlights on sustainability were as follows: Altınyıldız Classics made the first harvest of coloured cotton. Sun Tekstil, one of the largest industrial enterprises in Türkiye, and its subsidiary Ekoten Tekstil shared their holistic sustainability approach with the public with the 2022 Sustainability Report. Members of the European Parliament adopted their recommendations for EU measures to ensure that textile products are produced in a circular, sustainable and socially just manner. All and more in our Textilegence June 2023 issue. We hope you enjoy reading.