Textilegence, the distinctive magazine of the textile and printing industries, presented the Textilegence March April 2022 issue, which is full of comprehensive content and exclusives, to its readers. The agenda of the industry seems quite full. We have carried out an important editorial study on the effects of the war between Russia and Ukraine in our region. You can read the highlights of the repercussions of this war on the Turkish textile, clothing and retail industry, as well as the solution proposals stated in our interview with LASİAD President Gıyasettin Eyyüpkoca, in our 53rd issue.
ITM 2022 exclusive interviews in our Textilegence March April 2022 issue
Turkish textile industry, continuing its growth process with new investments, counts the days to meet the global market at ITM 2022. You will be able to get impressions of the works related to the exhibition with the interviews we made with the leading machinery suppliers, in this issue. Our interview list includes the roof organizations such as ACIMIT and UCMTF as well as Konica Minolta, Kornit Digital – MatTex, Trützschler, EFI Reggiani, Mahlo, Teksel Tekstil, Asteks, Monarch, Biancalani, BTSR, Gualchieri e Gualchieri and Imogo.
IDEA 2022, one of the important exhibitions of the nonwoven industry, is approaching. You can find out about the innovations of important manufacturers participating in the exhibition such as Brückner, Anridtz and Groz-Beckert in the 53rd issue of our magazine.
You can find the innovations of the 330 digital printer series and CG-AR cutting plotters introduced to the market by Mimaki, one of the leading brands of digital printing, and the details of the 4th Technology Tour to be held by Mimaki Eurasia in Antalya, Konya and Kayseri. You can also take a look at the news of swissQprint, which received EDP awards in two different categories.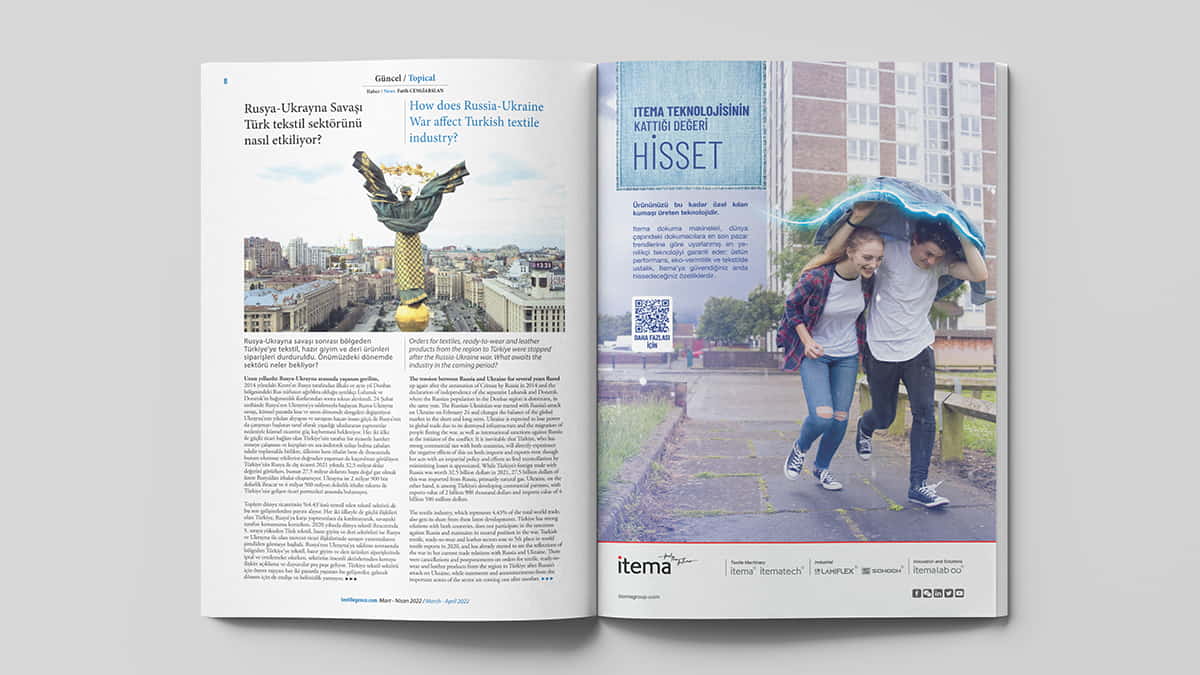 The leading swimwear and underwear brand KOM has been working with Durak Tekstil for sewing and embroidery threads for many years. Important details about the cooperation between the two companies and why Durak Tekstil threads are preferred can be found in its article.
News about recycling and sustainability are awaiting you on the new Green Times pages of Textilegence. R|Elan™ GreenGold fabrics, produced from 100% recycled PET bottles, have expanded their scope of usage area. This and our other content may interest you for an environmental and recycling-oriented perspective.
Textilegence, in its March-April 2022 issue, includes important issues on the industry's agenda, while also offering a comprehensive perspective on the future. We wish you good read.
You can subscribe from this link to read the entire magazine.