While the markets are reviving, the 48th issue of Textilegence prepares you for this 'renewal' with its news from current developments and special editorial content. In Textilegence May June 2021 issue, you will be able to read breaking news, innovative studies and exclusive interviews from the textile, ready-to-wear and printing industries. The absence of fairs, which could not be held for a long time due to the pandemic, is felt heavily in the sector. Face-to-face fairs are of great importance in terms of innovations meeting the markets on one hand and making new sales and agreements on the other. Finally, the global textile industry will meet at ITMA ASIA + CITME on June 12-16.
ITMA ASIA + CITME 2021 will witness the innovation of global brands in dozens of different segments, from spinning to weaving, from knitting to finishing, from printing to automation and digital solutions. For the first time in the Asian market, Saurer will present several spinning solutions including Autoairo and Auto BD. Groz-Beckert, on the other hand, takes its place at the fair with its products in the knitting, weaving, felting, tufting, carding and sewing segments. Finishing solutions expert Brückner expects great interest from the Asian market with its artificial turf finishing technology.
Uster Technologies, a manufacturer of yarn and fabric quality control processes and technologies, will become a popular destination with its Quantum 4 and Q-Bar 2 innovations, which meet the increasing quality expectations in recent years. Similarly, Loepfe will launch the PRISMA yarn clearer with a unique sensor technology. Marzoli and Savio will bring their new spinning machines to the market. Picanol and Santex Rimar will also present their innovative weaving machines at the fair. The upcoming fair will of course contribute positively to the near future of the textile industry with its content. In this issue, you can find more news about the fair.
Textilegence readers will also be able to read new investment news in the Textilegenec May June 2021 issue. Vanelli Tekstil, one of Turkey's leading textile manufacturers, preferred Itema for its weaving machinery investment and further strengthened its machinery. SÜPER FİLM, a subsidiary of Sanko Holding, collaborated with Brückner in its new machinery investment. Yeşim Tekstil's investment in Ağrı launched successfully. With its global market-oriented production, this investment will make a serious contribution to the Turkish textile industry. Socks and underwear manufacturer PENTI was deemed worthy of a sustainability award. Details on this award are in our news article.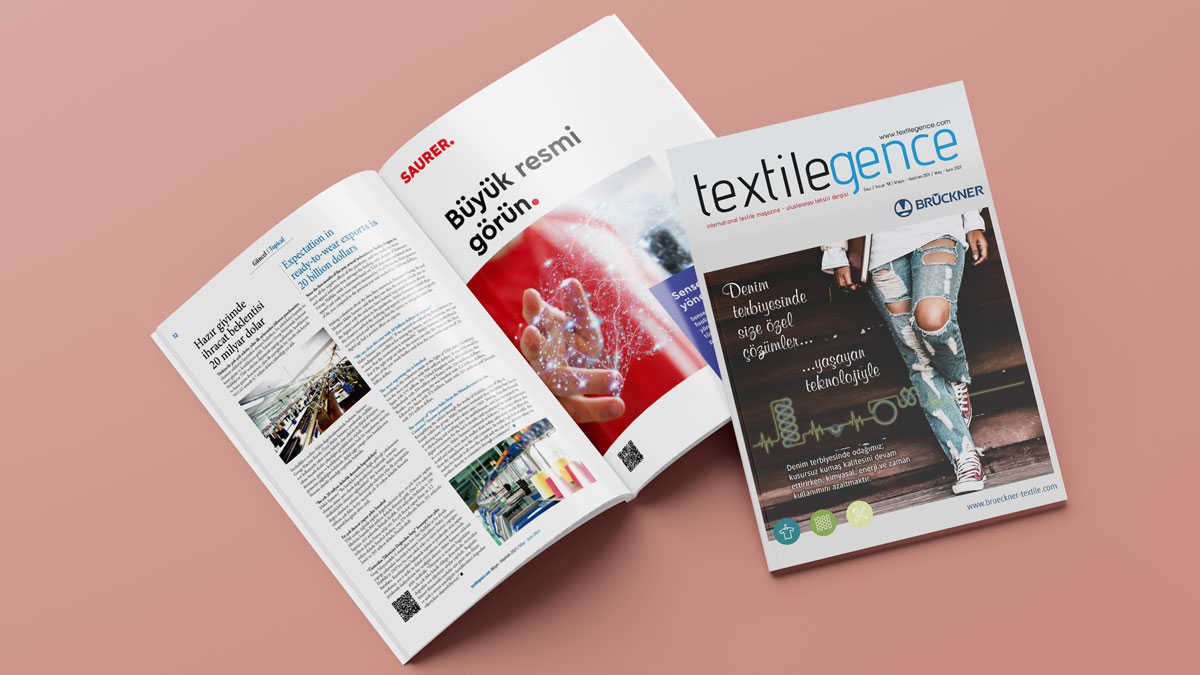 You can subscribe from this link to read the entire magazine.
Turkey's leading manufacturer of industrial sewing and embroidery threads, Durak Tekstil has a comprehensive product portfolio for several different applications. You will find more details that you may like to know about special embroidery applications in our news article. Asteks has made it possible to perform two different operations on the same machine in a shorter time with its new 401-SF&M cots grinding machine. You will be able to access more information about this new machine, which Asteks has started to sell and has gained great popularity in the market.
What kind of vision does Teksel Tekstil, one of Turkey's important textile technologies representatives, have? What do they find more important when meeting with the market? What is the focus of the company? You will find the answers to these questions and more in the interview in this issue.
You can read these and more in Textilegence May June 2021. While the density of industry professionals increases in the revitalized market, we are with you again with an issue that they will not put down.