Germany based Truetzschler is making a significant breakthrough in textile recycling applications with its first intelligent card TC 19i for Recycling. This intelligent machine, with its many features, maximizes the efficiency of products acquired from textile waste during the whole processing period. Caring about sustainability, the company gives its customers a great advantage with the solutions in the face of new regulations and consumer demands for environmentally friendly production.
Strict new regulations on sustainability which is one of the most fundamental problems of today and increasing consumer demands are forcing manufacturers to take steps in this direction. On that note, companies are looking for solutions to a fundamental problem in the textile sector, how textile waste can be turned into high-quality yarn. As one of the companies working on this subject, textile machinery manufacturer Truetzschler's Head of Development Fibre Preparation Thomas Schmitz told that they are passionate about sustainability. Schmitz said; "The TC 19i for Recycling empowers our customers to make the most of recycled material by optimising opening and cleaning processes. It also offers a gentle, but effective treatment of short fibres and ensures no unnecessary waste is produced".
Head of Global Sales Markus Wurster commented; "By producing high-quality sliver from recycled fibres for new yarn, our customers are able to make progress toward their targets for sustainability, while also staying ahead of rising regulatory pressure and increasing consumer demand for eco-friendly products".
A Benchmark in textile recycling
With accelerated fashion, more products are being used and lifespans are being shortened, thus there is a significant growth in textile waste and recycling business.
Yarn, garment production, used textiles and garment waste present a wide range of challenges in spinning preparation, where the later quality of the yarn is being determined. Known as "hard waste", secondary fibres from torn waste contain unwanted yarn or fabric particles that reduce the quality of the final output and can impair the carding performance. In addition, they also contain a high amount of short fibres, which can have a negative impact on yarn strength.
Truetzschler offers complete solutions for the recycling of cotton waste from spinning preparation, as well as the recycling of secondary fibres from torn textile waste. Complete solutions are available from blowroom technology for ideal opening, cleaning and blending to advanced carding and draw frame solutions. The TC 19i for Recycling and the integrated draw frame IDF 2 are the benchmark in the direct spinning of rotor yarns from recycled materials. Truetzschler also has a wide portfolio of card clothings specifically developed for recycling applications.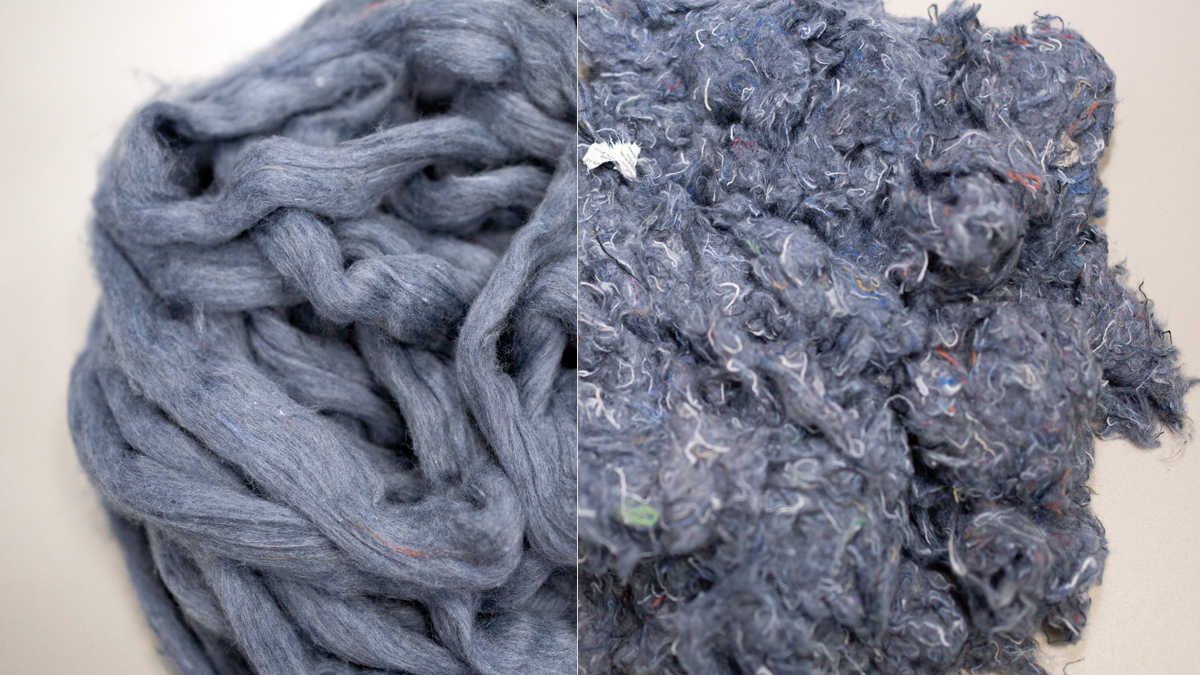 40% reduction in yarn defects and 40% increase in production
With the TC 19i card, textile manufacturers achieve a 40% reduction in yarn defects and a 40% increase in production. Specifically designed for recycling applications, the new WEBFEED has components such as the wired licker-in with stationary carding segments and improved profile geometries specifically designed for recycling applications. The recycling knife ensures the removal of disruptive particles while minimizing the loss of good fibre.
Secondary fibres from torn waste may stick to the surfaces of material carrying parts and lead to fibre blockages. As TC 19i's all material carrying parts consist of stainless steel, so there is no such problem. Moreover, the robust design and innovative coatings of key parts guarantee reliable performance in almost any application.
The gap optimiser T-GO for Recycling uses sensors and algorithms to monitor and automatically adjust the ideal carding gap for the material involved, even under changing production conditions. In this way, quality and efficiency reach the highest level during recycling.
Flexible production with customised adjustments
The multi WEBCLEAN system offers the manufacturer flexibility with fast, flexible and customised adjustments to recycling applications. While eight elements in the pre- and post-carding zone can be configurated either as carding or cleaning element or cover profile; this flexibility empowers customers to achieve the best possible configuration for their specific process.  Besides, supporting each customer with recommendations for ideal settings, Truetzschler contributes to the full realisation of customers' production goals.