Providing quality control solutions to the textile industry, Uster Technologies will introduce its newest products for the first time at ITMA Asia + CITME 2021, which will take place on June 12-16. At the fair to be held at the National Exhibition and Convention Center in Shanghai, the products to be exhibited include the new Quantum 4.0 yarn clearer announced in March and the Q-Bar 2 monitoring system presented in April, as well as the new Quality Expert software with the latest Mill Dashboard feature and Uster Tester 6 with its new feature. Uster will also open its doors to its visitors with an online showroom to increase in-person exhibition attendance.
Textile professionals that visit Uster's booth will have the opportunity to experience their new solutions closely. Quantum Expert's presentation will show how customers can benefit from Quantum 4.0 and its related systems, while Q-Bar 2 will draw attention with its stylish design and the defect catalogue. A Mill Dashboard screen will also be exhibited at the fair, along with Value Modules and other features of Uster Quality Expert. With clever animations, a deep understanding of databased quality will be provided during yarn production. The virtual showroom will first of all be open only to customers who are advised to get in touch with their sales contact.
Intelligent yarn control with Uster Quantum 4.0
The new Uster Quantum 4.0 yarn clearer combines capacitive and optical sensor technologies for intelligent yarn quality control and optimized profitability. Thus, mills can now focus on meeting fast-moving market challenges instead of pondering technical options. Via a simple capacitive/optical switch, yarn manufacturers can now achieve full security in quality control, ensuring the best cleaning mode is applied. While this provides more flexibility in yarn types in production, it also affects factors such as humidity variations.
Using Smart Duo technology, the Quantum 4.0 operates both sensor channels intelligently through an innovation known as Cross Clearing. This locates and eliminates hidden defects by means of a double check in which the main sensor's signal is supported by the assistance sensor. The density feature prevents substandard cops caused by ring spinning malfunctions, such as blocked compacting zones, or twist problems. It offers the advantage of monitoring the yarn density continuously and after every splice.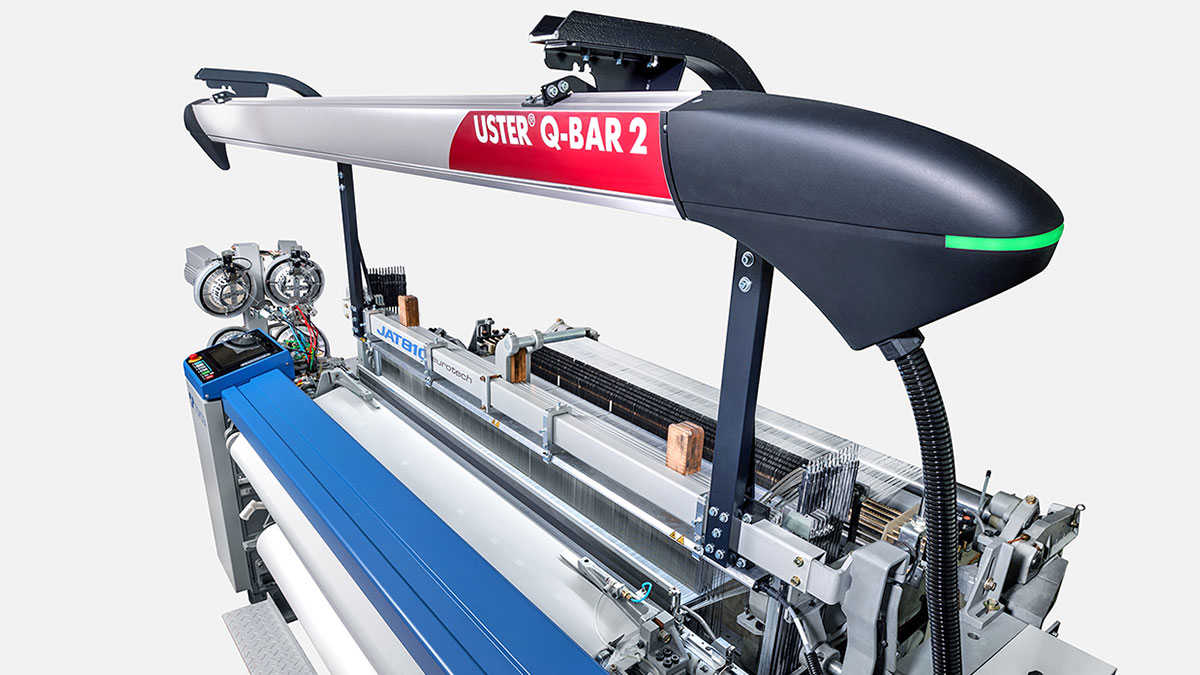 Weaving defects are prevented before they occur with the Q-Bar 2
Carefully positioned on the loom directly at the interface of the warp and weft threads, the Q-Bar 2 offers a formation monitoring system at its best. Monitoring at the earliest possible stage ensures rapid response as soon as a defect appears, avoiding long-running or repeating faults. Alarm and stop signals that alert the operator to correct problems immediately allow early detection, and also reduce second quality and material loss. It also minimizes the need for post-production checks.
Uster Q-Bar 2 has various algorithms to identify specific defects that may occur for different reasons. This inbuilt knowledge can prevent defects within the weft insertion cycle. The detection position in the fabric formation zone allows the warp to be monitored even before it is traversed by the weft. Another important innovation Q-Bar 2, the control of weft irregularities, monitors each inserted weft in the formation area, preparing users to react to weft irregularities at the earliest possible stage. At this point, it can detect weft-related defects such as double picks, broken weft or slub and loops. With all these features, Q-Bar 2 provides the advantage of actually preventing weaving defects instead of reacting to weaving defects.
Transparency in production with Mill Dashboard
Uster Quality Expert's latest Mill Dashboard feature brings new benefits for operators in spinning mills. This new version of the Mill Dashboard provides key data directly to key individuals in the spinning mill, providing both a rapid response to any quality deviations and greater transparency on the shop floor. The latest release of Uster Quality Expert is available for connection and it can display all key quality parameters from laboratory and in-line instruments, targeted to individual needs and preferences.