Offering complete grinding solutions to the textile industry, Asteks continued to develop close ties with its partners despite the tough pandemic conditions. Providing fast and continuous supply of high quality and reliable apron, cot and grinding machines demanded by yarn manufacturers, Asteks achieved a substantial sales success in the market. Asteks proved to be a reliable and strong partner of the industry with the solutions it developed and its continuous service.
Asteks General Manager Emre Akman reminded that several restrictions came in place in daily life and economy at the global and local level due to the Covid-19 pandemic. Stating that disruptions can be experienced in the supply chain, especially by the problems in transportation, Akman emphasized that the whole production process can negatively be affected by this. Akman continued his words saying;
"The pandemic, which brought the borders of the country to the point of closing, once again showed us how important local production is. Foreign dependency in raw material and equipment/material procurement makes the local production chain more fragile and vulnerable. Benefiting from our comprehensive grinding solutions, especially in apron and cot, our customers did not have to face these procurement problems. As a local company, we continued to offer our customers our products at international standards in the shortest delivery times during the pandemic period. The trust of our customers in us is the basis of our success in the market".
Expressing that they focus on decreasing the costs while increasing the efficiency of spinning mills, Emre Akman explained that intensive R&D studies continue uninterruptedly for this. Noting that they have a rich product portfolio that responds to the differing production demands of customers, Akman said; "Our products, each of which has become a quality standard in their own field, contribute to the reliable and quality production of yarn manufacturers. We are observing a high demand in the market for the NT86/S apron, CE-684 cot, GESA/OPS compact apron and 201-SF grinding machine. The positive opinions of our partners about these products provide us an important motivational power in order to develop more innovative and functional solutions".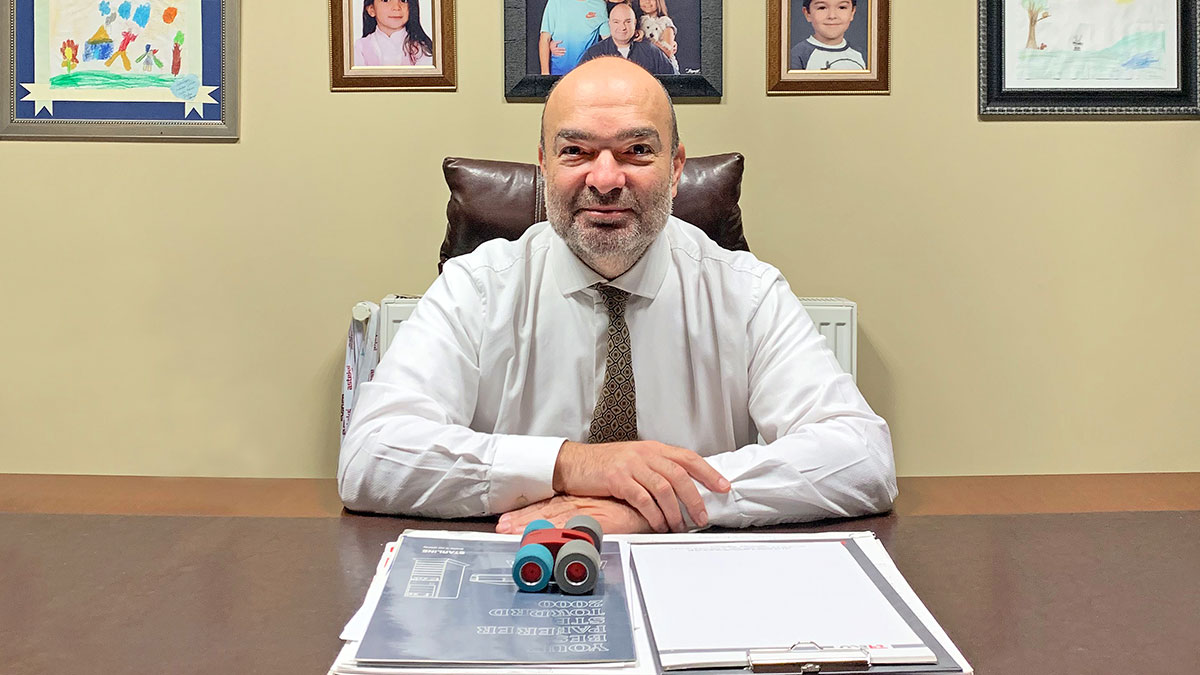 Yumak Tekstil increases its success with NT86/S apron
Asteks' NT86/S, the most preferred apron in the Turkish textile industry, maintained its market leadership with approximately 10 million sales this year. This long-lasting apron, which meets the needs of short and long stable spinning systems, stands out in terms of performance and cost with its strong structural features. Yumak Tekstil has been using the NT86/S apron for a long time and has been operating in Isparta Süleyman Demirel OIZ since 1998. Producing combed cotton yarn in the range of NE 20-40 from 100% cotton, the company produces 11 tons per day with a capacity of 20,880 spindles.
Yumak Tekstil Factory Manager Hüseyin Güney stated that they achieved required yarn Uster quality level with their NT86/S apron and they gained cost advantage thanks to its long working life. Güney; "In our work, we have seen that Asteks operates successfully with a longer product life than the warranty it gives to this product. The long replacement period of the NT86/S apron and its structural features required for quality yarn production made a positive contribution to our production costs".
Güney underlined that during the pandemic period, Asteks satisfied them with fast supply service, positive response even to low volume demands and after-sales services. Güney continued his words as follows; "If we had to sourced products from abroad in this difficult period; we might have to wait for months and order a bigger quantity. However, as a domestic manufacturer, we did not experience these problems with Asteks. In addition to fast supply; it is also very important for us to find a contact when we reach the company and get a quick reply. So, they stand behind their products and this gives us confidence".
Uçak Tekstil made difference in cost and quality with the GESA/OPS compact apron
With more than 40 years of experience in yarn production; Uçak Tekstil has been using Asteks' GESA/OPS compact apron for a long time. Perforated GESA aprons developed by Asteks for compact yarn production exhibit successful performance; with their flexible structure and homogeneous hole form. Uçak Tekstil gets quality and cost advantages provided by this apron, which has a longer crack resistance.
Uçak Tekstil Yarn Factory Manager Ali Yücel emphasized that they have been working with Asteks for apron and cot solutions; since the yarn factory was established. Stating that Asteks GESA/OPS perforated aprons achieved successful results in compact yarn spinning systems; Yücel defined Asteks as a "reliable solution partner".
Ali Yücel said that GESA/OPS apron is better than its competitors with its strength, quality persistence and competitive price. Yücel; "The structure of similar aprons is stiffer, whereas the GESA/OPS apron has flexibility and longer crack resistance. In this way, our yarn breakage rate remains at much lower levels. In addition, the compacting feature of this apron is much better. This product of Asteks, which we use, has both price and quality advantages compared to its European counterparts. While my order to Asteks is supplied within a few days; it takes one and a half to two months for an order from Europe to arrive. Thanks to fast supply, it is not necessary to hold large amounts of stock. We work without stock eliminating the additional finance over stock and I use fresh produced aprons". Yücel confirmed that they have intention to maintain their cooperation with Asteks in coming period.
GESA/OPS compact apron confirms its success in Biska Tekstil
Gaziantep-based Biska Tekstil is among the customers of Asteks; who use GESA/Perforated compact apron; which receives a great demand in the market and have achieved successful results. The company was established in 1997 as a result of a long experience in ginning and cotton trade; and produces more than 90 tons of yarn per day in two separate factories. Biska Tekstil Factory Manager Mehmet Yılmaz informed that they produce 40 tons of cotton yarn between 16-100 NE per day at the factory number 2 and export 95% of it.
Yılmaz explained that they had been using the Asteks GESA/OPS compact apron for 3 years; and said that this apron has a longer product life compared to its counterparts and meets the quality expectations. Yılmaz; "Long product life and stable quality in the apron are very important for yarn producers. The GESA/OPS apron exceeds these expectations. With its long product life and durability, it reduces our maintenance and consumable costs. In addition, it contributes to stable turnover and quality operation in the enterprise". Noting that they always find Asteks by their side with their quick supply and service during the pandemic period; and they get immediate response to their support requests; Yılmaz added that they shall continue and develop their cooperation with Asteks.
Biska Tekstil enjoys the comfort of CE-684 compact cot
Biska Tekstil carries its cooperation forward with Asteks as a solution partner for cots as well. Biska Tekstil's number 1 factory produces 55 tons of yarn per day as conventional and compact ring spinning facilities; with a capacity of 78 thousand spindles. CE-684 front cots developed by Asteks through intensive R&D for compact yarn production are widely preferred in this segment.
Biska Tekstil 1-2-3 Operations Manager Tayfun Ak stated that they work with the best brands in the production process; as they produce high quality products. Ak explained that they had been using Asteks' CE-684 cot on Zinser Compact spinning machines for last three years and they are satisfied. Tayfun Ak noted the following about this cot, which provides optimum grinding time; good yarn Uster quality levels ​​and high working performance;
"We were impressed that the cots performed well in terms of lapping resistance. With CE-684 cots we do not experience the problem with surface depression developing that we face by the use of other cots. Thanks to this advantage, the working performance of the spinning machine can continue without deterioration until the regular grinding time. With this cot; we achieve very successful results in the production of 100% combed compact yarns at the range of 16-50 Ne. We noted that the Uster unevenness values ​​also reached better levels".
Hamboya Tekstil gains advantage with 201-SF Grinding Machine
Using Asteks's 201-SF grinding machine with smart feeding system, Hamboya Boyacılık Tekstil has been in the textile industry since 1976. The spinning facility in Niğde, which started operating in 2015; has a daily production capacity of 27 tons of cotton and blended yarn by 40 thousand spindles.
Hamboya Tekstil Mechanical and Energy Chief Ali Arıkan stated that they preferred Asteks 201-SF; since the grinding machine is a local-national and advanced solution. Arıkan commented as;
"The 201-SF, which we have been using for about a year and are very pleased with; is the only grinding machine in the market that allows us to do the cot grinding job with only one worker. The high automation in loading and unloading work in cots grinding job enables us to save on labour cost. In the past, 3 workers dealt with this job, but now only 1 operator is good enough. In addition, we obtain faultless grinding with the laser diameter control. At the end of the process; the smooth cot surface and the ideal levels of other quality values were effective with this choice. We thank Asteks for producing a very useful grinding machine that reduces our cost and contributes to our yarn quality".