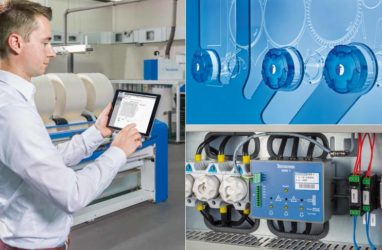 T-DATA is the real-time monitoring system from Trützschler. T-DATA provides management with solid data for the daily routine in spinning. The system is web-based. You can monitor production in realtime at any time and from every location via smartphone or tablet.
T-DATA; individualisation and integration
T-DATA can be easily and intuitively individualised, precisely tailored to the requirements of the user. The system allows easy data transfer to higher-ranking customer systems. Trends in production can be detected at an early stage, and malfunctions and faults can be dealt with faster. This allows a measurable reduction of downtimes and optimisation of machine settings for higher production rates.
T-DATA can be individualised with the knowledge of which data is of particular relevance. This is performed using an intuitive web interface which can be adjusted in just a few steps. The data can be shown on the screen in tables or charts.
The right data are crucial
To obtain meaningful information, it must first of all be determined. Users of T-DATA do not have to make do with the usual production data. Management in the spinning mill requires additional information. For this purpose, Trützschler developed a number of sensors. Examples include online measurement of current consumption, waste quality in the blowroom or neps in the carded sliver. This way, at Trützschler we achieve a data quality unrivalled by any competitor.
The optical sensor WASTECONTROL is used to monitor the waste quality of the cleaners in the blow room. This prevents unnecessary fiber loss. With cotton usage of 20,000 tonnes/annum, WASTECONTROL saves approximately 320 bales of cotton/year as a result of a yield of good fibres which is typically around 0.4 % improved. This equates to a cotton price of 63 cents/lb. Savings of US $210,900.

On the cards, NEPCONTROL counts the neps, trash particles and seed-coat fragments in the card web. The Nep Sensor NEPCONTROL monitors every single metre of the carded sliver. The data allow targeted clothing maintenance. Fluctuations are detected in realtime and not hours or days later in a laboratory test.

The signals of the DISC MONITOR sensors on cards, draw frames and combers enable the early detection of emerging faults via the spectrogram analysis. The DISC MONITOR quality sensor determines the sliver count and sends a signal to the control systems to adjust the main draft accordingly. T-DATA indicates these potential fluctuations for each individual machine or comber group. With this knowledge, production can be optimised until the result is a permanently constant sliver count.

Nowadays, electrical energy is one of the most significant cost factor in the spinning mill. Settings which are less than ideal or soiling can raise energy consumption to undesirably high levels. In order to detect this, we at Trützschler equip all the important machines, such as cards or draw frames, with energy measuring devices. With T-DATA, you constantly have an eye on these values. Excessively high consumption and its causes can be combated immediately with selective maintenance.
These are only a few examples of sensors, all of which are developed and manufactured by Trützschler.