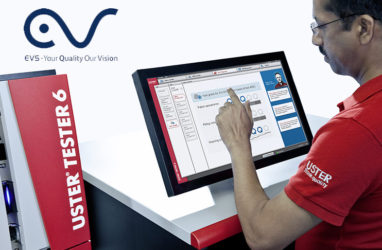 USTER Reached a New Stage in Growth – USTER closes acquisition of EVS – Combined technology offers customers more potential for further automation and improvement for increased and sustainable performance.
Uster Technologies AG has announced the successful closing of the acquisition of Elbit Vision Systems Ltd. (EVS), a world-leading high-technology supplier for automated vision inspection in the textile industry. This expands USTER's competencies in quality control and strengthens its product portfolio. EVS's products are used to automatically locate, label and trace defects of fabric and web products, and ultimately to grade the quality and determine the value of the produced goods.
Thomas Nasiou, Chief Executive Officer of USTER, said: "I am delighted that we are now able to finalize this major milestone, which embodies the strengthening of USTER's activities across the globe. The access to innovative technology and the enhanced presence will enable us to strengthening our offering to customers, and offer new, interesting perspectives to the colleagues of USTER and EVS. The acquisition fits perfectly into our vision to be the world's leading supplier of quality solutions for the textile industry from fiber to fabric."
USTER Reached a New Stage in Growth
Sam Cohen, CEO of EVS, commented; "I am proud of the progress we have made during the last few years; in improving our products and services leading to increased customer satisfaction; expanding our footprint while delivering on our financial targets. Now, I am very much looking forward to continue working for EVS, now part of USTER, and combining our offering. I believe that we will demonstrate the potential to provide our customers; with new, innovative products that can address unmet needs."
The purchasing process of EVS by USTER was formally announced on February 2018. Israel-based Elbit Vision Systems' enterprise value is about 32 million dollars.
About Uster Technologies AG;
The Uster Group is the leading high-technology instrument manufacturer of products for quality measurement and certification for the textile industry.
The Group provides testing and monitoring instruments, systems and services that allow optimization of quality through each individual stage of textile production. This includes raw textile fibers; such as cotton or wool, all staple fiber and filament yarns; as well as downstream services to the final finished fabric. Uster Technologies provides benchmarks that are a basis for the trading of textile products; at assured levels of quality across global markets. The Group's aim is to forward know-how on quality, productivity and cost to the textile industry.