Vandewiele exhibited its carpet weaving solutions at the Domotex Turkey held in Gaziantep, which is considered the capital of the carpet, on May 14-17. In addition to numerous traditionally woven carpets on the company's RCE+ carpet weaving machine, the digitally controlled RCF machine with Fast Creel, cut-loop machines and specific machines for weaving light carpets were exhibited at the event. While all of these were illustrated with carpet samples, combinations of cut pile carpets with flatweave as well as sisal look carpets were also presented to the visitors.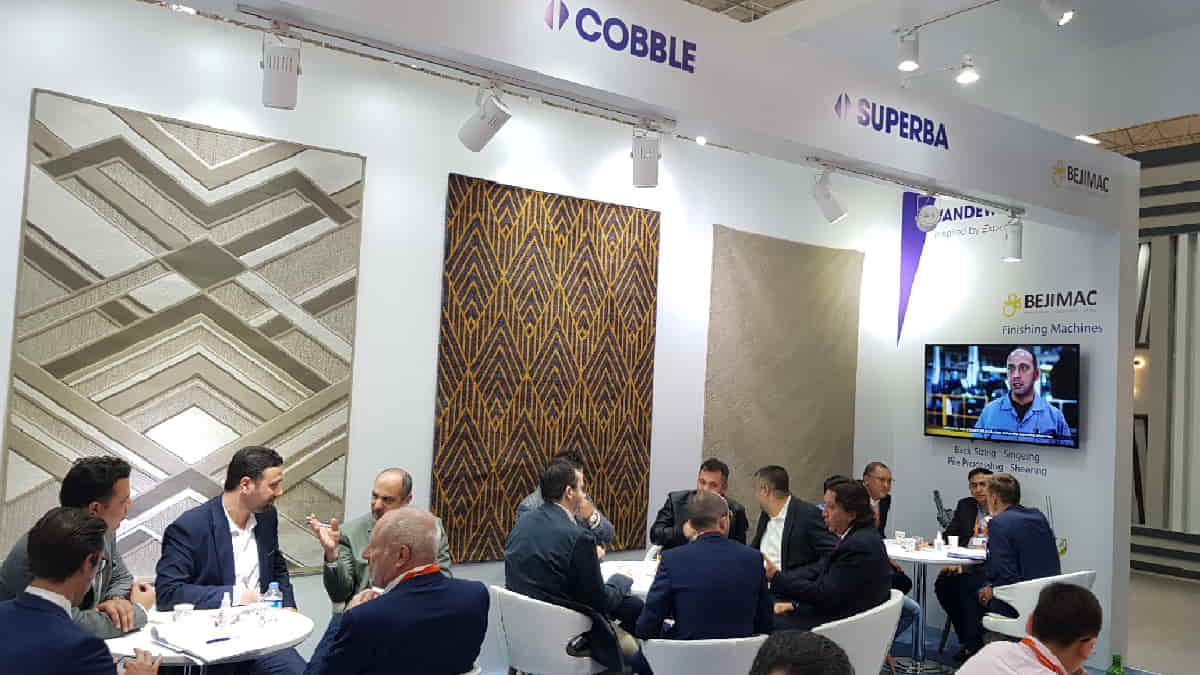 Vandewiele took part in the exhibition with its rich product portfolio
Vandewiele introduced high definition Colortec 1/10" tufting system in 8 colours or 1/7" gauge, which competes with traditional Axminster carpet machines, developed thanks to the digital control of pile yarns (active yarn feed, also called IPD) at its booth. The company also highlighted solutions for its numerous machines for plain carpets, artificial grass and tiles and other applications at Domotex. Vandewiele, on the Bejimac side, introduced the new autonomous shearing machine, the ATSH, in detail to the visitors in the finishing segment. The focus was on energy saving, which is an important issue today, for the back coating.
Superba, standing out in the heat-setting with saturated steam under pressure thanks to its well-known TVP3, introduced its hot-air heat-setting solution with its DHS3 line. This triple-layer heat-setting process provides an unequalled level of evenness and a highly homogenous fixation characteristic to the yarn, as well as stain resistance or enhanced bulk. The DHS3 line offers a high energy saving process in reduced floor space.
Superba also introduced its new B403 automatic winder to complete its product range. Expanding its area of application beyond the carpet yarn field, the B403 marks a real technological breakthrough with its individual spindle motorization drive; it enables a constant tension winding process, an accurate bobbin length measuring as well as unique quality control for each yarn position.
Vandewiele's BXE extrusion line, MF400 texturizing machine and MCD3 space-dyeing machine as complementary processes before heat-setting with Superba lines were among the solutions exhibited at the event. These solutions enable the carpet industry to get all the necessary equipment to produce innovative yarn types, allowing manufacturers to make the highest quality carpets at the most economical prices.