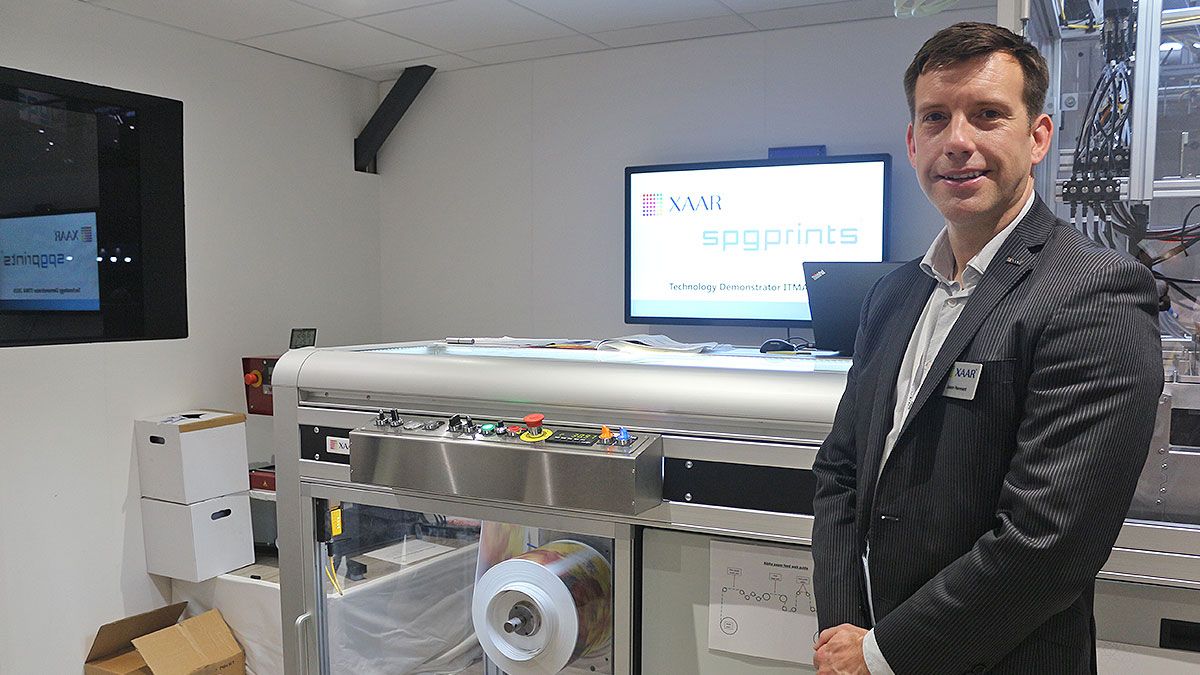 Printhead manufacturer Xaar presented their visitors the new standards reached by the Xaar 5601 and Xaar 1201 printheads in digital inkjet textile printing at Hall 3 Booth C205 at ITMA 2019. Xaar has a history of more than 25 years in inkjet printing, and they showed the current printheads to the visitors while providing tips on their innovative concept works with OEMs throughout the exhibition.
The Xaar 5601 printhead, which can print up to 100 meters per minute, features 5680 nozzles to maximize print quality and productivity. Featuring a unique Z profile, it ensures colour-to-colour transition and guarantees a superior colour uniformity and repeatability thanks to Xaar's AcuDrp Technology. The Xaar 5601 printhead features a range of alignment features that enable quick and easy 'Plug and Play' installation without mechanical adjustment. Xaar also maximizes print quality through ink recirculation thanks to TF Technology, while minimizing possible downtimes due to errors.
The Xaar 1201 printhead is an option for small and medium-sized scanning textile applications with its high print quality, compact design, and 1, 2 or 4 colour jetting capabilities. Offering 700m2 of print power per hour and better resolution than 1440 dpi, the Xaar 1201 can jet solvent-based or aqueous inks. One can work with a variety of media, including photo paper, vinyl, canvas and textiles with this printhead. The Xaar 1201 printhead was shown at the D.GEN booth in operation on a Papyrus textile printer during the exhibition.
Jason Remnant: "ITMA was an exciting experience"
Jason Remnant, Xaar Head of Product Management, told Textilegence that the ITMA exhibition they attended for the first time was exciting. Remnant stated that people do not know Xaar as much in textile printing compared to other segments; "We want people to understand us as a technology platform which they will benefit from today and tomorrow and will alleviate concerns about digitalization. We talked to end users during the exhibition and it was a unique opportunity to meet all OEMs".
Xaar 1201 and Xaar 5601 for textile print manufacturers
Jason Remnant said that they participated with 2 specific products and thus they addressed the industrial segment with the Xaar 5601 printhead for high volume scanning and single-pass machines and low to mid volume scanning machines with the Xaar 1201 printhead.
Remnant stated that the introduction of Xaar 5601 to the market was the latest important development for the company, and continued his words saying; "This printhead is designed to meet the demand of markets with a higher productivity focus, which really need greater volume and quality. Among the large-scale manufacturers, there was a feeling that digital technologies were not going smoothly. As a result of complaints and notifications from them; the Xaar 5601 was introduced to the market with new features to break this negative perception towards digital printing. One of these features is the Xaar TF technology, which enables ink recirculation. Thanks to this core technology, excellent reliability is achieved without any ink blockage. In addition, your print quality will always remain constant, and as printing progresses, there is no decline. It was that technology that allowed single pass, high productivity printing to work".
Remnant described another important feature of the Xaar 5601, AcuDrp Technology as such; "With AcuDrp, the droplet in each nozzle can be adjusted differently. That is, we have a very big uniformity in drop volume and speed. This gives print manufacturers uniformity in print quality from start to finish".
Industrial print manufacturers take advantage with Xaar 5601 automatic alignment
Remnant says that the Xaar 5601 combines Xaar TF Technology and AcuDrp Technology to offer print manufacturers the best print quality and reliability; and the special Z profile design of this printhead makes it easy to use. Indicating thus that all alignment is performed automatically, Remnant; "On a large single pass machine with 100 printheads; imagine how long it will take to manually align all of these printheads. This can take days for such large machines. The Xaar 5601 with its unique hardware design and associated software reduces this process to pure software processing time; and so is completed in a matter of minutes. This is a huge advantage for industrial print manufacturers and users".
A cooperation for the future with SPGPrints
Jason Remnant explained that SPGPrints used the Xaar 5601 printhead on a single pass textile printer exhibited at the exhibition and said that this machine; which can print 100 meters per minute, has achieved successful results. Noting that they are cooperating with SPGPrints on printing technologies of the future; Remnant stated that this concept work was exhibited in the private indoor area of the company's booth. Remnant; "SPGPrints is one of the leading names in the digital textile printing industry.  We collaborated with SPGPrints for a technology demonstration at the exhibition. It was very useful speak to customers and hear what they expect".
Turkey is one of the 3 target markets
Depicting Turkey as a very important market; Jason Remnant disclosed that they have started to learn more about this market; and that they begin to show growth in the market. Saying that Turkey have a large number of end users as a textile hub, Remnant completed his words as follows; "A great deal of textile printing is happening in Turkey. Currently, the market share of digital printing seems to be very low. However, our Xaar 1201 printheads have great potential for this cost-sensitive market. Turkey is one of the three target markets for this printhead. We also hope that our 5601 printheads will be of interest for industrial manufacturers who want more quality".