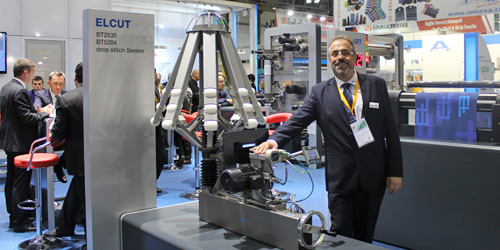 Erhardt+Leimer presented a new drop stitch matrix sensor for web guiding in conjunction with tube slitters, FE 5204 to the market during ITMA 2015. The company took place at the event with solutions for textile automation.
A global leader of system solutions and automation of online production lines and bands, Erhardt+Leimer (E+L) displayed smart technologies for textile automation during ITMA 2015 Fair. The company introduced tube slitter ELCUT BTA2535 and the new digital FE 5204 drop stitch matrix sensor. Additionally, the booth at Hall 6 also housed solutions in web guiding, web tension control, web spreading, tenter infeed and process control for visitors.
During finishing process, knitted fabrics are cut in many situations. This transaction is made in accordance to a stitch and vertically. E+L's fresh solutions offer optimal solutions in this area. The FE 5204 drop stitch matrix sensor acquires the area around the drop stitch of tubular knitted fabrics. Along with single drop stitches, the sensor also detects a very wide range of different double and multiple drop stitches to be used as the guiding criterion. The live image provided by the camera is displayed on the color touch screen of the DO 40 command station. Operation couldn't be simpler: The operator can define the slitting position by positioning the tube material in such a way that the drop stitch is visible on the display. Afterwards, pressing only one button is sufficient to save the guiding criterion, i.e. to teach the sensor, and start the guiding process. The sensor settings for different kinds of drop stitches can be saved as a recipe and recalled at a later point in time.
The drop stitch is made visible for the sensor by means of an infrared LED light transmitter operated in the transmitted light mode. A protection tube between light transmitter and sensor prevents harmful outsider lights to enter in. As a result the contrasts are considerably better, compared to white light.
Turkey Is Among Our Crucial Markets
Erhardt+Leimer Sales Department Manager Klaus Baumann noted that they welcomed many customers from Turkey at their booth during ITMA 2015 and Turkey remains among the most crucial markets. Customers from Taiwan, China, Japan, New Zealand and Australia showed intense attention to the company's booth as well, which clearly demonstrates that E+L is an international company. Baumann said, "We have representatives and subsidiaries in many regions across the world. Our oldest representative is 40 years old in Brazil. We have representatives in India for 35 years and in Italy for 38 years. Those representatives are also our customers."
China is the largest market of Erhardt+Leimer, which is followed by the European markets. Turkey has a strong power concordantly. "Turkey is a very important market for us and thus I visit the country 6-7 times a year. We have many crucial customers in Çorlu, İstanbul and Bursa as they are traditional textile cities. We are in close contact with them. Production lines operate in different conditions in the global market. They are not healthy in China, for instance, whereas the lines in Turkey are in much better quality compared to other countries in the world," Baumann explained.
New Cutter Lowers Maintenance Costs
Klaus Baumann underlined the advantages of the tube cutter ELCUT BTA2535 and the FE 5204 drop stitch matrix sensor, adding details about the new ELMETA metal detectors which are used in textile manufacturing. It is very important to detect metal parts before calenders and shearing machines. Baumann continued:
"If you are willing to obtain a bright and soft fabric, you need to trim feathers on it. In case of any metal parts remaining on the fabric, knives would be broken. You may have a chance to save a knife via regrinding, but a metal part that hits the calendar may result in a loss of €15.000 to €30.000.
Metal detection is very crucial in textiles in addition to conventional textiles. 30.000 needles could be broken time to time at needlepunch non-woven production lines and you have to replace those broken parts as a manufacturer. We offer the solution to prevent such severe troubles as E+L."