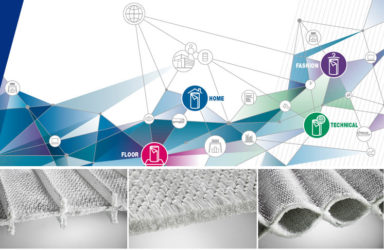 Vandewiele, the leading supplier of carpet and velvet weaving machines, tufting systems and textile accessories, will show its latest developments of textile products and related machinery on Techtextil in Frankfurt Germany (Hall 3, Booth 28).
Innovations include further developments woven on the JEC award-winning 3D-Lighttrans weaving machine for multi-layer woven panels with integrated stringers, omega-profiles and hollow reinforcements. Other developments relate to new design possibilities in the field of one piece shoe-weaving, for creating 3D-effects and increased local permeability.
To get an impression of the complete range of technical textiles produced with Vandewiele technology, in cleantech, sporttech, mobiltech, indutech, protech, … come and visit us at Techtextil 2017 and let us get inspired by each other's expertise.
Bonas Si27: Top of the Shed Innovator range
The new Si27 jacquard is the highest hook capacity jacquard in the Bonas family. With its 27,648 hooks it enables the production of high density fabrics at unrivalled speed. Compared to previous models, the power consumption has been lowered still by a newly designed selection and drive mechanism.
The new selection mechanism features the 100% electronic Bonas micro-selector that allows full diagnostics. The drive system has also been redesigned resulting in a lighter and balanced drive mechanism with minimal vibrations. Si jacquards are the most condensed jacquards in the market today occupying 40% less space than comparable jacquards with the same hook capacity. In some cases, these very compact jacquards can even be directly installed on the loom, using a superstructure.
The Si jacquard was developed to meet the demand for high hook capacity at high speed. Thanks to the development of the micro-selector; we were able to create the fastest, lightest and most compact jacquard in its range; while maintaining the strength, stability and robustness typical of Bonas jacquards. The Si range is highly suitable for weaving all kinds of fabrics; such as damask, airbags, silk, apparel, curtains, furnishing fabrics, lining, wall covering,..