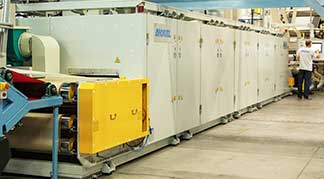 International technology Group ANDRITZ will be presenting its Andritz Axcess innovative nonwovens and textile finishing technologies for the Asian markets at the ITMA ASIA + CITME 2018.
In response to market demands, ANDRITZ has yet again raised the bar for turnkey and customized solutions for drylaid, spunjet, thermobonding, and wetlaid, as well as for conversion of absorbent hygiene products. ANDRITZ offers unique technologies tailored to each customer's individual needs.
Andritz air-through bonding technology – a new solution for the hygiene market
Air-through bonding lines are the preferred choice for producing nonwovens with the best quality of softness and bulk for acquisition and distribution layers, top sheets, and back-sheet products. With ANDRITZ carding machines and the new flat belt oven, customers benefit from high production capacities and high-performance fabrics from 16 to 80 gsm, produced with bicomponent fibers. Several Chinese customers have already invested in ANDRITZ aXcess carding machines, which provide perfect web uniformity. In addition, the CETI (European Center for Innovative Textiles) in Lille, France, has recently installed an air-through bonding oven from ANDRITZ.
Full drylaid processes offers with the Andritz Axcess range
Thanks to its aXcess portfolio, ANDRITZ offers the full range of drylaid processes for medium production capacities. During the past few months, Chinese spunlace producers have invested in several aXcess lines; with direct-line and crosslapped configurations manufactured by ANDRITZ Wuxi. This booming market goes hand in hand with new trends; such as the development of the facemask industry; and continues to be driven by the growth of wipes applications.
In the medium-capacity needlepunch area; ANDRITZ signed a cooperation agreement in 2017 with ShanTou SanFai Nonwoven Machinery; a leading supplier of needlelooms in China. This cooperation fits together perfectly; uniting the advantages of proven technologies; and providing reliable solutions for a wide range of applications in the needlepunch industry. The ANDRITZ aXcess range for web forming and SanFai's needlelooms offer a big advantage; in terms of investment security, innovation, and quality; and this combination also meets the increasing demands of a strong, growing market.