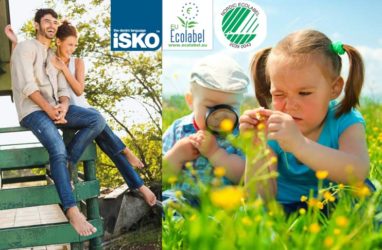 Following on from receiving the illustrious Nordic Swan Ecolabel certification in Spring 2016, ISKO has been awarded another achievement through EU Ecolabel.
ISKO a denim mill dedicated to sustainability, has received the prestigious certification EU Ecolabel thanks to the ISKO EARTH FIT™ a collection that culminates all that is ecologically sound. This is yet another confirmation of ISKO's deep commitment to responsibility, one  that earned the company the 2016 Nordic Swan Ecolabel for several products within the ISKO EARTH FIT™ line.
ISKO EU Ecolabel products will be launched in May 2017 as part of the new collection.
ISKO is now the first and the only denim mill in the world to have received these two distinguished recognitions.
"Being conscientious comes from research, attention, a deep commitment and pointed awareness about what is happening to our planet," explains Fatih Konukoglu, CEO of ISKO Division and board member of SANKO Group. "Here at ISKO to produce means to care: care about the people, the environment and product. This firm belief is the soul of our nurturing approach. We believe in the future: that's why we continue to invest in protecting our planet", he concludes. Fatih Konukoglu's comments are further echoed by Anita Winsnes, managing director of Ecolabelling Norway; "It's great that the world's biggest denim manufacturer shows such a commitment to sustainability. If we are going to succeed with the necessary green shift in our global economy, it's important that companies like ISKO clear the way. When giants take steps towards more sustainability, the impacts are huge".
ISKO Earth Fit™
The colelction forms an integral part of the company's responsible innovation platform. Made with eco-friendly raw materials like organic cotton, Better Cotton, pre-consumer recycled cotton and post-consumer recycled polyester from PET bottles, the collection offers responsibly innovated denim fabrics in ISKO's most popular shades.  Available in fabric concepts demanded by global consumers, brands are able to extend their best selling styles using ISKO Earth Fit™.
ISKO is the only denim mill in the world that was awarded with the prestigious Nordic SWAN Ecolabel; for several articles within the collection. Nordic Ecolabel evaluates a product's total lifecycle from raw material to waste/recycling; taking into account environmental problems in each part of the supply chain. This achievement came through company's fulfillment of strict requirements for sustainable fibers, for chemicals used in every stage of production, and caring for social and environmental impacts.
EU Ecolabel
EU Ecolabel is the official environmental label inside the European Union. There are over 37,000 products and services on the market that display the EU Ecolabel. These products and services cover everything from detergents to shoes and paints to paper.
The EU Ecolabel is a voluntary scheme; which means that producers, importers and retailers can choose to apply for the label for their products. The life cycle of a product begins with extraction; the mining or cultivation of the raw materials; such as cotton (for textiles) or wood (for paper products). It continues with manufacturing and packaging, distribution, use; and finally the "end of life" stage; when the product is disposed of or recycled. When developing EU Ecolabel criteria for products; the focus is on the stages where the product has the highest environmental impact; and this differs from product to product.