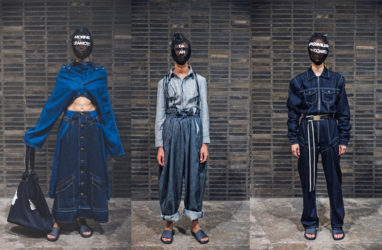 ISKO, Denim and Sustainable Fashion at CFSThe 6th edition of the Copenhagen Fashion Summit (CFS) was held on May 15-16 with the principal sponsorship of Isko, one of the most important brands of the global denim industry. Isko also exhibited responsible denim products in the event held in the Copenhagen concert hall in Denmark.
Isko is hosting 3 different events in CFS, one of the world's leading business event on sustainability in textile and fashion industry; the launch of its new Isko Earth Fit collection, the Innovations for Supply Chain Efficiency deep-dive session, and finally a sustainability judging day for the 2017 finalists of the ISKO I-SKOOL competition. The responsible production point of view in the industry was emphasized in the events organized by the company in CFS, where 1300 major industry professionals from more than 50 countries have participated.
Isko, denim, fashion and sustainability
Isko unveiled their third Isko Earth Fit collection for the first time at CFS; bringing the total number of fabrics to 49. Visitors were able to feel the fabrics, reflect on the future of fashion and share collaborative messages championing a responsible future at the Isko wall.
The company also hosted a dynamic panel featuring speakers including Ebru Ozkucuk Guler, senior CSR executive, Isko; Géraldine Vallejo, sustainability programme director, Kering; Nicolaj Reffstrup, CEO, Ganni; Linda Greer, Natural Resources Defense Council; Pamela Batty, vice president corporate responsibility, Burberry; and Susanna Wilson, global head of sustainable networks and entrepreneurship, HSBC. Main topic of the panel was increasing sustainability in the supply chain.
The winners of ISKO I-SKOOL 2017 were at CFS
ISKO I-SKOOL 2017 was again the scene of the competition of talented designers. Leading names of the textile and fashion industry were in the jury of the competition taking place for the 4th time. The expert jury included Fabio Di Liberto, brand director, Isko; Kai Margrander, fashion director, Harper's Bazaar Germany; Peter Copping, fashion expert, Henriette Pieszak, CEO, Pieszak and Tomorrow; Rebekka Bach, women design manager, G-Star Raw; and Bandana Tewari, editor-at-large, Vogue India.
The winner of the 'Genderful' themed contest was Morine Uramato with his design 'Untitled'; Da An from China came second with his design 'Free Loop'. Massimiliano Mucciarelli from Italy took third place in the competition with his design 'Three Different Ones'.
Isko, one of Sanko Holding's subsidiaries, has a global market power. The company is the only denim manufacturer in the world; having both the prestigious Nordic Swan Ecolabel and EU Ecolabel with the Isko Earth Fit ™ collection. Both of these labels indicate to consumers that the products they purchase meet a list of criteria appropriate to the standards.