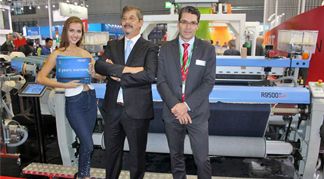 Itema emphasized weaving superiority at ITMA ASIA. Attending to ITMA ASIA 2016 fair, Itema showed its leadership in weaving technologies once again. A wide range of solutions were presented in the firm's booth including denim and terry.
At ITMA ASIA + CITME bringing textile world in Shangai, weaving technologies manufacturer Itema gained attention of Asian market with assertive solutions. Presenting both rapier and airjet solutions at Far East's largest textile machinery fair, the company was amongst the favourites of the fair with the latest innovations.
Demonstrating new R9500denim developed especially for denim mills, Itema focused on higher speed-higher performance demand raising in denim market. This concept which was produced for denim manufacturers who are looking for ad-hoc solutions combining versatility with quality and performance, received great interest from Asian manufacturers. Presented in 2015 in Milan for the first time and providing solutions for sophisticated premium terry weavers, R9500terry was also presented at the fair. Exhibiting new jacquard application African Damask weaving for A9500p, Itema gained recognition of its airjet customers as well as potential new users.
Itema emphasized weaving superiority at ITMA ASIA 'We Directly Answer Asian Market's High Technology Demand'
Stating that as Itema their mission is meeting even exceeding their customers' expectations wherever they are, Itema CEO Carlo Rogora said that they aim to deliver the latest technologies to all of their customers including Asian market. Rogora reminded the fact that they would assemble the very latest generation machinery in Itema manufacturing sites there. Expressing that they show their commitment towards their customers who are accustomed to Itema's stable quality and reliability and expecting this to continue, Rogora pointed out their powerful position in global weaving market.
Evaluating the fair, Rogora said that the visitors of ITMA ASIA 2016 met their expectations in terms of quantity and quality. Saying that they expected more visitors from Vietnam, Thailand and other Asian Pacific regions, Rogora stated Chinese visitors were dominant. Explaining that welcoming visitors from Japan, Europe and Latin America was also very enjoyable, Rogora added the fair was satisfying in terms of business volume as well. Indicating that they received great interest from investors during the fair, Rogora remarked that especially R9500denim had a strong demand.
Outstanding Success in Denim Manufacturing with R9500denim
Talking about the innovation they made devoted to denim market's rapid growth; Carlo Rogora pointed out their denim weaving loom which is a first in the company's history. Expressing they realized the fact that denim manufacturing was a challenging process seemed to be easy; Rogora stated they developed a tailor-made and fine-tuned weaving machine packed full with all the technical and textile parameters; geared to excel in this application field. Rogora continued; "R9500denim delivers value-added benefits to weavers, including, but not limited to, superior machine and textile performance, as well as ultra-versatility. Furthermore, the unique Itema shed geometry, widely recognized as the best in the industry; guarantees unparalleled fabric quality in terms of superior hand-feel, denim twill weave and uniform appearance."
Highlighting R9500denim's compact and smooth surface and darker color effect; Rogora also stated ease of use of the machine with pre-set mechanical settings.
Itema Comes out of Market's Challenges Even Stronger
Explaining that Itema had a continuous growth for five years despite market conditions; that are changing and becoming more challenging; Rogora stressed that since 2012 they managed to double their sales; reshaped the production process with Lean Manufacturing system and acquired a more flexible structure. Stating that they are encouraged by the sky-rocketing popularity of their looms; and the feedback they received from their customers; Rogora added to his words that they look forward 2017 with the packed order portfolio and developments in their pipeline.