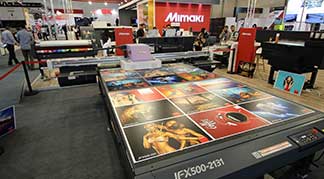 Visitors will join the experience with Mimaki at Sign İstanbul 2018 where Mimaki Eurasia will participate with their wide solutions in digital printing. They will attract visitors throughout the exhibition with several digital printing and cutting solutions addressing to different industries.
Mimaki Eurasia, who owns dozens of solutions from outdoor advertising to interior and decoration prints, from textiles to industrial printing solutions, will participate to the Sign Istanbul 2018, at hall 12 booth E20, which will be held at TÜYAP Fair and Congress Center between September 20th and 23rd. Mimaki Eurasia will welcome visitors by adapting their different exhibition concept to user requests at the exhibition where signage and digital printing technologies are demonstrated. Visitors will be able to closely examine and experience Mimaki's wide digital printing and cutting solutions, as well as print samples. The fully equipped Mimaki technical team will inform sector professionals in detail throughout the exhibition.
Mimaki printing and cutting technologies are the most demanded solutions in the market thanks to their production speeds, printing and cutting qualities and productivity. Due to the ever changing demands of the Turkish printing and advertising industry, the Mimaki Eurasia booth concept is being open to innovations. Attaching great importance to Sign Istanbul in order to meet with the industry and reach existing and potential users, the company will emphasize their leading and pioneering position in the market. Surprising technologies will be displayed as well as solutions for outdoor advertising and signage. The latest innovations in UV, UV LED, latex, solvent, eco-solvent and textile printers in Mimaki's product range will be available at Sign Istanbul.
Visitors expected from Eurasia region
Mainly Turkey in Eurasia and the surrounding regions are Mimaki Eurasia's target markets. The company appeals to all professionals manufacturing at entry, medium and industrial volume levels; and continues to work in order to expand their marketing efforts throughout the region. In this regard, visitors from markets such as Iran, Europe and Balkan regions, Saudi Arabia and Lebanon are expected in particular, as well as visitors from Turkish market. Visitors will be reminded of the superior technical support and comprehensive services that the globally known Mimaki brand can offer.
Mimaki officials will also have the opportunity to talk about new business ideas with the visitors. Mimaki machines, known for their versatility, are helping users jump ahead with value added and different applications. The 'Join the Experience' tag line will be repeated frequently during the exhibition; because Mimaki offers their users the benefits of collaboration with a global brand, not just a machine.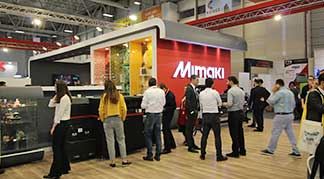 Join the experience main approach; 'user focused technologies'
Mimaki develops user focused technological services and offers them to the market. Mimaki Eurasia started to contribute in Japan and Amsterdam-based R&D development processes as well. The changing demands of the market are being monitored through feedbacks, and the reports are included in the R&D process. For example, while the solvent market was almost over and the interest in UV technologies was on the rise in European region; Mimaki was already ready for it with appropriate technologies. On the other hand, in order to meet the demand for solvent printing solutions in other markets; more environmentally friendly and productive new models are continued to be developed. The digitalization in the textile industry is increasing day by day. Mimaki continues to offer new models to the market, keeping in mind the needs of the textile industry tomorrow.
Mimaki Eurasia is increasing their share and power in the Turkish market every year and is consolidating their leadership. Listening to the demands and needs of end users has a very big effect on this. The users' basic demands, needs and feedback are collected on a regular basis. Thus, end users can be provided technical support through continuously updated digital printing and cutting technologies. For this reason, Mimaki Eurasia attaches great importance to cooperation with its dealers.
Investments can be realized after Sign İstanbul 2018
Mimaki Eurasia underscores a pending investment need and demand in the printing industry. The company sees a high chance in realization of these investments at Sign Istanbul 2018; and has completed the necessary preparations to provide the most suitable technology for the investors. Positive developments in the first half of the year support positive expectations for the rest of 2018.