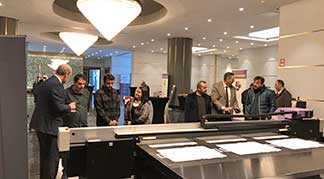 Mimaki Technology Promotion Tour covering Eskişehir, Samsun and Trabzon led digital printing innovations and advantages to the hometown of industry professionals. Local print manufacturers showed great interest in the tour, which followed a route exceeding 3,350 km.
Mimaki, a leading brand of digital inkjet printing technologies and cutting plotters, held a new event to meet with users. Being in close contact with the market through the fairs they have participated or the user events they organized in their showroom, Mimaki Eurasia brought the technology to users with the Mimaki Technology Promotion Tour which includes 3 cities. One-day promotional events held in Eskişehir on March 13, in Samsun on March 16 and in Trabzon on March 19 provided a meeting opportunity for sector professionals who could not attend Mimaki activities previously due to workload or other reasons.
Printers for signage, graphics, promotions and other industrial applications selected from Mimaki's estensive product portfolio were exhibited In Eskişehir, Samsun and Trabzon Technology Promotion Tour which exceeds 3,350 km. Mimaki's current and potential users have had the opportunity to see the latest Mimaki technologies. There has been a strong participation in the rapidly developing Black Sea printing industry particularly in Samsun and Trabzon. Print/cut, UV LED print/cut, super wide roll-to-roll solvent, desktop and large format UV flatbed printing technologies were included in the tour taking place between March 13 and 19.
Senior executives, engineers and professionals were ready through every step of the Technology Promotion Tour. Mimaki Eurasia General Manager Arjen Evertse, Regional Sales Manager Burak Kaftanoğlu, a 3-person technical team and the sales team of Mimaki Eurasia's dealers welcomed the visitors and provided detailed answers to all questions.
Mimaki Technology Promotion Tour achieved its goal
Mimaki Eurasia General Manager Arjen Evertse stated that they achieved the results they were seeking with the Technology Promotion Tour, where they have met with industrial application and promotion professionals of Eskişehir, Samsun and Trabzon. Evertse; "Mimaki Eurasia is positioning itself in the market. Therefore, we do not limit ourselves to come together with our existing and potential users only in fairs or in our own showrooms. We aim to reach out to wherever we can hear the pulse of the industry. The Mimaki Technology Promotion Tour was a first step for us in this context. We are developing projects to reach different points of the market in the coming period".
Noting that the aim of the Technology Promotion Tour was to encourage the industry in terms of investment, Evertse expressed that opening up to new markets provides more successful results. Evertse; "Mimaki's advanced digital printing technologies reduce the costs of users and offer them the opportunity to open up to new markets with new opportunities. We explained that Mimaki solutions are their biggest helpers in order to differentiate and produce value-added products, and the feedback we received showed that it was welcomed. We would like to thank all the industry professionals who visited the Mimaki Experience".
Visitor opinion: very beneficial event for the industry
Duygu Reklam Company Owner and ARED President Ahmet Özdemirel, who participated in Mimaki's event in Eskişehir, said that the local printing industry welcomed and supported Mimaki's Technology Promotion Tour. Özdemirel stated the following; "Our colleagues, who are not aware of the innovations and who cannot take the time to go to the fairs, had the opportunity to look into the innovations on-site. They were able to examine the technologies closely, checked the print samples, and exchanged views. I find this Technology Promotion Tour covering Eskişehir, Samsun and Trabzon very helpful. Although it was the first time, the interest in it was very good. Such activities are very beneficial for the growth and development of the industry. Mimaki has a characteristic such as to innovate the industry. I hope that such projects will increasingly continue".
Visiting the Samsun step of Mimaki Technology Promotion Tour Bahar Reklam Company Owner Mustafa Sait Özdemir recalled that they used Mimaki machines for several years now. Announcing that he bought a JFX200-2513 flatbed printer recently, Özdemir said that he still attended the event to see what's new and get more information. Özdemir continued his words as follows;
"The fact that Mimaki exhibiting their technologies close to the print manufacturers provides great benefits to the industry. We can see innovations in fairs usually. We can allocate as little as 10 to 15 minutes for each company. In fact, this is not enough to make an investment decision. Mimaki Technology Promotion Tour gave the manufacturers from Samsun and the region a comprehensive opportunity to examine the products and ask everything they wonder. I've been here for a day and I've learned so much, it's been an information tour for us. I am sure that this event is much more effective than fairs for industry professionals. Even if they are not going to invest today; I think these machines will be their first choice when they take that decision tomorrow".
No hard work in print with Mimaki
The samples were created with the CJV300-160 integrated print/cut printer; the first choice of professionals; for labels and stickers, signage, vehicle graphics, posters, canvas and backlit prints. Featuring 4-layer printing technology that creates a rich working area; from backlit applications, labels and stickers to showcase and decoration prints; the UCJV300-75 and UCJV300-160; two different sizes of UV LED UCJV300 series with varnish and white ink options have attracted great attention.
The SWJ-320EA; the super-wide solvent machine that provides users; with high quality print on both billboard and interior printing with a single machine; has met the visitors with its quality, speed and reliability at an attractive price. In addition, the small size UV LED flatbed printer; directly printing on objects up to a height of 153mm; including 9 colour options with white, varnish and primer, and with Optional Kebab unit for 360' printing; the UJF-6042MkII was the visitors' focus of attention.
The award-winning UV LED flatbed printer JFX200-2513; with a printing area of 2.5×1.3m; offering users 4 colour and white ink options at 12.5m2 per hour; and 4 colours in high production mode with print speeds of up to 25m2 per hour; attracted great interest throughout the tour.