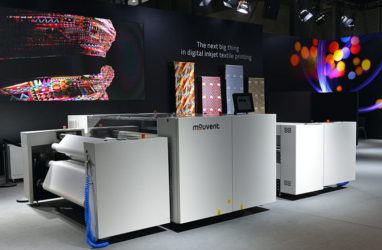 Mouvent presents the TX801 to the Turkish textile industry at ITM 2018, the first time to attend. The Mouvent TX801 8-color multi-pass digital textile printer produces up to 200 sqm/h of perfectly printed fabrics.
Mouvent has announced that the TX801 – its ingenious new digital textile printer – will be demonstrated live at ITM 2018, 14-17 April, in Istanbul, Turkey. This will be one of the company's first ever global trade shows demonstrating the TX801 – an 8-color multi-pass digital textile printer producing the highest print quality on textiles with up to 2,000 DPI optical resolution, associated with very high printing speeds.
There will be four live demonstrations each day of the TX801 at the Mouvent booth, at the following times: 10h30, 11h30, 14h30 and 16h30. The Mouvent Team welcomes visitors to visit booth 509A in Hall 5 during ITM 2018 to witness a true leap forward in digital printing for the textile industry.
"It is a privilege to go to Istanbul and share our innovative digital textile printing technology with the world," said Reto Simmen, Chief Business Officer at Mouvent. "The feedback we've had so far on this machine suggests it is exactly what the market needs at the moment; a highly reliable industrial digital printer, which can print on a multitude of substrates at a competitive cost. We look forward to showing it in action at ITM.
The TX801 offers high speed high quality
The TX801 prints with up to 8 colors and, even though it is a scanning type machine, up to 50% of the print jobs can be completed in a single pass, boosting productivity up to 200 sqm/h without compromising on quality. In order to reach those levels of productivity, the TX801 utilizes an ingenious, very compact proprietary print engine development based on the MouventTM Cluster Technology, integrating Fujifilm's Samba print heads. This is associated with speed, precision and scalability, deploying up to 16 g/sqm of ink in a single pass. And thanks to the MouventTM Cluster Technology, the TX801 prints with an optical resolution of up to 2,000 dpi; resulting in the very highest print quality of the finished product. The machine can process knitted, woven and non-woven textiles; with a maximum fabric width of 1,820 mm with roll diameters of up to 400 mm.
"The history of Turkey's textile industry is long and rich, and it will be a pleasure to present our latest innovations in this beautiful country," said Ghislain Segard, Marketing & Sales Manager, Textile Machines at Mouvent. "As a company, we have come a very long way in a short time; and ITM in Istanbul represents another very meaningful milestone on that journey. We are sure the TX801 will create a splash at the event."
As well as enabling crisp, colorful, very high printing quality; in a cost-effective way for short to medium print runs on a wide range of textile materials; the TX801 is a very durable, compact and accessible printer.
ITM visitors can see the difference of TX801
"The print quality of the TX801 is unrivalled; and attendees to the Mouvent booth at ITM will be able to witness that for themselves;" said Cenk Elkatip, Mouvent's Area Sales Manager for Turkey. "But in addition, they can also learn about its very competitive price per square meter compared with basic digital printers; and it is the quality combined with the affordability that make it such a compelling offer."
Mouvent, represented by the Digital Future in Turkey, is the digital printing competence center of BOBST; dedicated to exploring and delivering the future of digital printing. Aim of company is to develop intelligent digital printing technology; enabling digital printing on any substrate; textile, labels, foil, folding carton, corrugated board and more. Founded in June 2017, Mouvent has approximately 100 employees across five sites in Switzerland.
Mouvent uses 3D printers to produce their machines; additive manufacturing enables the highly integrated, lightweight and compact design of our machines. And their customers love the result: Swiss quality – at very competitive total cost of ownership.