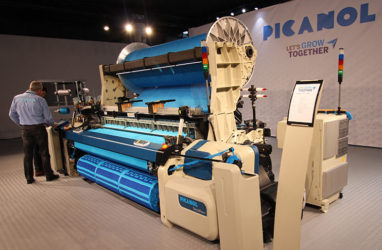 One of the leading producers of rapier and airjet weaving technologies, Picanol presented TerryMax-i, a rapier terry weaving machine with an event organized in Denizli with the motto Let's Grow Together. The machine, which opened a new page in speed and efficiency, got the thumbs up from visitors.
Picanol, one of the leading brands of weaving technologies, has introduced TerryMax-i, an innovative rapier terry weaving machine with the 'Towel Days' event in Denizli. Important textile companies of the region have participated to the event in the Denizli Organized Industrial Zone and they have closely examined the new rapier terry machine. Picanol Turkey General Manager Gürcan İmdat gave information about the historical development of the company, their market power and Turkey activities and objectives in the conference before the live show. Picanol Regional Sales Manager Derya Sargın made a presentation emphasizing the superior aspects of TerryMax-i after sharing information about the company's rapier and airjet technologies.
Providing versatile and efficient weaving, TerryMax-i was developed for high performance. The machine has the lowest energy consumption of its class, making the highest quality of fabric possible throughout the entire weaving process. With TerryMax-i rapier technology, it offers full fabric design flexibility. Due to the superior pile formation, the quality of the fabric is undisputed. Control keys and other equipment make this machine user-friendly. All the functions of TerryMax-i are controlled by the microprocessor, which prevent errors and leads to an intelligent production process.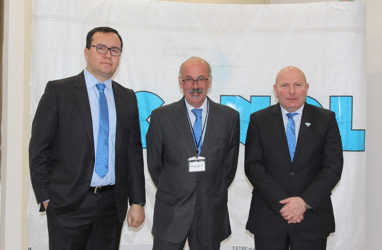 Kurt Lamkowski: we are the leader of Turkish market
Picanol Sales Director Kurt Lamkowski and Picanol Marketing Manager Erwin Devloo, who are closely involved with the guests throughout the event, underlined their confidence in the Turkish textile market. Explaining that they were pleased with the market results of 2017, Kurt Lamkowski stated that it was a 'record' year in terms of turnover and profitability. Emphasizing their success in the global market as well as the Turkish market, Lamkowski; "We have been facing fantastic business in Turkey in the last four five years and also 2017 was in-line again of all the figures". Explaining that the order books are full, Kurt Lamkowski said that they expect to see a similar growth in 2018 as they did in 2017.
Rapier weaving is still the main technology for Turkey
Noting that Picanol increased its strength despite the fluctuating structure of the global market, Kurt Lamkowski argued that the company achieved an unattainable strength and share in the industry because it grew faster than the market. Lamkowski, who assessed the market situation of Rapier and AirJet weaving technologies, said: "China, India, Bangladesh and Pakistan are the main airjet markets. This technology is preferred to produce easy fabrics in large volumes. However, in markets such as Europe and Turkey the rapier machines have a stronger position. Turkey continues to be mainly a rapier market because they supply fabric to difficult clients in shorter terms."
Lamkowski said that Turkish weavers are focused on competing against the cheap and large volume production of Far East through flexibility, quality and fast delivery, and Picanol solutions have become prominent as a partner in this process. Recalling that they were in Denizli to introduce the TerryMax-i rapier terry weaving machine, Kurt Lamkowski stated that Picanol had only airjet technology for towel fabrics in the past. Lamkowski said; "Our airjet technology for terry is very popular among China, Pakistan, India and South American terry manufacturers.
The demand for a rapier-based terry machine on the market increased; and we, as market leaders, were demanded to develop a machine for that. In short, our customers have forced us to develop TerryMax-i. The market results we have received show that we did a good job. Denizli, the center of home textiles such as terrys and bathrobes, is ideal for this technology. We aim to be a leader in r​apier terry weaving".
Let's Grow Together; Industry 4.0
Stating that Picanol has given a great importance to the Industry 4.0; Lamkowski said that digitalization of the production process offers a great opportunity in textile. Lamkowski said that in addition to the shorter production process and lower costs; Industry 4.0 also has human, social and environmental advantages. Lamkowski said; "While there is still a lot of steps to be taken by our customers in compliance with Industry 4.0; the TerryMax-i we introduce in Denizli is fully compatible with Industry 4.0. Some parts in the machine have the ability to self-learn. For example, they can adapt themselves to performance or the yarns."
Referring to Picanol's vision for the next 10 years; Kurt Lamkowski voiced their intention to strengthen their leading position in the market. Lamkowski added that as a complete solution provider; including machinery, sales and after-sales service; they are obliged to being better than their competitors.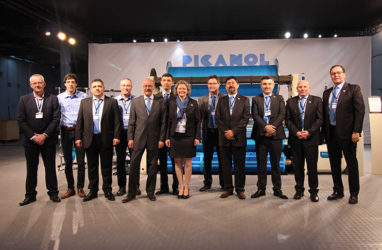 4 machines to be exhibited at ITM 2018
Saying that ITM is an important exhibition for them; Picanol Marketing Manager Erwin Devloo underlined that they meet not just the textile manufacturers from Turkey; but also manufacturers coming from the region around Turkey. Devloo explained that they will show 4 machines in total, including one Optimax-i, one TerryMax-i and two airjet machines.
Devloo once again underscored the importance of the Turkish market for them; "We have a marketing and sales strategy in line with the demands of the local market. At the ITM, people will see that we are not foreign to the Turkish market. We want to grow with our customers. If they succeed, they will return to us again for new investments. Therefore, we want to grow together and walk towards the future with our customers."