Nirvana Belt, the world's first and only waterless textile printing solution without pre and post treatment developed by Optimum Digital, contributes to the protection of rapidly decreasing clean water resources and manages to reduce the production costs of the printers. The new technology eliminates the need for pre-treatment (paste) and post-printing processes required by traditional textile applications, thus completely avoiding the intensive chemical use and water consumption during these processes. This sustainable textile printing solution from Optimum Digital reduces the overall cost by 50% and energy and chemical costs by 80% in addition to conserving natural resources and preventing wastewater generation. Nirvana Belt provides effective and quality printing on all fabrics with zero water consumption and also responds strongly to new market demands for design freedom, customized fabrics, short print runs and faster reorders.
The negative effects of the great leap in industrial production in the last 50 years on the environment and natural resources have been getting more evident each day. 83% of freshwater species populations and a third of wetlands have disappeared since 1970 and nearly two billion people today live in areas at risk of severe water scarcity. The textile industry, which is responsible for 20 percent of the world's water pollution and consumes high amounts of clean water in dyeing and traditional printing processes, also plays a critical role in creating a sustainable world. According to researches, enough water (93 billion m³) to meet the consumption needs of 5 billion people is used for textile/apparel production every year. Optimum Digital has been operating in digital printing and developing innovative technologies since 1994, offering an ambitious solution to the intensive water consumption and pollution problem of traditional textile printing applications.
The period of waterless pigment printing without pre and post treatment (without paste) in textile printing technology
While reactive printing, one of the methods used in traditional textile printing applications, enables printing only on cellulosic fabrics, machines that can print on both cellulosic and polyester fabrics are more preferred today. However, in traditional methods, the fabric has to go through a series of chemical processes before printing and different processes such as steam, water and fixation after printing. Today, approximately 95 to 400 litres of water are required to produce one kilogram of textile products, while textile wastewater containing high levels of organic and inorganic contaminants seriously endangers human and environmental health. In addition, this brings with it legal obligations such as the installation of treatment systems and high operating and investment costs. The waterless pigment printing without pre and post treatment innovation, developed by Optimum Digital, offers an effective solution to this problem and enables textile printing with zero water consumption. It eliminates the wastewater, chemical contaminants and high energy consumption of traditional printing.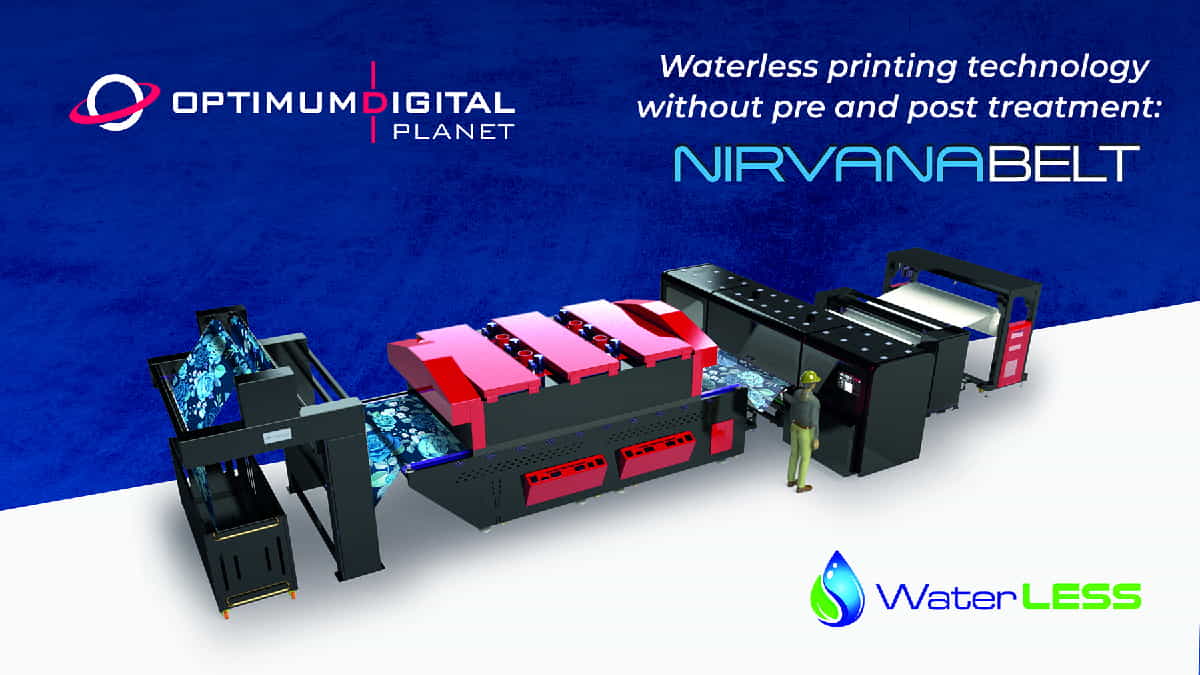 Optimum Digital has introduced Nirvana Belt, a new way to produce high-quality textiles without the need for pre and post treatment or water
Another disadvantage of traditional textile printing technologies is the need for extra machinery caused by pre-treatment and post-printing processes, and generating additional costs because of the chemicals used in this process for the manufacturer. Nirvana Belt textile printer eliminates the use of extra machinery for processes such as drying, washing and steaming before and after printing, and avoids spending extra energy, time and cost to produce environmentally friendly high-quality fashion prints with its innovative technology. In this way, waterless printing technology without pre and post treatment provides a lower cost per m² production opportunity for printing, cutting the costs by half while reducing energy and chemical costs by 80%. In addition, there is more working place in the facility thanks to the use of less machinery in the printing area.
Eco-friendly innovation that effaces traditional printing
Nirvana Belt offers manufacturers the advantage of environmentally certified and reliable printing within the scope of Greenguard, Gots, Oeko-tex and Green to Wear standards, bringing a new power to mass production with waterless printing without pre and post treatment. It makes it possible to print on polyester, cotton, synthetic cotton and all other fabrics in the same machine; It is used in lots of different application areas such as tablecloths, sportswear, curtains, bed covers, flags and upholstery fabrics in addition to elastic and non-elastic apparel. Nirvana Belt enables manufacturers to obtain any print pattern with excellent fastness, accurate colours and soft touch with a choice of up to 8 colours per row for vibrant and colourful prints. Optimum Digital also offers colour expertise for a customized colour profile.
Nirvana Belt fulfills all the requirements of traditional printing in full-length textile printing while minimizing its environmental footprint. Equipped with 32 print heads and capable of printing up to 800 m2 per hour, this pigment printer turns into a real printing solution for numerous different applications with its 2050 mm printing width. Nirvana Belt textile printer has a smart automatic head cleaning system. It also eliminates dirt build up with its integrated spiral brushes. The printer includes an industrial drying unit and a closed design system for safe operation and reduced noise, and it also features an easy-to-use practical washing unit designed to reduce downtime. Nirvana Belt with a waterless printing technology without pre and post treatment, enables printing processes to be carried out quickly and easily with its user-friendly design, as well as all its environmental and investment-based advantages.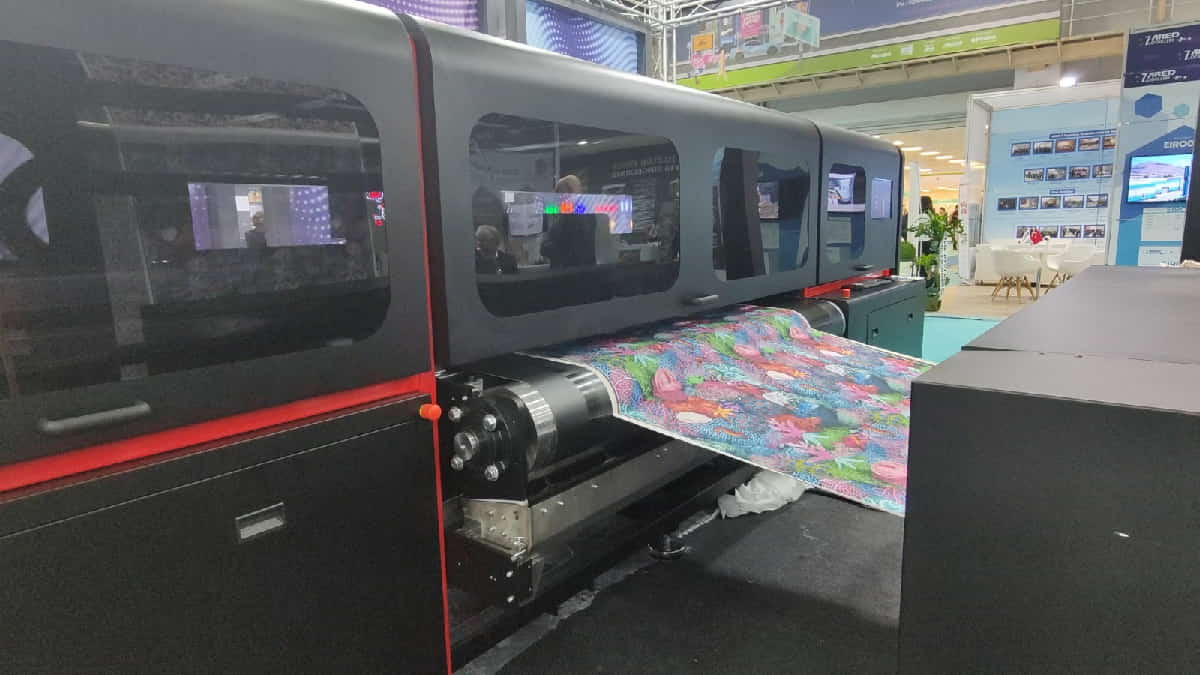 'Zero Water Consumption' for a livable world
The Nirvana Belt innovation series is developed as a result of detailed studies to meet the needs of the textile printing industry such as high efficiency and environmentally friendly production, revealing the company's claim in textiles. Optimum Digital CEO Taner Güven stated that they have carried out intensive R&D studies on digital printers and that they will continue these innovations without slowing down. Güven underlined that these were developed with a strong infrastructure that also allows version updates for future sectoral needs and said; "This innovation is a technology that is open to development and will facilitate taking steps towards the future".
Güven emphasized the importance of innovations in terms of sustainability in the textile printing sector, which has a high environmental impact and expressed the following; "We must rapidly create a circular value chain for a sustainable world. Today's traditional textile printing methods do not allow environmentally friendly production due to the excessive use of water and wastewater containing contaminated chemicals. We have made a revolutionary innovation both to contribute to the transformation of the textile industry towards sustainable production and to respond to the changing demands of the market as a brand that has made numerous innovations with our half-century experience in digital printing. The waterless printing technology without pre and post treatment we have developed eliminates the need for litres of water required to produce printed textiles with zero water consumption, and also prevents the use of contaminated chemicals. Therefore, I can easily say that Nirvana Belt, produced with a technology that respects nature, brings a new breath to the sustainability-oriented textile printing industry in the new era. We know that every drop of water we protect cleanly and save is our future. We are proud to be the first company in the world to achieve it".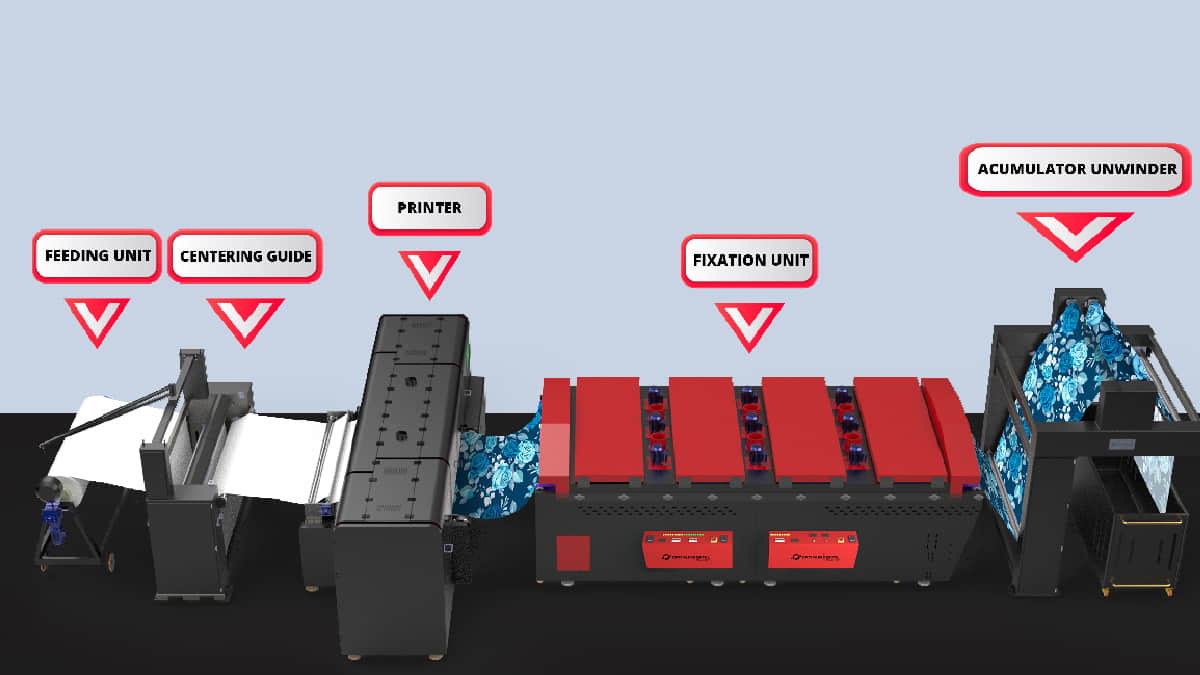 The accelerating digital printing industry offers new opportunities
While the value of print services was 3.16 billion euros in 2020, it increased to 3.82 billion euros in 2021, and the figures that decreased in 2020 with the effect of the pandemic which changed the balances all over the world are expected to increase until 2022. The volume of inkjet printed fabrics is estimated to increase about 2 times its size from 2.89 billion square metres in this period to 5.53 billion square metres in 2026 according to the estimates, and the data shows that the share of inkjet printing in the total printed textile market has increased from 6% to 10%. This growth presents an important opportunity for textile printing suppliers to grow and recover their losses after the pandemic. Optimum Digital stands by textile printers as a reliable partner with low-environmental and high-quality printing solutions for all textile products in this process with Nirvana Belt having waterless technology without pre and post treatment. Nirvana Belt textile printer represents an important step forward by Optimum Digital in sustainable and environmentally friendly printing.