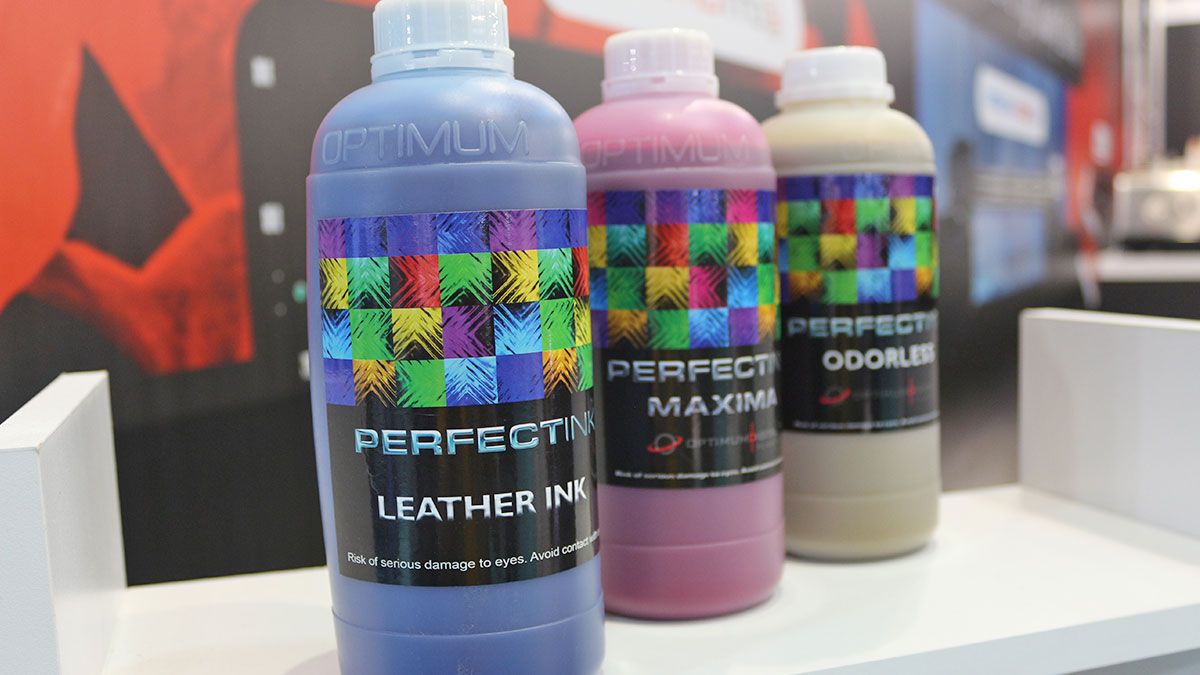 With a quarter-century of experience in the digital printing industry, Optimum Digital Planet has added an artificial leather printing solution to its already innovative product portfolio. Optimum Digital Planet provides solutions to the signage, textile, glass and furniture industries with its large format digital printing machines, and enables high quality digital printing on artificial leather with their newly developed solution technology. Optimum Digital Leather Ink, which can be used in printers developed through intensive R&D work, gives its users the power to produce personalized leather goods with digital printing.
Optimum Digital Planet Company Owner Taner Güven reminded that the use of leather is as old as human history. Güven said; "Even in prehistoric times when weaving and knitting textiles were not yet discovered, people used leather goods to dress up, store food and drinks, carry goods, and much more. Leather has maintained its importance as the most important trading material for centuries. In the global market, there are 10 types of natural leather, mainly sheep and cattle, while there are hundreds of synthetic leather. Since Synthetic Leather is the dominant market, the demands are quite high. Almost 500 different synthetic leather can be produced even in one plant. This tremendous diversity and production ability has encouraged us to offer a digital solution for this market".
Digital leather printing; unrivalled for personalized manufacturing
Many leather goods, especially clothing, bags and shoes, are used at every point of our daily lives. However, end users are demanding personalized products that reflect themselves, rather than conventionally produced uniform leather products.
Referring to this topic Taner Güven; "Fashion designers, fashion creators want to reflect different designs, details in their products and collections to reflect the individual's originality. However, this personalization was limited by the difficulties arising from the chemicals used to treat the leather. Unfortunately, to date, printing has not been successful in obtaining the desired results. As Optimum Digital Planet, we have overcome all difficulties and succeeded with our leather solution".
Ink compatible with leather chemicals for artificial leather printing from Optimum Digital
The leather ink offered by Optimum Digital Planet is not affected by the chemicals and adhesives used in the production of leather. Thus, the digital printing ink adheres and covers the leather surface in a superior fashion. Taner Güven explained that the ink they developed was compatible with these chemicals and did not repel each other. Güven; "While developing our eco-solvent based leather ink with our foreign partner, we have completed an important research on the chemicals used in leather production. We did not aim our ink to suppress chemicals for a certain period of time, but to create a layer on the surface in harmony with them. In this way, the ink adheres to the surface 100%, and does not come to your hands".
Optimum leather ink has a longer life span
The second advantage of Optimum Digital's leather ink is that it cannot be removed or deteriorate after a period of time depending on the use. Taner Güven comments;
"Depending on the use, the printing on the leather should not deteriorate and should not be removed. The main point in this issue is the fastness to sweat. For example, the deterioration in ink and printing is generally very fast in bags due to hand perspiration. We closely examined the effects of sweat on leather, chemicals, and printing. The results of our tests showed what we should do. Ultimately, our analysis reveals that Optimum Digital's leather ink is long-lasting and is not affected by sweat and chemicals used in production. Digital printing does not deteriorate after a week, a month, or a year after the product has been purchased. Our ink is a solution that is strong enough to offer printing life as well as the life of a leather product".
Another important feature of leather printing ink is that it is environmentally friendly and harmless to human health. Güven; "Since we print on products that are in direct contact with human skin, our inks meet the most important health criteria. This ink does not cause any harm from skin contact or inhalation. Also does not contain heavy metal. With the certificates we have, manufacturers can safely use our leather ink and sell their products".

Real production power for artificial leather printing
The leather ink pioneered by Optimum Digital Planet is a healthy ink suitable for use. The printing results of the company's Maxima Inno S and Nirvana Hybrid printers show that the targets have been achieved. Taner Güven explained that the sample prints they made with several leather manufacturers in the industry satisfied them. Güven shared the knowledge that these inks are used in the printing of leather products of the leading retail and fashion giants of the global market.
Güven; "The issue is not to print in very low volumes, but to achieve a real production rate and speed with this ink. In proportion to the quality expectations of the companies, we are able to print 60 to 140 square meters per hour in many companies. In other words, we are talking about a thousand square meters of digital leather printing during working hours. If 3 shifts occur in one day, this means a very high productivity of 3,000 square meters".
An innovation to expand the leather industry
Leather printing ink developed by Optimum Digital Planet does not only meet the demands of the end users. It can also contribute to the growth of the leather industry, which is a manufacturer of intermediate goods. Taner Güven argued that leather manufacturers will provide more added value to the retailers in the sales process of digitally printed, designed and personalized leather. Güven concluded his words as follows; "Nowadays, it is obvious that selling designed products instead of raw materials is more profitable. We are ready with our leather printing solutions to increase the leather industry's competitiveness and profitability. Currently, we have begun working with Turkey's leading leather and leather goods manufacturers".
"Optimum machines in mass production"
Optimum Digital Planet put its digital printer technologies into mass production in line with the intense demand. Optimum Digital Planet printers produced for solvent/eco solvent, UV and textile segments are reaching more and more users with the advantages of high efficiency and long-lasting service they provide for printing professionals. Closely following the developing technologies and demands in the printing industry, the company continues to increase its production activities with intense and continuous R&D studies. In addition to increasing machine production, Optimum Digital Planet continues to improve its after-sales services to provide fast and comprehensive technical support to its customers. The company is located in more than 28 countries worldwide with its sales and after-sales services.
What is artificial leather printing?
Always a highly valuable raw material, leather is used in manufacturing several top fashion and decoration pieces; and it is even more valuable when it is customized through patterns, artwork, text or logos.
Two ways to successfully print on leather is either with screen printing or digital printing. The traditional screen printing method is quite costly and challenging. In contrast, developing digital printing offers fast production and an infinite number of patterns. Developed for leather, specific inks makes the appliance of high quality patterns on leather.
In order to have a successful result on leather, the ink must be compatible with the texture of the leather and must become a part of it. The next criterion for the ink that is successfully holding on the leather is to have a long life span and stay intact.