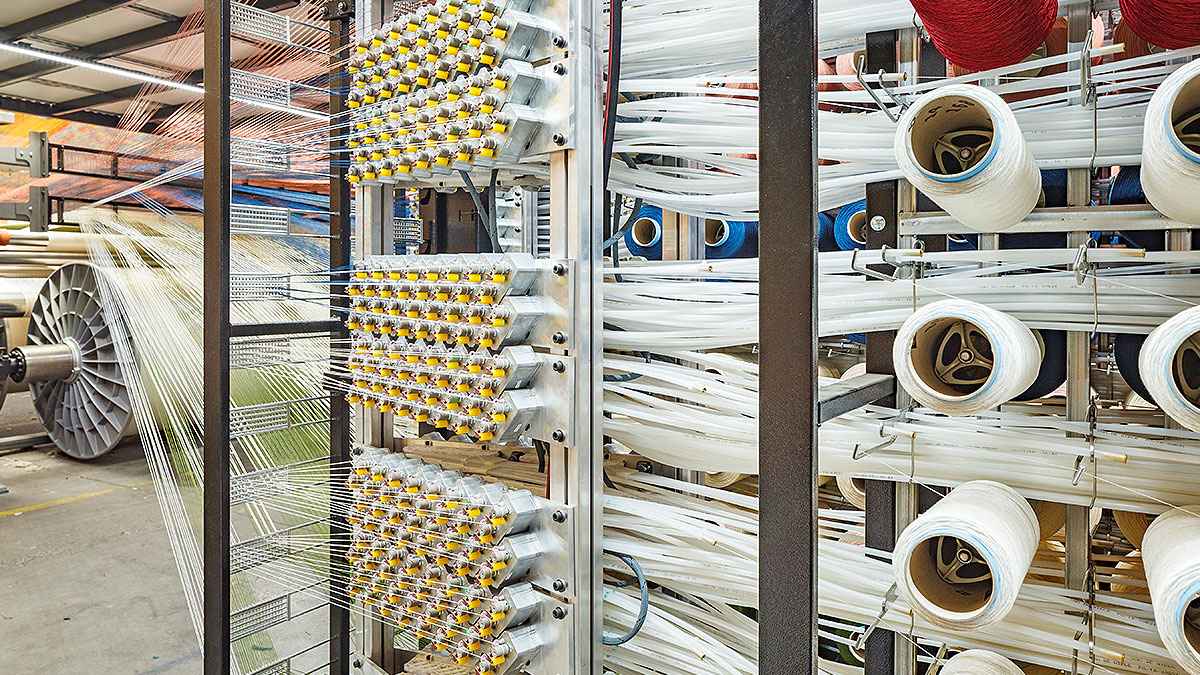 Vandewiele carpet weaving integrated digital production system brings profits. Domotex 2020, the world's most important carpet and floor coverings show, will be held in Hannover, January 10-13. In addition to finished product groups from more than 60 countries, 1400 companies are participating in this important trade show. Developing innovative textile systems, Vandewiele will present their complete systems from granulate to carpet weaving at Hall 11 Stand C31.
Vandewiele's portfolio includes BCF extrusion lines, heat-setting, tufting, carpet weaving machines and finishing lines. The focus of Vandewiele, which will highlight the synergy of competence in these different fields, will be on integrated digital production systems. With their rich product range, the company will demonstrate that they respond to the most basic need for higher quality carpet production on the axis of more flexible production cost.
The final quality of a carpet mainly depends on the quality of the yarn being used. The Vandewiele experience in woven and tufted carpet, combined with the technological know-how of efficient yarn production, has led to the development of Vandewiele extrusion equipment.
Vandewiele carpet weaving integrated digital production system: yarn carpet proses is the first step in quality
The new generation BXE+ promises to offer the market the best possible solution for efficient yarn manufacturing. At Domotex, they will highlight the newly developed INCA Intermingling system with reduced air consumption and increased regularity of intermingling, and the 2-step drawing which offers supreme yarn properties. Additionally customers can see and experience a Tricolor line in their new Experience Centre in Belgium.
After extrusion, yarns are often cabled and heat-set. Since many years the French company Superba, part of Vandewiele, is a world-leading manufacturer of heat-setting equipment.
SUPERBA now offers two different heat-setting solutions for carpet yarn: The reputed TVP3 heat-setting line with saturated steam under pressure, and the new triple-layer DHS3 line with overheated steam. By extending possibilities and processes, whatever the fiber type you would like to treat or the result you want to obtain, would it be pinpoint effect, resilience, bulk or wear & stain resistance, SUPERBA has the right solution. Together with the unequalled MCD3 space-dyeing machine that enables a wide range of effects such as bi-color spraying, one-pile/one-color or tone-on-tone, SUPERBA solutions for carpet yarn open up new perspectives for the carpet industry. To complete the range, SUPERBA also proposes the innovative B403 automatic winder with a constant tension winding process for delicate or thin yarns.
New opportunities in tufting carpets
Vandewiele carpet weaving has innovations on the tufting side as well. They will show samples of the Colortec C+ 1/10" and the Colortec L+ 1/7",  the most flexible & versatile tufting system in the market. A wide variety of jacquard designs for tufted carpets and rugs, available in 5/32", 1/7" or 1/10" combined with a Small Creel creates a flexible system for quick colour change and small runs.
With the Colortec and its ICN technology, the Individual Control Needle, a higher efficiency and quality will be reached. It will only tuft pile where required and therefore saves a lot of yarn for shaped carpets. Moreover, it allows you to tuft with "weaker" yarns (e.g. wool); considerably less yarn on the back and multiple colour mixes.
The Colortec can be combined with an IPD system for active yarn feed. This allows a much better pile control, resulting in a cleaner surface of the fabric; a wider range of yarns and yarn counts for a different look, feel and pile heights.
Using TexConnect software, an exact individual yarn consumption can be calculated, resulting in less waste yarn.
Vandewiele, expert in weaving
Vandewiele leads the industry with vital improvements in the carpet weaving process. The advantage of the complete digital control by the Fast Creel will be shown; producing carpets at the highest speed with reduction of yarn loss, so obtaining carpets at the lowest cost price possible. Vandewiele will also illustrate an important trend of light carpets woven on the VSI 3meter machine.
A wide range of woven carpet qualities will be shown on the company stand including carpets such as; Axminster carpets, loop pile carpets, rugs from economical qualities in reed 320d/m up to high density 1500 d/m, car mats etc.
For finishing the fabrics the completely revised TITAN 5540 is now able to finish carpets with straight corners; next to carpets with round corners and complex shapes. The optional integrated label printer allows for traceability throughout your production process of each carpet individually.
The entirely electronic carpet handling system further improves the stability of the process. The newly designed construction allows improved ergonomics for the operator. A completely digital machine needs integral digital planning and a performant BI. With the powerful and Internet of Things based TEXConnect you can manage and control your entire production equipment.