Kornit Digital, one of the leading brands in special printing solutions for the textile industry, brought together Atlas Max and Presto S printers with the sector through its Turkish distributor MatTex at ITM 2022. The brand, standing out with its waterless and pre-treatment free printing possibilities at the exhibition, met with deep interest from visitors from abroad as well as Türkiye for five days. Kornit Digital Türkiye Country Manager Nathalie Hizveren spoke to Textilegence about her evaluations of ITM 2022 and the Turkish market.
Hizveren, expressing that they were very happy to be able to participate in ITM 2022 with their Turkish partner MatTex, said that they had the opportunity to meet with numerous companies from the textile and printing industry through the exhibition. Reminding that they have not been able to physically meet with their customers for a while due to the pandemic process, Hizveren disclosed: "It was both very enjoyable and productive to meet face to face again after a long time. We had visitors from various profiles from both the management, production and marketing departments of the textile industry, and this exhibition was a great opportunity to spend a little time with them and tell them about our technology face to face." Hizveren said that there was a great interest in the Kornit Digital booth from every country and market throughout the exhibition and relayed that they hosted a large number of international visitors beyond their expectations and that the prominent countries in this sense were Iran, Egypt, Georgia and Eastern European countries.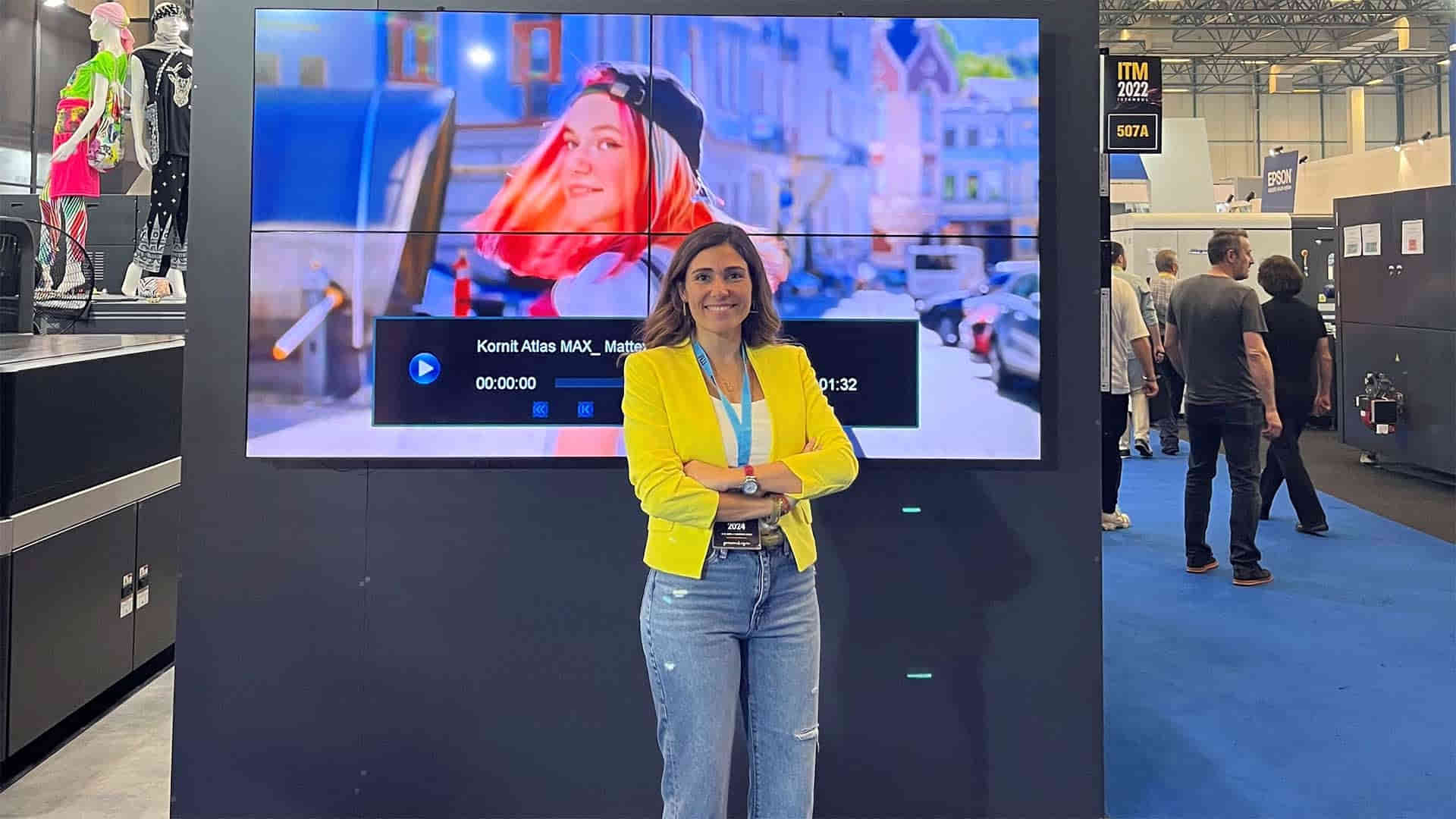 Kornit Digital creates a difference in DTG and DTF printing with Atlas Max and Presto S
Nathalie Hizveren noted that the DTG (Direct to Garment) printing segment continues to grow and take a share from traditional printing with both the decrease in the numbers on the printing side and the increase in personalization demands and stated that the innovations of Atlas Max and Presto S provide impressive advantages at this point. Hizveren mentioned that the products produced in high volumes are kept in warehouses for years without being sold and said: "Atlas Max is a technology that brings solutions to these problems. Whether it's one or hundreds, the cost is the same but the options are endless."
Hizveren stated that Presto Max has attracted a lot of attention since its launch on the repeat (DTF – Direct to Fabric) printing side and disclosed: "Think of a technology where you can print without any pre- and post-treatment, and the product that comes out of our printer's dryer becomes a finished fabric. With almost no water consumption and low energy consumption, the process is shortened and many components such as time and labour are saved."
She said that the biggest question mark in the minds of visitors is usually about colours, explaining that at that point, Kornit Digital surprised the manufacturers in terms of quality by obtaining an extremely vivid and wide colour gamut as a result of the ink and chemical composition. Hizveren added that they were able to obtain very special and value-added prints thanks to Presto Max's white printing capability and reminded that all of Kornit's inks are produced in accordance with the world's accepted sustainability standards and have all the necessary certificates such as Oeko-Tex and GOTS.
Mentioning in the Custom Gateway, also known as Kornit X, software solutions that provide end-to-end workflow management, Hizveren stated that thanks to this, brands can make their choices starting from the design on the platform, view the product they have designed until the last stage, and at the same time create their orders.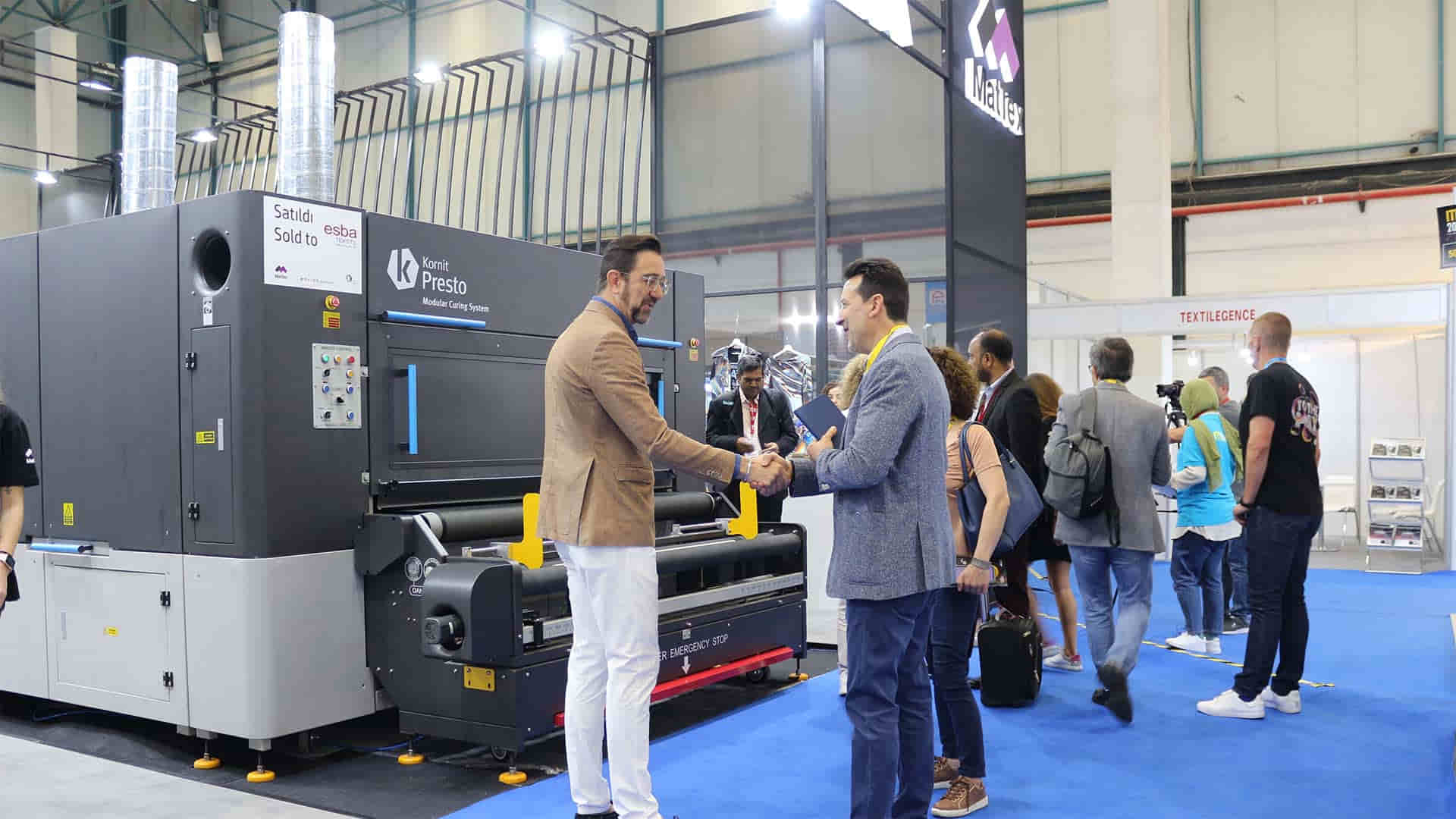 "ITM 2022 once again confirmed our investment strategy in Türkiye"
Nathalie Hizveren pointed out that the negativities in both raw materials and supply chain started an adaptation process in the textile industry as well as all over the world, and stated that the investments were also reshaped in line with the changing trend. Saying; "However, it would be wrong to say that investments are negatively affected due to Türkiye's dynamic structure," Hizveren explained the high interest in sustainable production, which provides high energy and water savings, was clearly felt at the exhibition and this increased the interest in the Kornit booth.
She stated that ITM 2022, by meeting their expectations, once again confirmed their strategy of focusing and investing in Türkiye and disclosed: "We are able to offer the necessary support and solutions to our customers in the Turkish market, both with our partner MatTex and directly with two local employees of Kornit. There is no doubt that Türkiye will play a much more important and strategic role in the already strong textile industry in the coming years."
Stating that the expression that best describes Kornit Digital's main philosophy is 'better', Hizveren said: "Our philosophy is to serve from better ideas to better products and more value-added returns for our customers and, above all, a better world. For this, Kornit allocates a very serious budget to R&D studies every year and continues to serve this purpose and develop its technology with a team of 200 people." Finally, pointing to the ITMA 2023 exhibition, which the textile world is eagerly waiting for, Hizveren added that Kornit Digital continues its preparations to welcome its visitors with an eye-catching great launch.