Compressed air solutions specialist Lupamat Compressor achieved successful results with its new Industry 4.0 compatible DHK Premium Series compressors that it featured at ITM 2022. The company left behind the exhibition held in Istanbul on June 14-18 satisfied, strongly emphasizing its growth strategy toward the global market. In addition to the new DHK Premium Series compressors, the company's booth also featured solutions such as the best-selling compressed air tank and compressed air dryers in the market.
Lupamat Compressor Southern Marmara Region Sales Manager Burcu Türkmen, making exclusive statements to Textilegence, said that Lupamat successfully left behind ITM, which was held physically for the first time after a long pandemic. Türkmen disclosed: "The textile industry has been waiting for ITM to meet again for a long time, and frankly, the results we obtained at the exhibition, where participation and visitation were high, exceeded our expectations. As Lupamat, we firmly prepared for the exhibition and got successful results in line with our expectations. We were pleased with the high visitor profile and the meetings we held, in addition to the high number of visitors."
Lupamat booth hosted visitors from all over the world for five days
Burcu Türkmen, emphasizing that they have strong ties with the Turkish textile industry as a local manufacturer, said that they met visitors from foreign markets as well as the Turkish market at the exhibition. Türkmen stated: "We truly experienced global traffic during the five days of the exhibition. We hosted visitors from Uzbekistan, Turkmenistan, Pakistan and Russian markets at our booth in addition to Turkish textile manufacturers. Our exhibition agenda was full with the high interest of professionals in our solutions from developing textile markets and regions with high energy costs. We would like to thank all our visitors who did not leave us alone once again."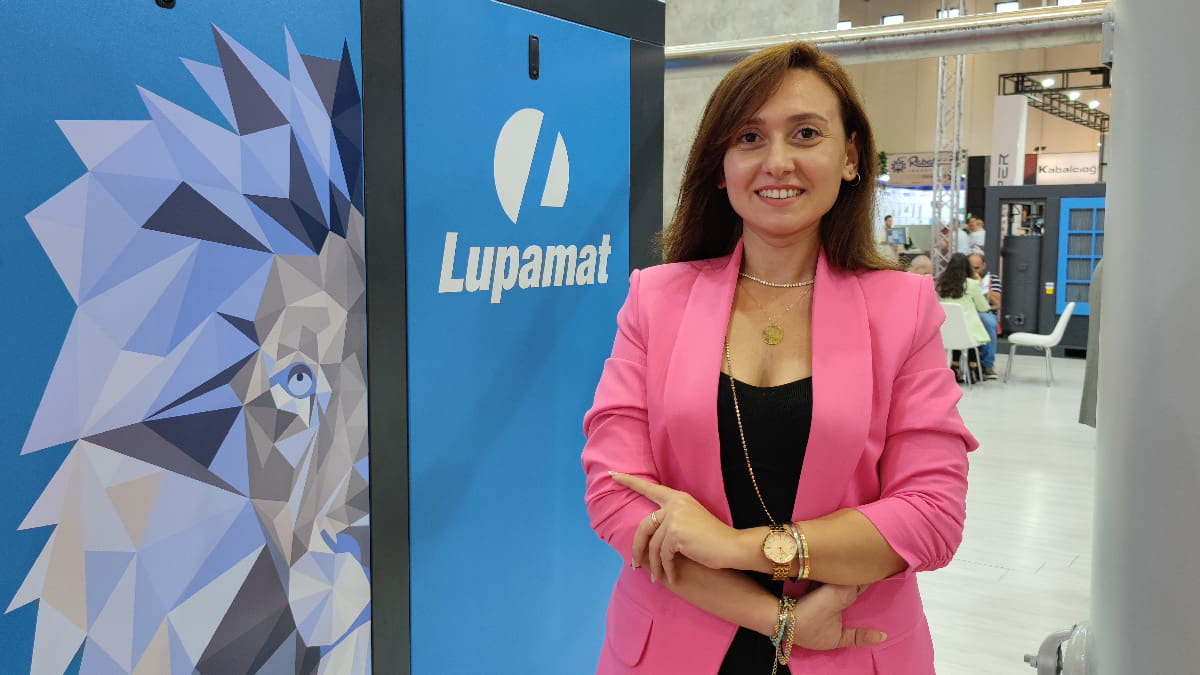 Energy-friendly DHK Premium Series became the centre of attention
Lupamat Compressor, which has a comprehensive portfolio of compressed air solutions needed in textile production, attracted visitors to its ITM 2022 booth with its latest developments as well as its best-selling products in the market. Burcu Türkmen said: "We emphasized our expertise in compressed air engineering and rich product portfolio in all details at the exhibition. We also presented a visual feast by exhibiting our solutions, which meet international quality, safety and energy efficiency standards and have very competitive investment costs, installed at our booth," and underlined that especially the energy-friendly DHK Premium Series compressors were met with great interest.
Türkmen, noting that energy costs have increased significantly in numerous markets and especially in Türkiye, said that textile manufacturers demand solutions with high energy efficiency. Türkmen continued: "Lupamat's corporate R&D department and engineers not only focus on producing more powerful and efficient machines but also work to save energy costs. Each new solution we develop goes beyond the previous one and provides new improvements. Our new Industry 4.0 compatible DHK Premium Series compressors that we exhibited at our booth represent the latest point reached in this sense. These compressors, which can be easily integrated into the automation systems at our customers' facilities, can be monitored online 24/7. Energy efficiency can be monitored live from a computer or smartphone. It provides superior performance at low revs even under the toughest conditions with its efficient engine features. It can be optionally equipped with heat recovery and water cooling functions in addition to ultra-quiet and RFID security features. In short, this series has been developed considering the uninterrupted and trouble-free air needs of the factories."
"We do the right needs analysis for the right solution"
Burcu Türkmen stated that energy efficiency is always their priority and disclosed that during ITM, they had important discussions with the visitors about their new investments and how they could save energy. Türkmen noted that, in addition to their engineering infrastructure, they have shown that they are the best compressed air solution provider on a project basis with the materials and equipment they use, which made them stronger. She said that the right solution can only be determined with a good needs analysis and disclosed: "First of all, we listened to the investment plans of the manufacturers and provided detailed information about our suitable solutions. You also need to build corporate trust beyond offering an advanced solution in terms of sales and marketing. We explained the strength and capacity of Lupamat in pre-sales, sales process and after-sales services as a well-established company. I can say that the biggest gain for us is customer satisfaction and trust."
Expressing that Lupamat Compressor is a well-known brand in all sectors that use compressed air technologies throughout Türkiye as a domestic manufacturer, Türkmen said that they aim to increase brand awareness among investors by participating in exhibitions. She concluded her words as follows: "Our participation in exhibitions has positive reflections on our marketing and sales processes. In this context, ITM 2022 will contribute to increasing our market power in the textile industry. We are able to offer solutions suitable for the developing and changing needs of the textile industry with our product development power and production capacity. Making a Turkish brand that produces technology stronger in both domestic and foreign markets will contribute to our country, to begin with. Lupamat continues to develop itself within the framework of this mission."