Stäubli, one of the leading brands in weaving technologies, drew attention at ITM 2022 with the launch of its new SX PRO Jacquard Machine and its sustainable and energy-efficient solutions. The company hosted numerous visitors from Türkiye and surrounding countries at its booth, where they also exhibited automation solutions for weaving preparation, carpet samples from ALPHA 560 UNIVERSAL and so many others. Stäubli Textile Global Head of Marketing, Sales and Service WPS Fritz Legler, speaking to Textilegence, said that they were glad to be back in Istanbul and the general atmosphere of the exhibition was ambitious.
Legler stated that there was great international participation and numerous visitors from neighbouring textile markets attended the show. He continued: "Despite the global uncertainties in the industry, we could gather quite positive vibes from the many visitors to our booth. This was partly due to the significance of the constantly growing Turkish market and probably also the post-Covid effect – the wish to meet in person again." He added that as a leading supplier, Turkey is very well positioned and is building a strong bridge to Europe and to the Americas, noting that the industry is actually doing quite well despite the severe challenges with increasing costs, energy prices, and inflation.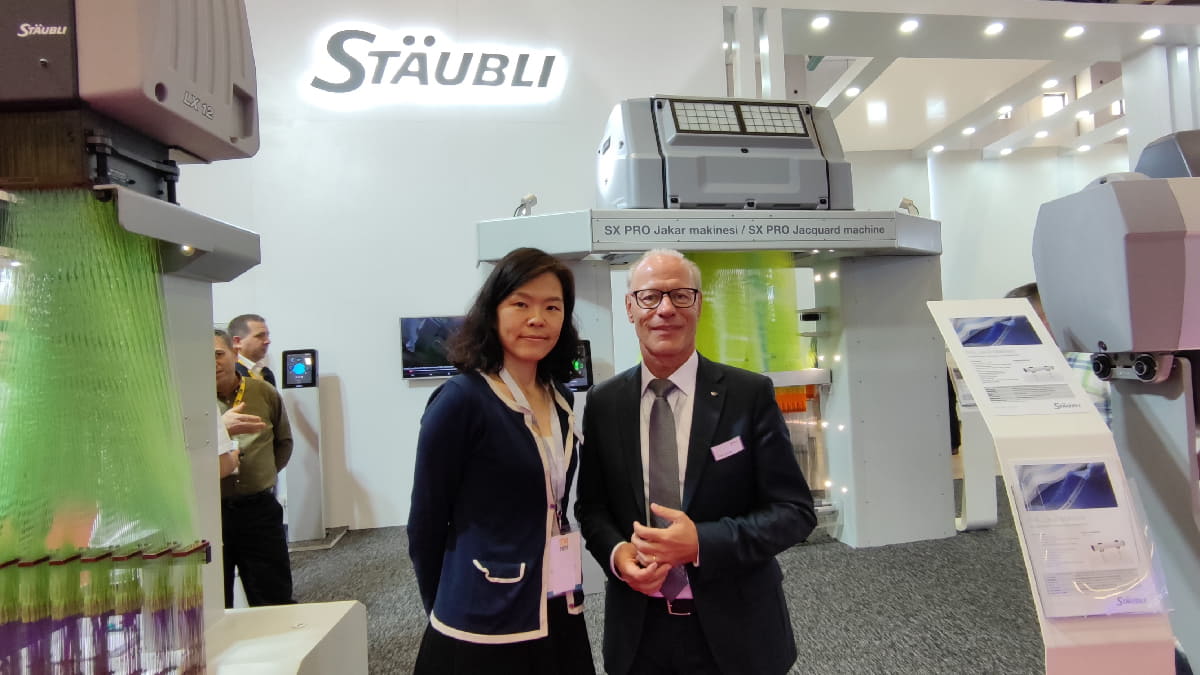 Sustainable solution against rising energy costs: New Stäubli SX PRO Jacquard Machine
Stäubli has introduced its new SX PRO Jacquard Machine, which was undoubtedly the prominent solution of the booth, with a successful launch at ITM 2022. Fritz Legler mentioned this new jacquard machine's advantages and features as follows: "The new Stäubli SX PRO Jacquard Machine is a sustainable solution for weavers seeking equipment that helps them to face rising energy costs. It responds to the market demand for higher power efficiency and reduced energy consumption. It incorporates all of the proven technology of previous Stäubli Jacquard machines and also features several innovations to reduce energy consumption: the low-friction design of the MX PRO module, a power supply fully integrated into the machine itself, and a new ventilation system with optimized temperature monitoring."
He added that in combination with the user-friendly TC8 controller and the powerful NOEMI electronic architecture, which transmits highly precise design data, the Stäubli SX PRO can operate under extremely challenging conditions at high weaving speeds with reliability and resilience, saying: "Equipped with up to 2,688 hooks, the SX PRO is completely adapted to the needs of the Turkish market, where terry cloth, apparel fabrics, tapestries, and upholstery fabrics are produced."
Wide variety of carpet samples displayed the flexibility of ALPHA 560 UNIVERSAL at ITM
The company also exhibited their ALPHA 560 UNIVERSAL carpet weaving system, which they presented at Domotex Turkey in Gaziantep. Saying that they showed a wide variety of carpet samples that prove the enormous flexibility of this new carpet weaving system at ITM 2022, he continued: "For example, weavers can produce diverse sisal bindings, combinations of cut and sisal, or carpets with weft patterning. In terms of density, the system is ideal for weaving mid- to high-density carpets, including the Traditional Carpet Effect binding or the current mainstream trend of carpet densities with around 700 reeds. The ALPHA 560 UNIVERSAL can be equipped with our new air-guided rapier system and with our completely newly developed fine-grind unit. These bring even more benefits to efficient carpet production."
The other solutions presented at the Stäubli booth are TIEPRO warp tying machine for efficient warp changes; SAFIR S60 automatic drawing in machine for efficient style changes and the new-generation name selvedge N4L Jacquard machine.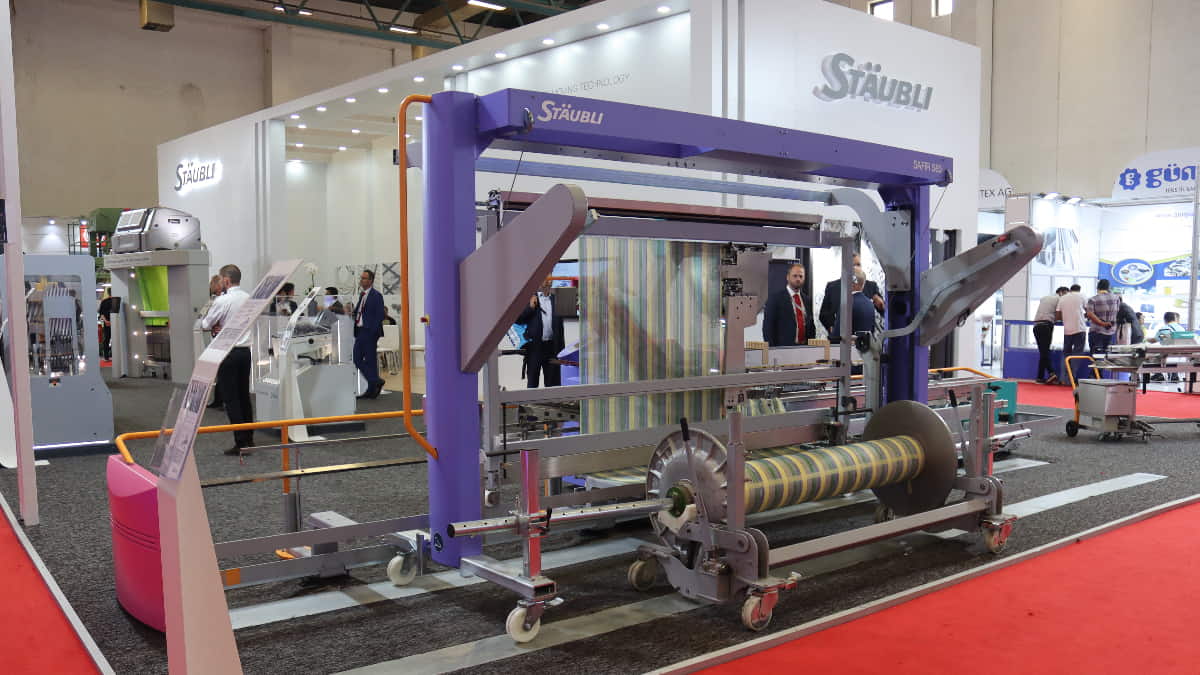 "All mills' common need is support services"
Fritz Legler emphasizes that the needs of textile mills change depending on their size and the organizational structure, but all mills require support services in order to maintain smooth and efficient operations. He stated that this has always been a prime concern for Stäubli and they excel in this regard, saying: "Our worldwide support organization, including local teams, is available to provide support whenever necessary. Furthermore, we are convinced that partnering and consulting with our customers is essential. We stay in close contact with our customers and listen to them as we constantly adapt and develop our machinery and system solutions to best meet their day-to-day needs."
Legler disclosed that in terms of products, Stäubli has been focusing where market demands have been the most: "For air-jet and rapier weaving, we have responded with a number of high-performance solutions that we exhibited at our ITM booth. An example is the S1792 cam motion, which boasts state-of-the-art technology and delivers very high performance, reliability, and speed. It was launched at ITMA 2019 and since then over 5,500 units have been sold worldwide. It stands out not only for the number of units sold in this short period but also for being the first model that performs at speeds up to 1400 rpm – depending on the fabric specifications and the weaving-machine settings. It fully masters both of the main challenges of air-jet weaving: quality and performance."
Legler concluded his words as follows: "As a leading supplier to the weaving industry, we will attend ITMA Asia in November and ITMA Europe in Milan next year. Both trade fairs are important appointments for us, and we will be presenting interesting and progressive developments that mills will not want to miss."