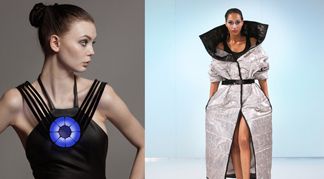 Techtextil presented smart textiles and intelligent fashion at Fashiontech during the Berlin Fashion Week. Technical textiles offer inspiration for fashion designers and help them expand their horizons
They can heat, illuminate and communicate: intelligent textiles – also known as smart textiles. "Smart fashions frequently use technologies that are better known in sectors normally not associated with fashion, for example, architecture, the automobile industry, aviation and the medical industry", says Michael Jänecke, Brand Manager, Techtextil and Texprocess, Messe Frankfurt.
Techtextil, the leading international trade fair for technical textiles and nonwovens, presented examples of the links between textiles and technology at the Fashiontech conference during the Berlin Fashion Week. In a nutshell, Techtextil showed where designers can find inspiration for new materials and technologies.
The 'Monitor Dress' of Berlin-based designer Lina Wassong shows the wearer's pulse via a circle of LEDs. The key to this is the conductive silver threads from which the jersey fabric of the dress is made. The silver-coated polyamides are made by Statex from Bremen and otherwise used in anti-static carpeting for aircraft. For human and veterinary medicine, the fibres are made up into silver-coated wound dressings. Used in smartphone cases, they protect the phones of politicians and the police against data theft.
For a collection of winter coats, Berlin's 'Moon Berlin' fashion label uses textile heating elements that normally warm up car seats. The 'Pink Bionic' collection by Theresa Scholl (Hochschule Niederrhein) is inspired by the 'Solar Trees', an architectural element of the German pavilion at Expo Milano 2015. Thanks to integrated organic photovoltaic cells (OPV), the top can be used to charge a smartphone. It is printed using dye-sublimation technology – a common process in the promotional materials industry.
Smart textiles are also well on their way to making an appearance in everyday fashions thanks to companies such as Interactive Wear from Starnberg, which specialise in integrating electronic systems in textiles. Together with fashion designers and labels, they are bringing smart fashion to the market. Interactive Wear took over the wearable electronics activities of Infineon Technologies in 2005 and works together with fashion labels such as Zegna and Bogner.
Texprocess trade fair presents all stages in the processing chain of textile and flexible materials
The complete spectrum of technical textiles for all areas of application; from the automobile industry, via medicine, to sport and fashion can be seen at Techtextil; in Frankfurt am Main from 9 to 12 May 2017. A focal point of the leading trade fair for the sector is functional apparel textiles and smart textiles. Parallel to Techtextil, the Texprocess trade fair presents all stages in the processing chain of textile and flexible materials. Both events offer designers inspiration and orientation with regard to new materials and processing technologies.