Terrot, a manufacturer of circular knitting machines based in Germany, Chemnitz, continued to support its customers and R&D during the Covid-19 pandemic period. In this process, the company also implemented measures that guarantee the health of its employees in a consistent manner.
Making a statement Terrot; "In spite of limited travel activities Terrot keeps the contact to clients and its ability to act by 100%. The result of a joint effort are new technologies and future fabrics".
The statement continues saying; "Terrot is testing new technical features and puts them into practice. Terrot impressively demonstrates that even in difficult times its R&D department is at the side of its customers".
The company notes that it has seen positive signals in the market after the coronavirus crisis and that the first new orders support this.
In addition to its core business, Terrot is also continuing with the production of mouth-nose masks. Together with regional and international partners, the company is producing high quality masks according to customer requirements.
As you may remember, in February, Terrot decided to close Terrot Italy by moving all of its production in Italy to its factory in Chemnitz due to the decreasing demand for circular knitting machines worldwide. The company later announced that it has optimized its product range with the slogan 'Performance Makes the Difference'.
Shima Seiki announces new knitted mask data against Covid-19
Due to the ongoing spread of Covid-19 coronavirus infection, there is a worldwide surgical mask shortage. Therefore, Shima Seiki, a Japan-based provider of flat knitting solutions, has released knitting data for 9 more versions of knitted masks to be produced on a variety of its computerized knitting machines.
These have increased the total number of masks to 19, in addition to the various mask data the company has released since March 19. These latest data published cover cotton masks to be produced on both WHOLEGARMENT machines and traditional knitting machines. Shima Seiki users can download the necessary data to produce masks from the official website of the company. Presented in three sizes, masks are also available in small sizes for children's use. The data was created to see their compatibility in 3D form.
Knitted cotton masks can be washed over and over  and used again. However, unlike common nonwoven surgical masks, it is also known that knitted masks do not have virus and pollen filtration functionality. The main use of these masks is to prevent the spread from coughing and sneezing and to reduce exposure to allergens.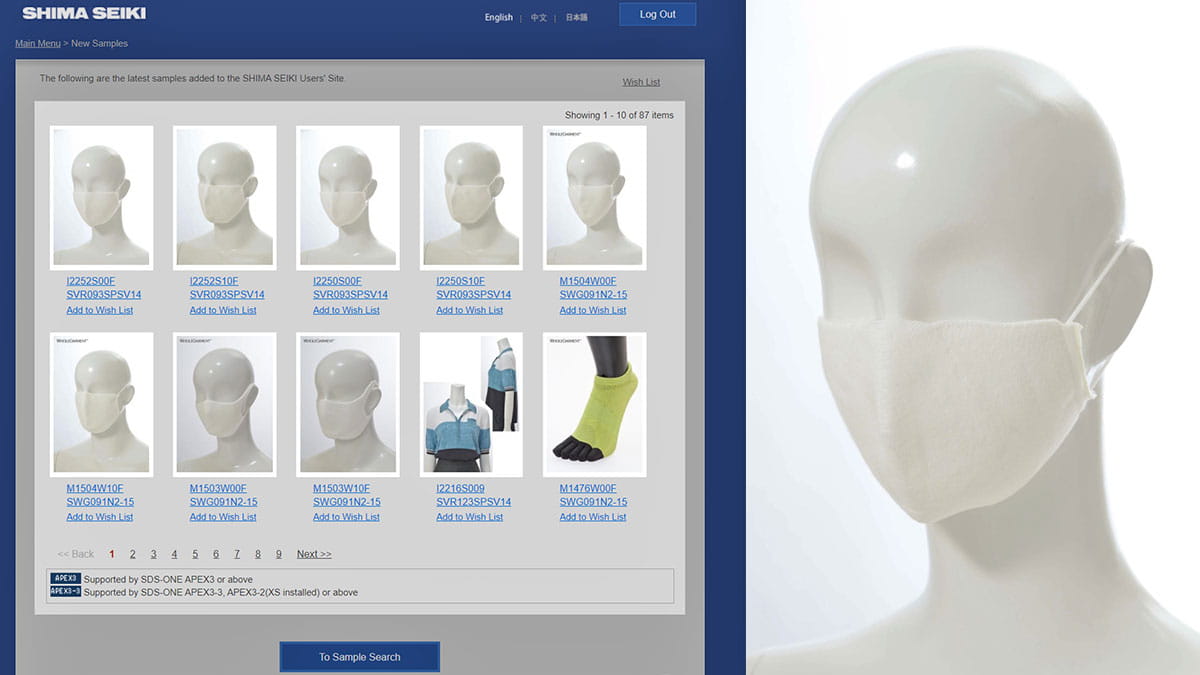 Stäubli D4S toe-closing device on the rise
Stäubli D4S toe-closing device on the rise. In many sock-knitting mills, closing the toe is done manually or using a sewing machine after manual intervention by the knitting operator. This takes time and compromises quality. Turkey is one of the world's main sock-producing countries, and the Turkish mills have to be efficient to stay at the forefront of the market.
With its D4S toe-linking device, Stäubli offers mills a fully automatic solution for handling the toe-closing step efficiently and directly on the circular sock-knitting machine. Based on an ingenious and completely new idea, the device links the sock directly on the knitting machine. It guarantees highest quality, uniformity of the product, and very short downtimes. The socks are unloaded on the fly thanks to DS4.
The automatic sock pick-up and seaming operations are electronically controlled. Available for sock machines from 8 to 19 gauge, the D4S with its very compact design is easy to install and offers decisive advantages in production efficiency and cost savings. Stäubli's D4S toe linking device answers the knitters' expectations in quick return on investment. D4S offers a highly efficient automatic toe close process, decreasing the machine's idle time and reducing the waste yarns.
Starlinger Focuses on 'Circular Packaging' Solutions for Sustainability
Offering machinery and complete solutions for woven plastic bags / sacks, recycling and PET extrusion and refinement, Starlinger highlighted the concept of sustainability at K 2019 in Düsseldorf. Simultaneously with the fair, the company showed the live performance of their technologies to the visitors at the Open House event in Weissenbach, Austria. In both events where 'circular packaging' was emphasized, visitors showed interest in the closed loop system for big bags made from woven polypropylene.
Worldwide, more than 380 million 4-loop big bags (FIBC: Flexible Intermediate Bulk Containers) are sold every year; this equals an annual recycling potential of approx. 800,000 tons of material. To turn big bags into big bags once more, Starlinger has now developed the concept 'circular packaging. The well-known FIBC expert Dr. Amir Samadijavan acted as consultant for this project.
Starlinger Focuses on 'Circular Packaging' Solutions for Sustainability
KARL MAYER Remains the Centre of Technical and Digital Innovations
KARL MAYER remains the centre of technical and digital innovations. Participating in the ITMA Barcelona from June 20th to 26th, KARL MAYER showed that they were more than a classic machine manufacturer and that they are focused on the technologies and applications of the future. Around 1500 industry professionals visited the KARL MAYER booth, where warp knitting, warp preparation, technical textiles and digital solutions were presented in separate islands. Visitors were mainly from the company's main markets such as India, Italy, Turkey, USA, Germany and China.
'Sustainability and environment' was the common point of KARL MAYER's innovative solutions addressing different areas. With energy-efficient and resource-saving solutions, applications became the main topics during the exhibition. A special space for applications with the title 'Future of Textiles" was established at the centre of the booth. Here, textiles and apparel products from casual clothing to sportswear, underwear to denim with improved technical features manufactured with KARL MAYER machines have been displayed.
KARL MAYER Remains the Centre of Technical and Digital Innovations
Groz-Beckert welcomes over 6,500 visitors at ITMA 2019
From 20 to 26 June, Groz-Beckert welcomed over 6,500 international guests; at its booth at the ITMA 2019 in Barcelona, Spain. This year, 1,717 exhibitors from 45 countries presented their products; to over 100,000 visitors from 137 countries at the world's leading trade fair in textile machinery construction. With reworked booth concept; the company presented their products and services in 6 product areas including; knitting, weaving, carding, felting, tufting and sewing at their booth in Hall 8.0 at ITMA Barcelona 2019.
The Groz-Beckert booth also attracted an international audience: the guests came from 94 different countries. The majority of the visitors came from Italy (12 %); followed by Germany (10 %), Turkey (9 %), India (8 %), Spain (7 %) and Portugal (4%). The numerous expert discussions during the ITMA provided important stimuli for the textile industry. The ITMA 2019 in Barcelona was a real success for Groz-Beckert and opened up new perspectives.
A New Athleisure Solution by Mayer & Cie.: MJ 3.2 E
Mayer & Cie. (MCT) is showcasing a mesh and body mapping specialist at this year's ITMA in Barcelona. Specially developed for athleisure use, the electronic single jersey machine MJ 3.2 E is a cornerstone of the manufacturer's trade fair concept and its slogan "Stay a Winner: With Mayer & Cie.". Because the new electronic jacquard flagship is based on a 3-in-1 concept it is capable of much more. Its 3-way technology enables the MJ 3.2 E to knit a wide range of patterns while its 2-way technology ensures high productivity.
"Body mapping is the supreme discipline for an electronic single jersey jacquard machine, the 100-metres sprint, as it were," says Marcus Mayer, Mayer & Cie. managing director in charge of technical development at the German circular knitting machine manufacturer. "In developing our MJ 3.2 E we had that same challenging task in mind; and are certain that the MJ 3.2 E will be a strong contender and a powerful track 'athlete'."
Groz-Beckert at ITMA 2019 with 6 Product Areas
From 20 to 26 June 2019, the leading trade fair of textile machinery – ITMA 2019 – will be inviting visitors to Barcelona, Spain, at the Fira De Barcelona, Gran Via. Over 120,000 specialist visitors from the textile and clothing industry all over the world are expected. Approximately 1,600 exhibitors from around 50 countries will be presenting their highlights from research and development – including Groz-Beckert. Groz-Beckert will be presenting their rich product range and product innovations in Hall 8.0, Booth C101.
The company will be present with all six product areas and the Groz-Beckert Academy; and the Technology and Development Center (TEZ) will also be represented with their service range spanning across all fields and product areas. While the TEZ will be presenting its wide range of options for problem solving; optimizations and new developments, the Academy will be showing its comprehensive training range. A new feature: The plans for digital expansion of the analog range; to help us remain independent from the event time and location.
TM WEFT Shaping the Standard Sector
KARL MAYER is transferring its successful two product line strategy to its Technical Textiles Business Unit; and is supplementing its premium weft-insertion machine with a standard model. In addition to the WEFTTRONIC® II HKS, there will also be a TM WEFT in future. This new warp knitting machine with weft-insertion facility bears all the hallmarks of the high-end version in terms of its quality and reliability; but its optimised cost:benefit ratio targets a different market.
This new machine is a machine from Asia for Asia. "Our target market is China and the mid-range segment in particular"; explains Hagen Lotzmann, the Sales Manager of KARL MAYER Technische Textilien GmbH. To score points here, the TM WEFT delivers a 50% higher cost:benefit ratio than the WEFTTRONIC® II HKS. The considerable increase in speed has been achieved by completely redeveloping the machine and modifying the production logistics.