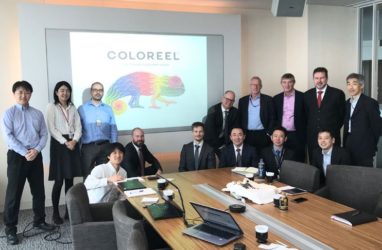 Print specialist Ricoh has entered a partnership with Swedish technology innovation company Coloreel to create a groundbreaking thread colouring unit for the textile industry.
Swedish innovative company Coloreel has entered a long-term partnership with the global electronics company Ricoh. Coloreel and Ricoh have cooperated for several years, and have now signed the final contracts. Together they will create a groundbreaking thread coloring unit for the textile industry. Ricoh will develop and build one of the major sub-systems in the unit; based on Ricoh's inkjet printing technology and Coloreel's technology for colorization. Initial production is set for autumn 2018.
The landmark move will enable textile, fashion and sportswear businesses to evolve their offerings; through high-quality instant colouring of textile thread while in production. By instantly colouring a white base thread during the embroidery production, operators can enjoy complete freedom to create unique embroideries without any limitations in the use of colours. The added vibrancy achieved allows businesses to offer a more striking portfolio and boast a genuine point of differentiation in an ever-changing market. The first product to make use of this technology is a thread colouring unit that is compatible with any existing industrial embroidery machine.
Ricoh and Coloreel Force Textile Revolution
The partnership is the result on ongoing international collaboration between Ricoh experts based in Japan and the UK with Coloreel engineers in Sweden. Ricoh will develop and build a major sub-system in the unit, based on the company's advanced inkjet printing capabilities. This will be complemented by Coloreel's colorisation technology.
Peter Williams, General Manager of Commercial and Industrial Printing Business Group, Ricoh, says; "The partnership with Coloreel further demonstrates our commitment to collaboration and pushing boundaries. Combining our history of driving innovation for over 80 years; our commitment to customer needs and intent on becoming the analogue to digital transformation experts in industrial process is enabling us to disrupt this exciting industry".
Mattias Nordin, CEO, Coloreel, adds; "It feels amazing that a company like Ricoh; with their dignity and size, has chosen to enter this partnership with us. To have Ricoh as our partner gives our product even more credibility, and we are excited to see what this partnership will bring".
Tetsuya Morita, General Manager of Commercial and Industrial Printing Development Division at Ricoh, concludes; "This partnership is a high profile project for us; we see much potential in this product and this industry. We believe in Coloreel and their unique technology."
Ricoh has been driving innovation for more than 80 years; and is a leading provider of document management solutions, IT services, commercial and industrial printing, digital cameras, and industrial systems. Ricoh will build the sub-system for the colorization process using their long experience in the world of printing; and combine it with Coloreel's new technology for colorization. Coloreel will start production in autumn 2018. World-leading companies in textile, fashion and sportswear are standing in line to use this revolutionary product.