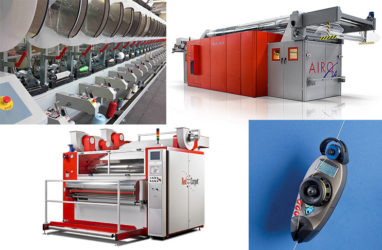 Teksel Tekstil, which supplies complex lines, machines and spare parts to the textile industry, will demonstrate its solutions and corporate strength with two booths at separate halls at ITM 2018.
Supplying innovative technologies of famous brands to the Turkish textile industry for more than 30 years, Teksel Tekstil continues to make significant contributions to strengthen the industry. Renovating its corporate structure in 2015, the company takes its place at the ITM to increase the awareness and strength of both its corporate brand and represented brands in the Turkish market. Teksel Tekstil will emphasize both its new solutions and after-sales services offered by its expert and experienced staff at Hall 12 Booth 1214 B as well as at Hall 7 Booth 715A at ITM.
Visitors will be able to look closely at the Rite, Busi Giovanni Srl, Monarch, Tinarelli, Matsuya, Samsung Knitting Needle, BTSR, Statex, Martex, Red Carpet, Cubotex, Biancalani, Pugi brand solutions offered by Teksel Tekstil to the Turkish market. Preserving their market power despite the stagnation in the Turkish textile industry in 2017, Teksel Tekstil aims to put ITM to good use as an opportunity to realize its growth targets for 2018.
Teksel Tekstil yarn and knitting Solutions at Hall 7
Teksel Tekstil's 715A Booth at Hall 7 will include brands and solutions focusing on the yarn and knitting segments. The brand RITE, which has recently joined Teksel Tekstil's product portfolio, is known to work for yarn quality for 50 years in the market. RITE develops new technologies for winding, yarn singeing and mercerizing for all types of yarn.
Since 1958, BUSI GIOVANNI Srl , the leading manufacturer of  socket and medical socks machines , is separating from its competitors as the sole producer of Ribana tires and patterning at the same time in one cylinder machines. Busi will present both the recently patented revolutionary Twin Layer socks machine that can knit the inside or the surface of the sock separately or at the same time and between 200/400 needles medical socks machine. Visitors will see both medical and socks machines at ITM 2018.
Circular knitting machines manufacturer Monarch's 36gg single plate electronic jacquard machine is also waiting visitors at the ITM. The Tinarelli brand provides solutions to the industry with packaging machines it designs and manufactures. Matsuya, the representative of Japanese technology, offers machines for the production of flat knitting, collars and gloves. In the Teksel Tekstil booth, the Samsung Knitting Needle brand will also have long-wearing needles and platelets; for circular knitting, tricot, socks, seamless and raschel machines.
Italian technology brand BTSR International SPA will be one of the focus points of Teksel Tekstil booth; with its innovative yarn tension and break solutions. Ultrafeeder 2 yarn feeding system with electronic tension control; Unifeeder 2 with 'Positive Storage Feeder'; Windingfeeder is one of the important solution to provide electronic tansion; and metering control for all yarn winding machines. This booth will also feature Statex and Martex brands' solutions for the attention of the ITM visitors.
Innovations in the field of finishing at Hall 12
Teksel Tekstil brings together the solutions for finishing at Hall 12 booth 1214 B at the ITM 2018 exhibition. Red Carpet; the Italian company that produces atmospheric and pressure continuous decatizing machines; removes the problems experienced in traditional decatizing processes with these solutions. The company comes to the forefront with its Wool Power and Wool Basic Continuous Decatizing Machines, which provide excellent touch in all types of fabrics. The new Hybrid Steamer offers additional relaxation, touch, and width setting possibilities.
Another Italian brand, Biancalani; stands out on the market with its innovative open width continuous running, high-capacity AIRO 24 and BRIO 24; which provides knitted fabrics with shrink-proof properties during drying. In addition to these solutions, which will create a special effect called "Biancalani touch" on the fabrics; Teksel booth will share the technologies of Cubotex and Pugi brands. Pugi's PMJ / 2200 machine; which is used for automatic batch preparation of the open fabrics before the paint / printing process; will be available to visit.
Italian Rubber manufacturer PIOVAN, felt manufacturer BOWOO and German KD cloth and felt manufacturer HOCKS; and consumables brands used in finishing machines; will be exhibited at Teksel Tekstil's booth number 1214B at Hall 12.