Italy, where the Covid-19 pandemic has been felt very severe, is slowly healing its wounds. In this textile and fashion country, life began to return to 'new' normal. What kind of precautions did firms take in the country whose business life was seriously disrupted during the pandemic? Textile finishing machinery manufacturer Biancalani Textile Machinery successfully fulfilled its duty as a company in the fight against Italy's pandemic. Biancalani General Manager Rossano Biancalani told about their activities and goals during the pandemic period to Textilegence. Biancalani explained that while continuing to provide uninterrupted service, they prioritized protecting employees' health.
Rossano Biancalani said that they implemented a strict security protocol after the first closure measures enforced by the Italian government; "We followed a strict safety protocol which was agreed between the company and the workers, and included the usage of high-protection masks, cleaning routines, more distance between workers, and so on. This allowed Biancalani to continue the production process without any disruption and fulfil all the pending orders with minimal delays if any at all".
Production was not affected by pandemic in the first half of the year
Rossano Biancalani stated that although the workplace was closed for a few weeks under the rules set by the government, all sales, administrative and technical design personnel continued to work from home. In some markets where Biancalani technicians could not go due to the pandemic, Biancalani stated that local representatives (agents) provided knowledgeable and experienced technical service specialists.
Expressing that the production in the first half of the year was not adversely affected by the pandemic with the measures taken, Biancalani noted that some project sales were rescheduled. Biancalani stated that all textile companies have a great desire to start production and that they are sure that the markets will return to normal in the short term. Saying "Textile machinery manufacturers will have to wait for the textile entrepreneurs to regain confidence on the market again," Biancalani disclosed that they are always willing to examine every customer's need.
No withdrawals among potential customers
Rossano Biancalani emphasized that some pending projects were delayed during the peak of the pandemic, but they did not observe almost any withdrawal among potential customers. Stating that some customers were acting cautiously, waiting for positive signs to continue new investments, Biancalani informed that most customers normally proceed their investment processes.
"Being manufacturers of processing machines, the real impact on our market has to be evaluated from a wider time window," said Biancalani and continued saying; "It's too early at the moment to make balances; while it's never too late to keep a positive approach and a constructive attitude, because "textiles" is a huge and multi-faceted reality".
Rossano Biancalani said that due to the pandemic; the postponement or cancellation of fairs and travel restrictions have reduced the chance of one-on-one contact with potential customers. Biancalani continued his words as follows; "This affected our usual way of working, and made us conscious of the extremely valuable role of face-to-face meetings. However, thanks to our local agents, in addition to the web meeting technology; we have been able to keep contacts with all our markets. Obviously, social networks and the bulletins we published enabled us to stay in close contact with textile operators".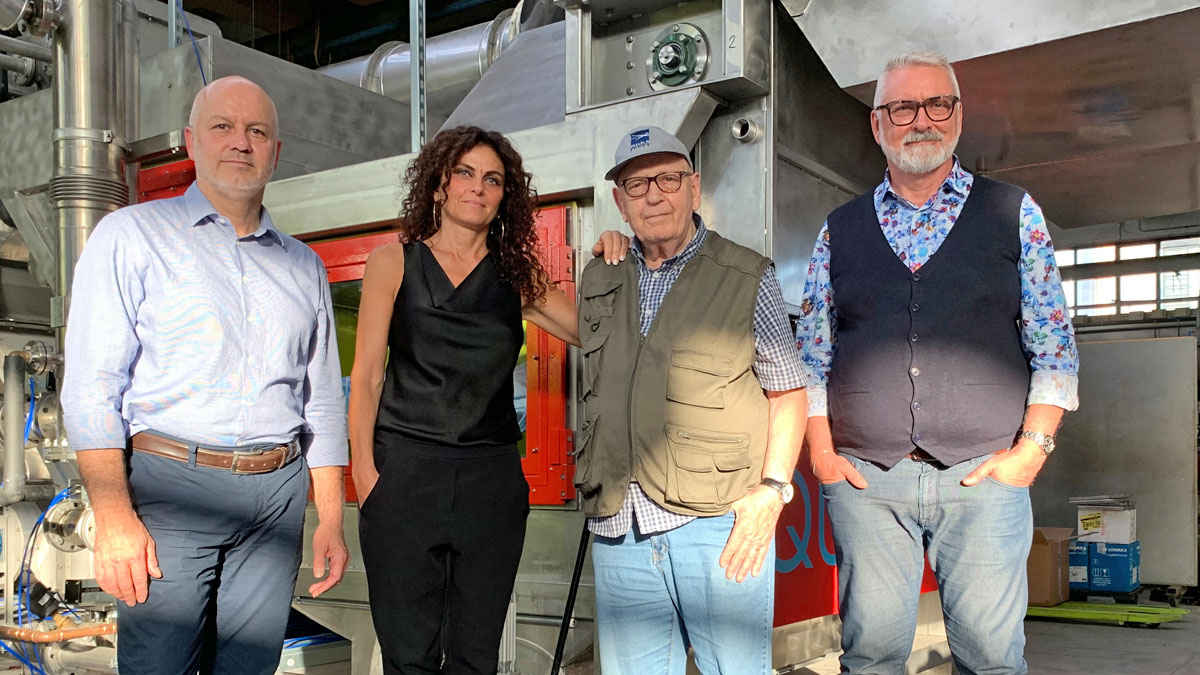 Rossano Biancalani: Digital technologies integrated into our production and marketing processes
Rossano Biancalani said that they were always been very open and ready to embrace any new technologies; which could improve their workflow, presence with customers, and results overall. Stating that completely digitalizing the entire design process accelerates the development of new machines; Biancalani underlined that digital technologies are included in both production and marketing processes. Biancalani said; "In a period of transportation restrictions due to the pandemic; digital possibilities provided us with the opportunity to meet with customers face-to-face, listen to them and tell ourselves. Our close contact with the market also pleased our customers. Because the most important point is to build trust and we provide it by using all means".
Biancalani Textile Machinery, which has developed textile finishing technologies produced 100% in Italy since 1957; brings new solutions focused on sustainability and efficiency to the global market. The company stands out in the market with AIRO®24 and BRIO®24 models; and introduced the new open-width washing machine AQUARIA at the ITMA 2019 held in Barcelona last year.  The company is able to support textile specialists with a technological consultancy service; sharing its experience in textile finishing through the Tclab, Technologist Club Laboratory, available to all clients of Biancalani machines.