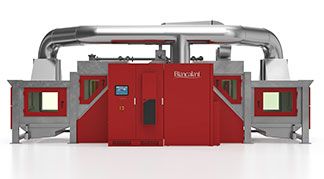 Biancalani offer latest developments on AIRO 24 and BRIO 24. Biancalani will meet the visitors with the well-known dryers AIRO®24 and BRIO®24, as well as AIRBOX pre-dryer and AQUARIA® washing line, which will be introduced to the market for the first time at the ITMA 2019 exhibition.
Biancalani, based in Italy, which has been developing special solutions for the finishing of knitting and woven fabrics since 1957, will present their solutions to textile manufacturers at Hall 1 Booth A208 at ITMA 2019. The company booth will host four machines to highlight a sustainable textile finishing. The first two machines are well known in the market and have new developments; the new version of continuous open-width tumbling dryer AIRO®24 for woven and knitted fabrics and the new version of BRIO®24, which ensures the continuous tensionless drying of all kinds of knitted fabrics.
There will be two more machines in the Biancalani booth that will be introduced to the market for the first time; AIRBOX and AQUARIA®. AIRBOX is a dryer that works with AIRO®24 or any drying machine, and will greatly improve the drying performance of the lines.
AQUARIA® is developed for all kinds of fabric, for fully open-width, highly efficient continuous air flow washing, preparation and processing of enzymes. ITMA visitors will be able to see these four machines under operating conditions. Sales and technical experts will inform the visitors about the solutions and answer the questions with information monitors and details. In addition, fabric samples processed on each machine will show the application power of Biancalani technologies.
Biancalani offer latest developments on AIRO 24 and BRIO 24. Biancalani continues their growth in changing market conditions.
Pointing out to the constant motion in the global textile market, Rossano Biancalani, the General Manager of Biancalani, emphasized that there has been a change in both production segments and geographic areas where production is taking place. Voicing that the growth rate of Biancalani is constantly increasing despite this variable market structure, Rossano Biancalani announced that they have achieved good sales graphics in 2018. Indicating that Turkish market had an important place in this growth, Rossano Biancalani said; "Turkish textile industry is one of the countries that contributed the most to our success with its commitment to quality".
Saying that Turkey is an important market for many reasons such as its high quality textile production and geographical proximity, Rossano Biancalani announced that they expect the market to continue to grow in the coming years in Turkey. Mr. Biancalani added that ITMA 2019 will be a springboard for sales in the second half of this year.
Noting that the company is working on the basis of 'a better world' since their founding by Fiorenzo Biancalani in 1957, Rossano Biancalani stated that the idea of leaving a better world for future generations is always their first priority. "Our modest contribution has focused on social and environmental accountability," said Rossano Biancalani, and continued saying; "The concept of simple mechanical finishing is already moving in this direction. Our machines are able to reduce the usage of chemicals with the natural effect of pure air and save a great deal of money while contributing to improving the quality of their work environment".
Demand is changing in textile finishing
Rossano Biancalani also pointed out that the demands of textile finishing changed with new technologies and fashion trends. Rossano Biancalani stated that they realized technological developments in interaction with the market; "There is a steady increase in the demand for wet finishing processes (washing, desizing, enzyme treatment, etc.); which should be done completely open-width, in order to get excellent results from every point of view. The introduction of AQUARIA® complements the path 'opened' by AIRO®24; and offers a complete finishing line from start to end".
Expressing that Biancalani is significantly involved in technical textiles, as well as traditional textiles; Rossano Biancalani have announced that they work with several technical textile manufacturer customers, especially in the field of protective clothing. Rossano Biancalani said; "Compared to the development of traditional textiles, technical textiles are growing at a very rapid rate. While the usage and application areas of technical textiles are developing; the demand for the technologies in which these products can be produced increases at the same rate. As Biancalani, we think that the importance of technical textiles in our business will increase. Therefore, we are constantly looking for new solutions in this field of application; to always be at the forefront of technology".
Being in the industry for 62 years, Biancalani is serving more than 100 countries with more than 50 partners worldwide. The brand's Turkey representative is Teksel Tekstil.