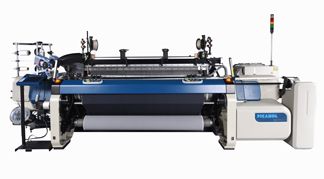 Bangladesh has been a very important market for Picanol over the last decade. Picanol is proud to be the most important weaving machine supplier to the Bangladeshi market. This was made possible thanks to the combination of a complete & competitive product portfolio as well as top class service.
Rapier and airjet weaving solutions in DTG 2019
The main investments are being made in denim, bottom weights, shirting and bedsheeting fabrics. Picanol offers both rapier (OptiMax-i, TerryMax-i) and airjet weaving machines (OMNIplus Summum and TERRYplus Summum) for these applications. Picanol, with these solutions, underlines its commitment to customers and the market.
For a number of years, Picanol has been represented in the region by Spintex Technology, their local agent. The agency is very well-organized, which ensures excellent local service via a pool of trained technicians and an excellent after market service for spare parts and Weave-Up packages. At least once a year, all of the technicians travel to the Picanol headquarters in Belgium in order to receive training on all of the latest developments.
With the motto 'Let's Grow Together', Picanol hopes to supply its products and excellent service to Bangladeshi Textile Mills for many years to come.
OptiMax-i offers the weaving of the future
If versatile and productive weaving is your objective, you can be sure of real added value with the unique; futureoriented OptiMax-i. The OptiMax-i offers all the possibilities for growing to the top in your market. Ready for every new opportunity. Guaranteeing optimum fabric quality. Best in class for minimum energy consumption. Optimizing your precious time. And creating space to unleash your utmost creativity.
OptiMax-i is avaible in reed widths rangin from 190 to 540 centimeters. Furthermore, thanks to its optimized rapier drives; it remains the fastest rapier machine on the market with the Guided Gripper system (GC) and through its Free Flight system (FF) it is also the most versatile weaving machine.
Based on the same high-performance weaving technology as the OptiMax-i; the TerryMax-i offers all the possibilities for growing to the top in your market.