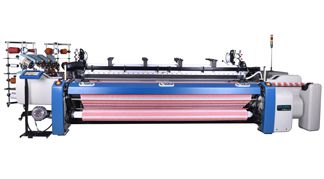 Picanol will offer the rapier and airjet weaving technologies to the Asian market in a comprehensive way. They will welcome textile manufacturers and investors in at ITMA ASIA & CITME 2018, Hall H3 Booth F01. In total 9 Picanol machines will be on display, of which six on its own booth (Hall H3, booth F01). One Picanol TERRYplus Summum with jacquard will be on display at the Stäubli booth and one GTMax-i 3.0 on the Bonas booth. On the booth of Tongxiang a GTMax-i 3.0 will be weaving label.
Picanol's newest rapier, the GTMax-i 3.0, will be shown for the first time to the textile world at ITMA ASIA & CITME 2018. This new model is building further on the success of GT-Max and GTMax-i. The combination of a redesigned gripper drive and extra reinforced sley drive; as well as the integration of the future-oriented BlueBox electronic platform allow for even higher production speeds. Moreover, the look of the machine has been reworked completely, with a special focus on ergonomy and user friendliness.
Including GTMax-i 3.0, 9 separate rapier and airjet technology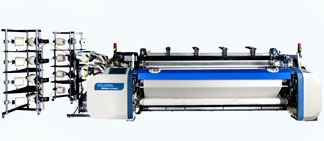 Picanol's OMNIplus Summum 4-P 190 weaving a bottomweight fabric combines performance, flexibility and energy effectiveness thanks to its airjet technology.  Waste control and style changes are simplified thanks to the Blue22 EasySet prewinders. The machine works with polyester and cotton yarns and has 25 picks/cm weft density.
OMNIplus Summum 4-P 280 weaving a sheeting fabric brings the answer to the increasing demand to weave sheeting fabrics at the highest speeds thanks to the air tucking version for continuous reeds. The machine works with cotton yarns and has 45 picks/cm (double pick) weft density.
High performance OptiMax-i 8-R 190 weaving a fancy shirting can work with Ne 100/2 at warp. OptiMax-i 2-R 190 weaving para-aramide offers weaving at 6.7 picks/cm weft density. GTMax-i 3.0 8-R 340 weaving a zebra fabric is preferred for wider width executions.
Picanol's GTMax-i 3.0 6-R 220 set the new standard for denim as well as shirting fabrics. The machine works at warp yarn count Ne 16 while weaving at a density of 30 picks/cm.
Terry fabric weaving machine TERRYplus Summum 6-J 260 will be presented at Staubli booth. GTMax-i 3.0 8-J 340 will be weaving a decoration fabric at Bonas' booth, while GTMax-i 3.0 weaving labels will welcome visitors at Shanghai Tongxiang's booth.
Picanol in China market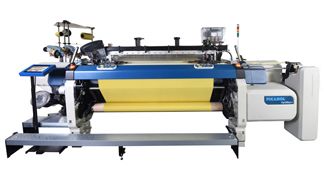 As one of the world's leading weaving machine manufacturers; Picanol has always had a very close relationship with the Chinese textile industry. Picanol sent its first pioneers to explore the possibilities in the Far East, already in the early 1950s. Picanol took part in one of the first international exhibitions held in Beijing. The growing installed base of Picanol machines in China, as well as the increasing demand for a higher level of service and support resulted in the establishment of the Picanol Service Centre, which was set up in Shanghai in 1987.
The next step, in 1994, was the start of PST, Picanol Suzhou Textile Machinery Works; being Picanol's first production line outside Belgium. The technology and organisation were based entirely on the assembly concept and quality standards applied at the company's headquarters in Ieper. Today PST houses a complete production unit with assembly lines; a mechatronics division, and a sales, service and spare parts organization. The the Chinese management, engineers and technicians have been trained in Belgium.
R&D and innovation shaped in Belgium HQ
One of the big assets of this cross border entrepreneurship is the mixture of drawing upon the know-how and quality standards from the Picanol Group, combined with good understanding of its local customers' needs. With more than 100 engineers headquartered in Belgium, Picanol invests heavily in R&D activities every year, resulting in the most advanced and performing weaving machines program available in the market. Picanol's airjet and rapier technology covers the full spectrum of textiles including apparel, household and technical fabrics. The high degree of digitization of all these machines; together with their Sumo main drive, ensures a lower weaving cost, higher quality of the fabrics produced; greater flexibility and exceptional ease of operation in comparison with other weaving machines.
The Picanol Service Team is offering on site technical support in every corner of the world. Their local service teams are being trained on a permanent basis in our training centers in Ieper (Belgium) and Suzhou (China).
Original Picanol Parts to ensure a high performance throughout the whole lifetime of your machines. The Picanol Aftermarket Sales Team is ready to advise customers on how to optimize the preventive maintenance of them machines; proposing spare parts packages tailored to your specific needs.