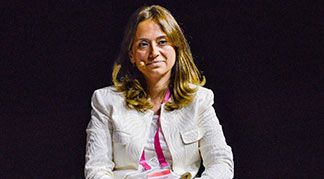 Lenzing is responding to industry's demand for more sustainability and transparency with new solutions. LENZING ™ ECOVERO ™ can be traced from the viscose fiber raw material to the product reaching the consumer.
Lenzing, one of the world's biggest manufacturers of cellulosic fibers, launched their new brand strategy last year, reshaping their product portfolio. During a difficult time in terms of the market, the group reveals that they have turned towards a correct strategy in the long term. Lenzing derives their raw material from sustainably managed forests, and continues to develop a more sustainable perspective. We talked with Lenzing Turkey Business Development and Marketing Department Manager Hale Saraçoğlu about group's work in the latest period.
Reminding that Turkey presentation of Lenzing's new brand strategy was held in March, following last year's global launch, Saraçoğlu; "Our entire goal was to reach the consumer with our new brand, to explain the characteristics of our fiber and what kind of advantages it has". Saraçoğlu stated that they planned all their activities accordingly, and they went a long way with their activities and strong communication with the market.
According to the new brand strategy, which started to be implemented last year, they focused on reaching the end user more and more says Saraçoğlu and continues; "Our priority in 2019 is to announce our fibers, brand and advantages as botanical-based cellulosic fiber manufacturers by means of new business associations".
Lenzing offers more sustainability and transparency to industry: Lenzing simplified their product portfolio in 2018
Hale Saraçoğlu stated that the botanical-based cellulosic fiber group has a share of 6.2% in the textile industry, and mentioned that Lenzing is in this are with their viscose, modal and lyocell fibers. Simplifying their product/brand portfolio with the restructuring in 2018, Saraçoğlu emphasized that the TENCEL ™ brand became the roof brand for both lyocell and modal fiber products in the textile segment.
Saraçoğlu continued her words as follows; "We call these two fiber groups as specialty fibers. Viscose is the oldest fiber in the history of botanic-based cellulosic fibers. Then the modal has been developed, and the latest generation fiber is lyocell. Therefore, our fibers, which are gathered under the brand of TENCEL ™; are the latest generation of fibers and are produced in a sustainable manner with much more environmentally friendly methods; than generic alternatives thanks to the technologies developed by Lenzing. Retail brands are able to position our TENCEL ™ branded fiber group in their own collections both due to their physical properties and the advantages they add to the product as well as their sustainable production patterns derived from the renewable source of wood".
LENZING™ ECOVERO™ viscose fiber a new beginning
Lenzing introduced the environmentally-friendly and traceability focused LENZING ™ ECOVERO ™ viscose fiber at the end of 2017. Hale Saraçoğlu explained that they have achieved important developments in this area; and underlined that viscose production is a production method that can have negative effects on the environment if the attention is not paid to take the necessary precautions. Saraçoğlu; "For this reason, a number of non-profit international non-governmental organizations have invited the entire value chain in textiles; to examine what kind trees the viscose they use are made of and how they are produced and to pay attention to transparency in viscose supply". Thus, the transparency and traceability in viscose production has gained importance in recent years; said Saraçoğlu, emphasizing that this is the priority of several international brands nowadays.
Saraçoğlu said that in order to provide information about the production method or origin of the raw material of a fiber; first of all the manufacturer should be able to recognize their own fibers in the product. Thus, Saraçoğlu stated that full follow-up could be provided, and described Lenzing's work on this subject as follows;
"We can also recognize and certify our LENZING ™ ECOVERO ™ viscose fiber; which we launched in the fall of 2017, in yarn, fabric and finished products. The raw material of our fiber, is only available from FSC® and PEFC® certified sustainable forests. In addition, we produce our products with EU Ecolabel processes so that when producing LENZING ™ ECOVERO ™ viscose; about 50 percent less emissions and water effect than generic viscose occurs. We can brand the products produced with the certified fabrics by marketing support. Thus, we have the chance to tell the end user the sustainable production method of the fiber".
Market's interest in LENZING ™ ECOVERO ™ fiber is growing
In 2018 both in Turkey as well as the global market; the demand for LENZING ™ ECOVERO ™ branded fibers gradually increased and voicing continuing this momentum in 2019; Hale Saraçoğlu disclosed that several export-oriented knitting and knitted fabrics manufacturer with product manufacturers in Turkey prefer these fibers. Saraçoğlu indicated that approximately 70% of Turkey's exports are to European countries; and that sustainability and traceability of viscose fiber is primarily the target of Europe-based brands. Saraçoğlu; "LENZING ™ ECOVERO ™ branded products are in the collections of many brands, making purchases from Turkey; such as Armedangels, Esprit, Vero Moda and Mango. This year, Turkish brands are also showing interest in this issue. Soon we believe that our domestic brands will develop LENZING ™ ECOVERO ™ collections".