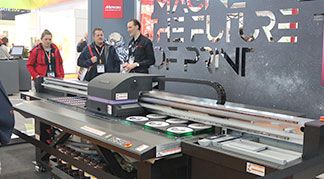 Mimaki, a leading manufacturer of inkjet printers and cutting systems, has left behind another successful FESPA. Mimaki Europe participated in FESPA Global Expo 2019 in Munich between 14th and 17th of May and became a point of interest with their different booth concept and innovations. Mimaki also won two of the EDP Awards, given by the European Digital Press Association, with the Mimaki Tiger-1800B MkII and Rimslow TR Series. During the exhibition, Mimaki Eurasia team got closely involved with visitors at the Mimaki booth and provided information about the innovations.
The Mimaki booth created a futuristic atmosphere with the theme of 'Imagine the Future of Print'. Machines exhibited their performances and sample prints were presented to the visitors in the four key business areas of sign graphics, industrial products, textiles and 3D printing. Expanding the product range of Mimaki's UV LED printing, the new JFX200-2513 EX, which enables 2.5D expression using multiple layers, met the market for the first time.
Mimaki displayed UCJV300-75, UCJV300-160, UCJV150-160, CJV300-160 and UJV55-320 models in signage area. In the industrial products area, UJF-7151plus, UJF-3042MkII and UJF-6042MkII were on display. Among the solutions exhibited in the textile area, TS55-1800 became the centre of attention; with its wide range of applications ranging from interior fabrics to sports and fashion apparel, flags to tapestries. 3DUJ-553 printer and the large collection of samples produced by it was greatly appreciated in Mimaki 3D printing area.
Continuous winner of EDP awards: Mimaki
The EDP awards are given by 20 leading trade publications associated with the European Digital Printing Association based on numerous criteria including quality, value to user and environmental impact. The 23 winners were selected from over 100 candidates in five main categories this year. Mimaki Europe, which won 2 EDP awards at FESPA last year; also received two EDP awards at FESPA Global Expo 2019. Mimaki's Tiger-1800B MkII received an award in the category of 'textile printer roll-to-roll more than 100 sqm/h'; and Rimslow TR Series complete solution received the award in the category of 'pre- and postpress-treatment solutions'.
As part of Mimaki's esteemed Tiger Pro Series, the Tiger-1800B MkII is a high-volume textile printer; for direct printing or paper transfer with a print speed of up to 385m2/h. With a wide range of working power from sample production to small to medium volume printing; the model offers 1200 dpi print quality. Combining flexibility and speed with high print quality, the Tiger-1800B MkII is compatible with any fabric and transfer paper. Textile printers can use The Tiger-1800B MkII in a wide range of applications such as tapestries, interior decoration and fashion & apparel.
Thanks to the MAPS (Mimaki Advanced Pass System) developed by Mimaki for printing systems and NRS (Nozzle Recovery System); the Tiger-1800B MkII users have several advantages. MAPS prevents banding and colour-shifting during the printing process by spreading the edge of each pass to create a gradient and creates flawless print quality. NRS, on the other hand, enables the printer to replace damaged nozzles with operating nozzles without stopping production. This enhances the printer's performance and boosts productivity and quality for the user.
A complete solution provider
Mimaki Eurasia Regional Sales Manager Burak Kaftanoğlu, in his statement, congratulated Mimaki Europe for receiving 2 EDP awards. Underlining that Mimaki positioned themselves as a complete solution providing partner for their users, Kaftanoğlu stated the following; "These awards that we have won as Mimaki show that we are pursuing a correct working strategy for users. With our advanced printing machines and equipment in the digital textile printing industry, we don't just address a process step. We cover the printing process from end to end with our coating, steaming and washing machines in our TR series. The printers do not have to work with different suppliers for this four-step process. Digital textile printing solutions from a single source with Mimaki assurance increase the productivity and quality of our users and save on production and investment costs".
Returning with successful results from FESPA Global Expo 2019, the next stop of Mimaki will be the ITMA 2019; which is defined as the Olympic event of the textile machinery sector. Mimaki will be exhibiting their award-winning machines in the Hall 3 booth B110 at the exhibition; which will be held in Barcelona on 20-26 June.