Mimaki, the leading brand of industrial inkjet printers, cutting plotters and 3D printers, made a strong start to 2021. Bringing the textile industry together with its entry-level model TS100-160 in February, Mimaki Eurasia presents the Tiger-1800B-MkIII for the industrial segment. While the third version of the Tiger provides the stability and high printing accuracy required for high volume jobs, it does not compromise on print quality and user-friendly features. A real alternative to traditional printing processes, Mimaki Tiger-1800B MkIII offers its users a significant market advantage with its shortened printing process and reduced production costs.
Mimaki Tiger-1800B MkIII clearly appeals to the industrial segment with direct-to-textile or sublimation transfer printing options. Tiger-1800B MkIII can reach high speeds up to 385m2 per hour and has different printing modes. Switching between high print mode for productivity and high-quality print modes for more detailed printing is quick and easy with the Tiger-1800B MkIII. It offers three different ink configurations according to the different application and printing needs of textile printers; MLRc500 for direct-to-fabric reactive printing, MLSb520 for direct sublimation printing and MLSb510 sublimation ink for transfer sublimation.
Depending on the ink type and printing mode, Tiger-1800B MkIII provides printing in four different droplet sizes to obtain stable printing quality. Equipped with 10 kg ink tanks, this industrial printing solution combines users' demands for high-speed, high-quality, continuous and safe operation with ease-of-use. Tiger-1800B MkIII has 16 printheads in a 2 lines staggered layout for direct-to-textile printing and 8 printheads in a 2 lines staggered layout for sublimation transfer. It offers high print resolutions ranging from 600 to 1200 dpi. With a maximum printing width of 1,850 mm, the Tiger-1800B MkIII's features will satisfy the users in terms of reliability and printing accuracy demanded in intensive work.
Mimaki Eurasia Regional Sales Manager Hüseyin Şarerler stated that the transition from traditional methods to digital technologies is accelerating in the global textile market, and emphasized that the advantages provided by developing technologies are affecting this transformation. Şarerler pointed out that high print quality can be achieved in a shorter time and with lower costs even in high volume jobs, and continued his words saying;
"In 2019, the digital textile printing market reached a value of 2.2 billion dollars. Studies show that this value will increase to 8.8 billion dollars by 2027, with an annual growth of 19.1%. Preference of digital printing technologies instead of traditional technologies in both existing facilities and new investments will be effective in this. We are aware of the industrial printing industry's interest in innovative solutions. In response to this demand, we developed the Tiger-1800B MkIII digital textile printer. In addition to its printing speed of 385m2 per hour, it will be a preference for textile manufacturers with two different models that allow either sublimation transfer or direct-to-textile printing. We believe that the Tiger-1800B MkIII will quickly gain acceptance by the highly competitive Turkish textile industry".
One touch job selection with MPC
Even though there is a perception that industrial printers are difficult to use in the industry, the Tiger-1800B MkIII overcomes this with MPC (Mimaki Printer Controller). The new touchscreen-based software, MPC, is installed on the computer where the printer is set, so it automatically activates when printing is started. Users start creating data and operating the machine with a single touch, and the remaining ink amount and output information can be accessed instantly. Even a problem that may arise due to a missing nozzle can be quickly resolved with this software, thanks to the nozzle recovery data that can be generated from the touch panel. This function makes it possible to keep the machine running until the problem is resolved by a service personnel, reducing the downtime of the machines. MPC minimizes downtime while increasing the productivity of printers.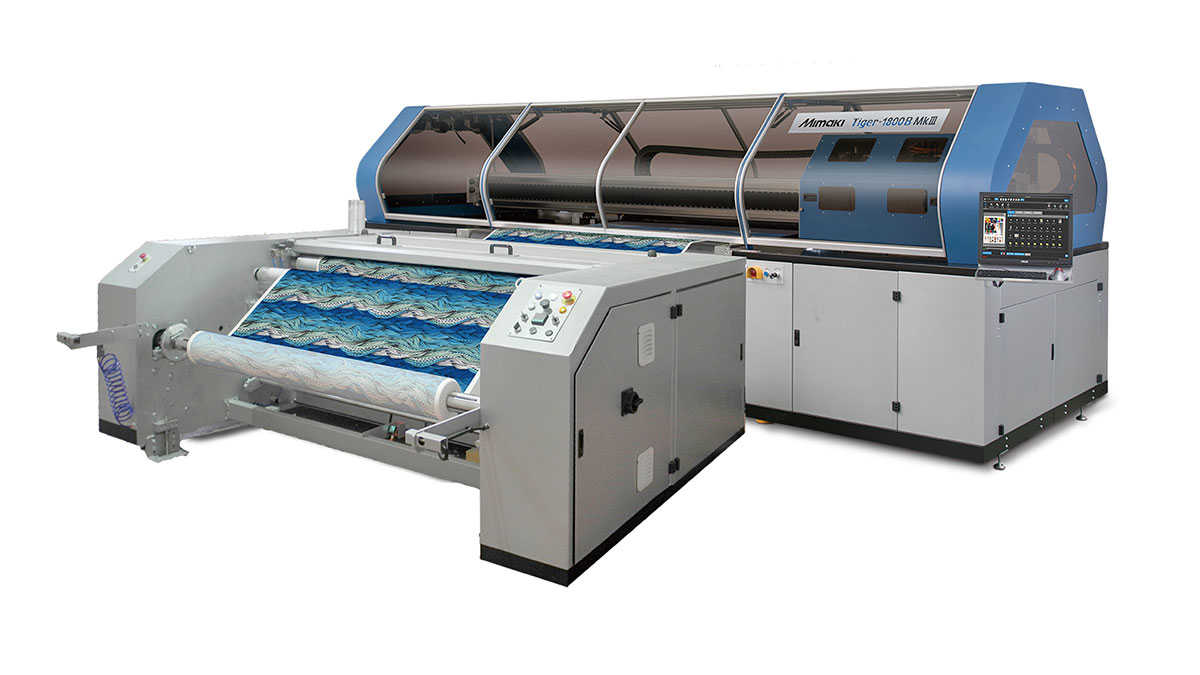 Mimaki Core Technologies offer 'continuous' printing process
Mimaki Core Technologies standardized by Mimaki in new generation printers; NRS (Nozzle Recovery System), and MAPS4 (Mimaki Advanced Pass System 4) strengthens the Tiger-1800B MkIII. Nozzle Recovery System (NRS) plays an important role in continuous operation. If fixing is not possible after clogged nozzle cleaning, this nozzle will not be used. NRS steps in that moment and another normal nozzle will be used instead. Thus, printing continues without interruption and quality loss. NRS data can be accessed by the touch panel in Tiger-1800B MkIII. MAPS4, on the other hand, eliminates the banding effects that occur at pass boundaries for smooth prints.
Advanced high performance RIP software TxLink4 is another important feature of the printer. Functions of TxLink4 such as 'Parallel RIP function' that can manage multiple sets of print data at once and 'Variable print function' that specially been designed for apparel applications increase productivity. Its increased 16-bit rendering enables a smoother gradation expression. Its 10 GB-based Ethernet controller support reaches a new level in fast data transfer.