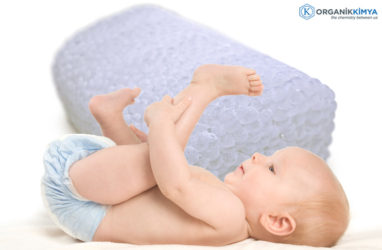 Closing 2016 year with an innovation award, Organik Kimya will present its latest innovation, Patented Innofix Technology, developed by Industrial Adhesives Solutions Segment, at INDEX 17.
INDEX 17 fair bringing global nonwoven industry together in Geneva between the dates of 4-7 April, where there are many important Turkish manufacturers as well as Organik Kimya. Possessing a rooted history tracing back to 1924, Organik Kimya, today, Turkey's leading polymer producer.
Organik Kimya's Industrial Adhesives – Business Unit Manager Filiz Öztürk stated that once in every three years, the fair is connecting nonwoven manufacturers and suppliers worldwide and has a strategical role on setting new trends and technologies in hygiene and personal care market.
Explaining that Organik Kimya would introduce Personal Care & Nonwoven Adhesives Solutions at the fair, Öztürk said thusly; "Industrial Adhesives are the one of the main components of many disposable hygienic products and we will present our latest innovation Patented Innofix Technology which is the sole innovation of the last 20 years in in packaging of hot melt adhesives."
Innofix Technology Provide Advantages to Manufacturers
Stating the superiority of Industrial Adhesive Solutions, Filiz Öztürk said thusly; "The most important technical aspect of our adhesive solutions is the fact that, thanks to our new packaging technology, shut downs in production lines originated from adhesive carbonization and impurities are substantially prevented where speed, productivity and performance are the most important priorities in the market now. Aside from that, they contribute to energy saving and sustainability with fast melting speed and low application temperature properties. Our adhesive technologies enable continuous operation in high speed machines as well as increasing the product performance to the highest level with their superior formulations"
Expressing that they have a diverse product range specifically developed for each application in personal care and nonwoven market, Öztürk said; "Our product line directly contribute to consumer preferences and take manufacturers one step ahead in the market; with their colorless and odorless features and their chemical compositions that don't lead skin irritation in final products."
Stating that they will present their Industrial Adhesive Solutions and new innovative technologies in INDEX fair; Öztürk explained that this fair is a significant opportunity in terms of contacting manufacturers; and end users as well as creating valuable business cooperations. Also stated that, the fair has strategic importance for constituting mutual platform in hygienic products market and all related industries.
'As Organik Kimya, we left behind a successful year '
Explaining evaluations on market activities, Filiz Öztürk said that they left a successful year behind. InovaLİG award that Organik Kimya received in 2016; "We received an award on Innovation Strategy at InnovaLİG where Turkey's innovation leaders are determined. We are proud to be recognized for our determination on Innovation with an award. We will pursue innovation, Research and Development projects in 2017; Öztürk added to her words that they will continue developing new products and technologies; without sacrificing investments for human resources and customer intimacy.
Filiz Öztürk will also make a detailed presentation about new patented Innofix Technology; on 6th of April between 10.30-10.50 at INDEX 17 Fair.
INDEX 17, Organik Kimya, 4 – 7 April, PALEXPO Exhibition & Convention Centre, Booth 4086, Geneva, Switzerland.