Lupamat Compressor, one of the leading manufacturers of the compressor industry with compressed air solutions, took quick and effective measures against the Covid-19 pandemic with the strength of its corporate structure. In this way, the company has managed to protect the health of its employees and to provide uninterrupted service to its customers. Lupamat Compressor Domestic and International Marketing Manager Tolga Kaynar provided information about the precautions they took.
Noting that the pandemic affected the whole world, Kaynar explained that they started taking precautions before the outbreak was seen in our country. Underlining that their priority is to protect their employees and their families, business partners and suppliers from this outbreak, Kaynar explained that they have formed a team for this purpose to follow and manage the process before the outbreak has arrived in our country. Kaynar said the following;
"In order for our production and supply activities to continue uninterrupted, we followed the directions of official authorities and took all necessary measures. While periodic disinfections were carried out in our facilities, we minimized the contact to the very least. A significant part of our staff started to work from home in digital environment. In the production and shipping processes, the system of alternated work was implemented in a way not to disrupt the work. We started to conduct our customer meetings in digital environment. In the pandemic process, we created a road map that we will follow in order to transition into to the new 'normal'. "
Explaining that they have decided to implement the pending projects during the pandemic period, Kaynar said that they have developed the organizational structure for this. Kaynar highlighted that they managed this process in the best way with the comprehensive reports they prepared.
Despite the pandemic, year-end sales targets will be achieved
Underlining that they successfully managed the pandemic process, Tolga Kaynar expressed that the short-term disruption in exports was resolved quickly. "We are working harder to achieve our year-end targets," said Kaynar, adding that their production continues unabated. Explaining that they have experienced an increase in foreign dealership demands in the new period starting from June, Kaynar mentioned that there was no standstill in the health, food, beverage, medicine and protective equipment sectors despite the pandemic. Kaynar; "We see a serious increase in demand in these sectors. Compressed air use gained great importance, especially in hospitals. Despite outbreak disruptions in 2020, I can say that we will reach our year-end sales targets".
Referring to the effects of the pandemic on the global market; Kaynar said that there are serious contractions especially in the regions of Bangladesh, Pakistan and Russia. Kaynar argued that among these countries, Russia managed the process better. Kaynar also stated that the pandemic is expected to continue in this way for another year; according to the data of the World Health Organization; and in this process, rapid recovery has started in certain markets. Expressing that they are able to measure this development directly from the incoming demands; Kaynar also stated that it would take longer to recover in countries that are late in taking measures against the pandemic.
"We managed to grow during the pandemic crisis"
Tolga Kaynar stated that they balanced the gap created by fairs and events that were postponed or cancelled; due to the pandemic by focusing on digital marketing. Indicating that every crisis creates an opportunity; Kaynar stated that several companies in the global market are slowing down, stopping production and reducing staff; while Lupamat speed up the production. Kaynar stated that they made additional investments and created more employment in this process; "In short, we accelerated more during this crisis and continued to grow in a more aggressive structure," he said.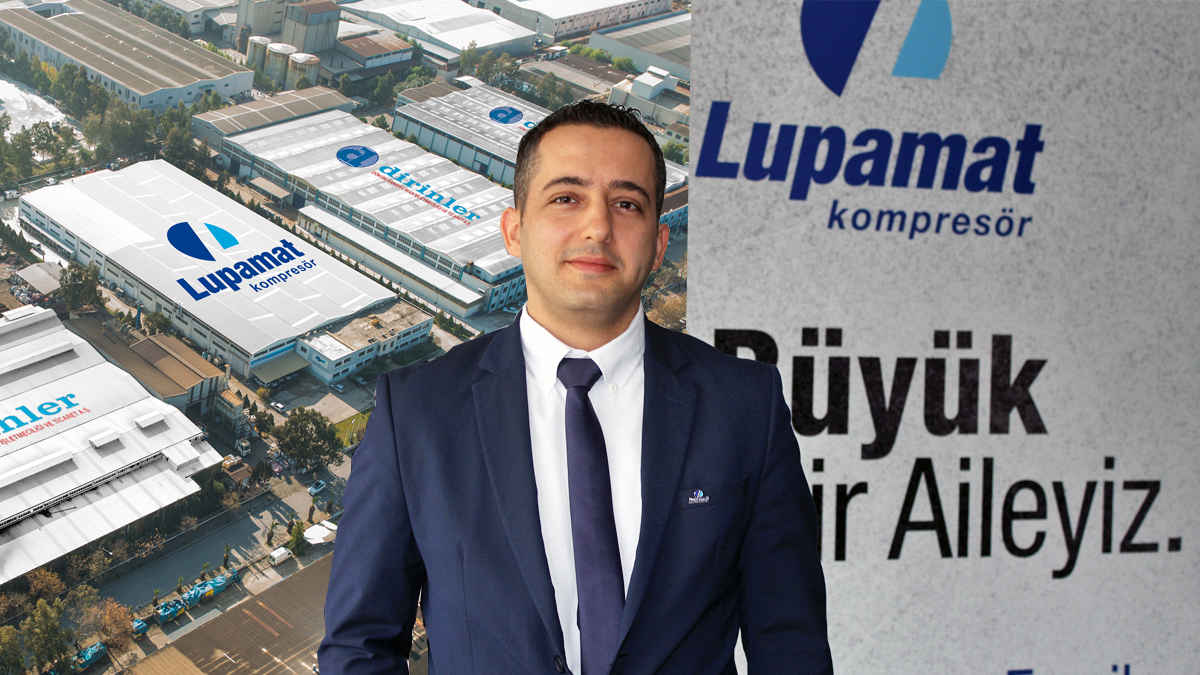 "We are actively using digital technologies"
Stating that the concepts of digitalization, automation and artificial intelligence were frequently brought to the front in the agenda in this period; Tolga Kaynar disclosed that the infrastructure is ready for digitalization and actively used as Lupamat Compressor. Kaynar explained their work on this subject as follows; "Rapid transformation is very important for sustainable growth. Energy efficiency, energy management and data analysis are among the digital works we have done. Our compressed air solutions that we offer to our customers are fully in line with Industry 4.0 and smart factories concept. We can also offer data updates with IoT devices. I can say that 50% of productivity increases in the next 10 years will be caused by digitalization. As a country, we must be ready for this process".