Wouldn't it be great to extend the ski season beyond winter? Artificial snow mats, like artificial turf used for field sports, could be a way to do it.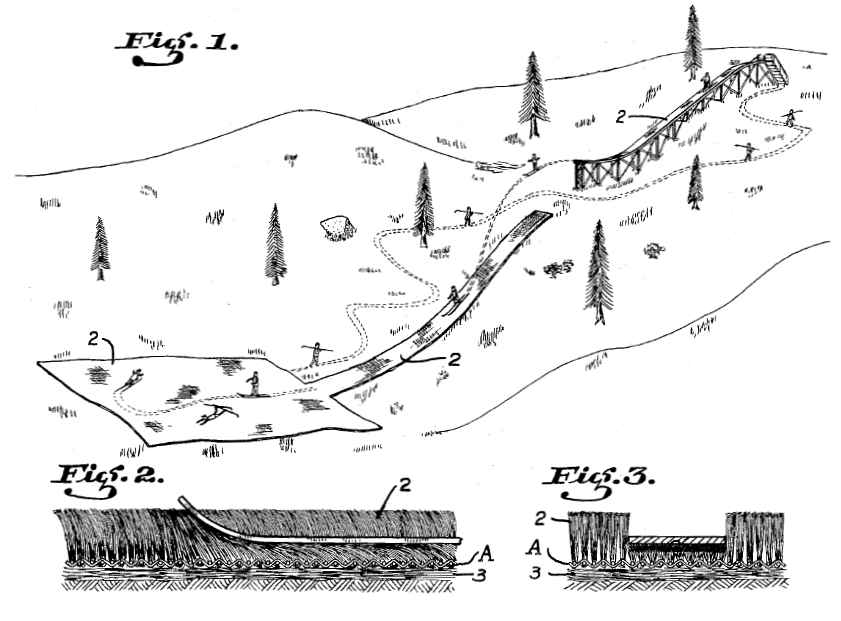 The idea of using some kind of pile fabric as an artificial snow surface for skiing is nothing new. Back in 1936, Thomas Castberg filed a patent for an artificial skiing surface similar to modern artificial grass (fig. 1). This patent was granted in 1939.
His design made use of fibres such as sisal, (artificial fibres had not yet been invented). The patent describes his idea as follows: "A woven skiing surface comprising a base and pile of fibres firmly anchored in said base, the fibres having the characteristics of sisal".
Three years later, in 1939, Heinrich Ermel applied for a patent for a moving ski slope as a sort of endless belt conveyor. It consisted of wooden slats fitted with brush bristles This patent was granted in 1941.
A problem skiers face is that they sometimes fall down, as fig. 1 correctly depicts. To protect against injury, Castberg recommends a cushioning layer of straw beneath the sisal mat. Also, pile fabrics made of natural fibres like sisal are quite abrasive, so skiers that fall could suffer brush burns. A fall on the brush surface of Ermel's design would be even worse.
In 1962 Raymond L. Hall patented and improved on the idea of using cut pile fabrics made of natural fibres by using a tufted pile fabric with nylon loops on a jute backing. As a bonus, he added a large mirror to the ski slope design so that skiers could observe themselves and "improve their style".
Addressing the poor durability of natural fibres exposed to outdoor conditions, US Patent No. 3 332 828 (1967) proposes a design for artificial turf made of synthetic yarns such as polyester, polyacrylonitrile, polypropylene, polyethylene or polyamide to make the artificial grass "weather resistant".
Meanwhile woven artificial grass has become quite common, both in sports, landscaping and for domestic use.
Some sports, like professional football, require high pile filled in with a soft granulate. Other sports, like golf, require a low, dense pile. The small golf ball should roll easily in any direction. A loop pile fabric, as described in patent JP 3 761 110, is more suitable for this application.
Except for applications like professional football, this kind of artificial grass is usually made on a tufting machine: a highly productive machine, but with several limitations.
Tufted loop pile fabric is made by pushing the pile loops through a woven backing fabric. To anchor the loops in the fabric, a secondary backing is applied. This improves the pile fixation somewhat, but not enough to withstand the forces of skiing. A second problem is that such fabrics are impermeable to water, which hinders drainage. And thirdly, a number of different materials are incorporated, which makes the product virtually impossible to recycle.
All these problems can be solved by weaving rather than tufting the artificial snow fabric.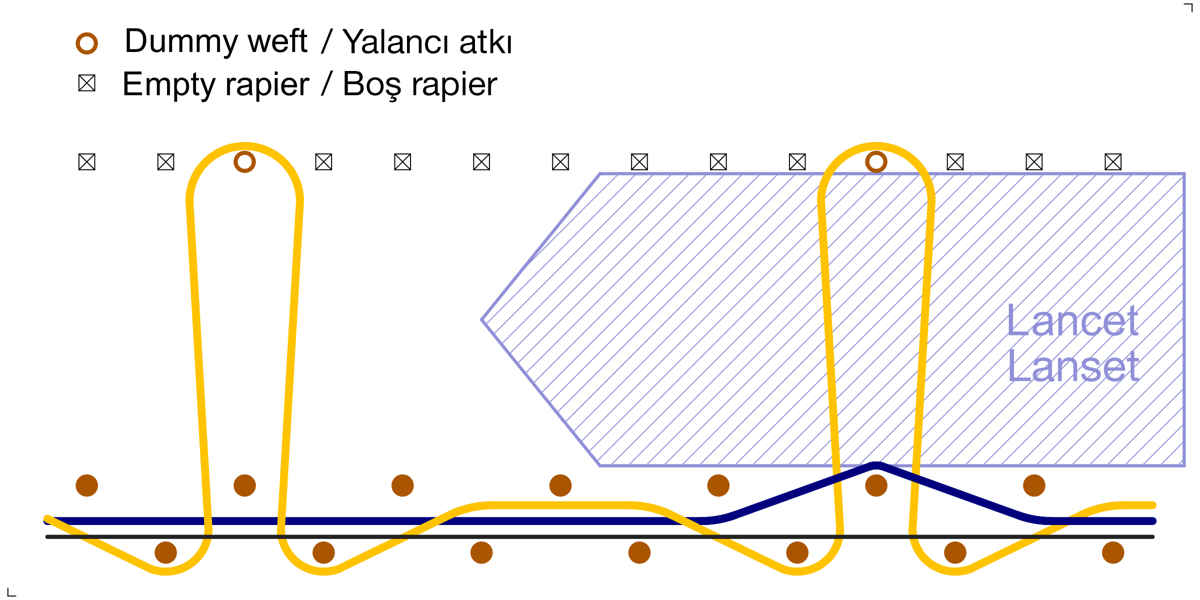 On the ALPHA 500 weaving machine, loops are formed over dummy wefts, supported by low lancets, measuring between 2 and 10 mm high. These wefts are later removed on the machine. See fig. 2.  A single material can be used for all yarn threads, which makes the carpet easy to recycle. No secondary backing is required, leaving the fabric water permeable. A monofilament yarn can be used for the loops, which gives them sufficient stiffness. For an even better pile fixation, an "extended W-binding" can be used (see fig. 3).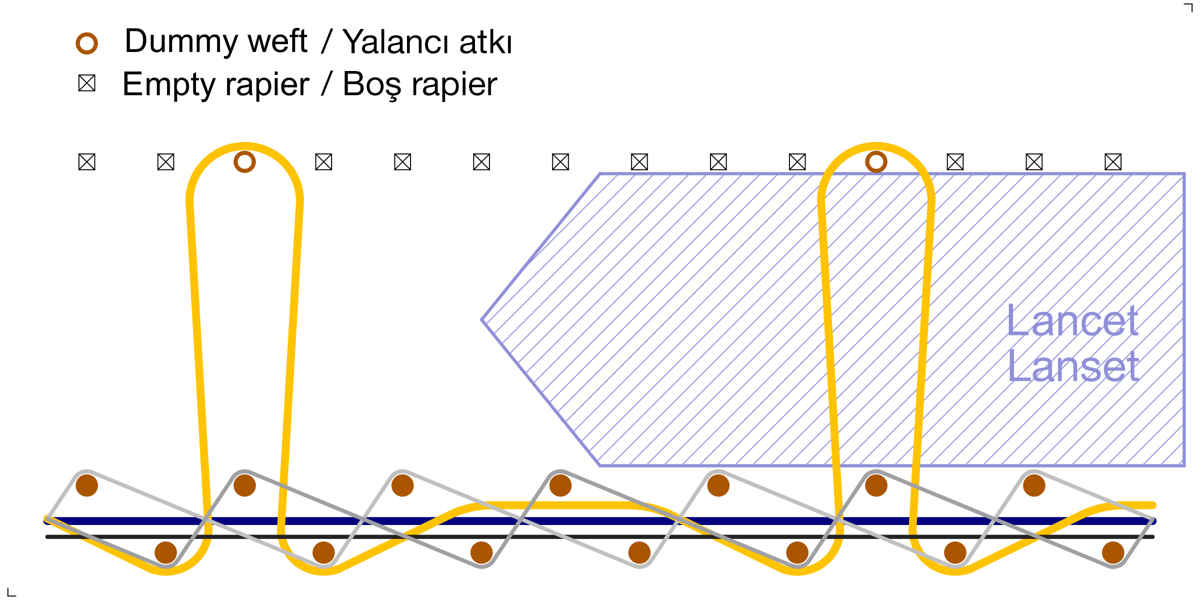 By using two colours of pile yarn, logos and brand names can be woven into the fabric, offering a convenient opportunity for advertising (see fig. 4).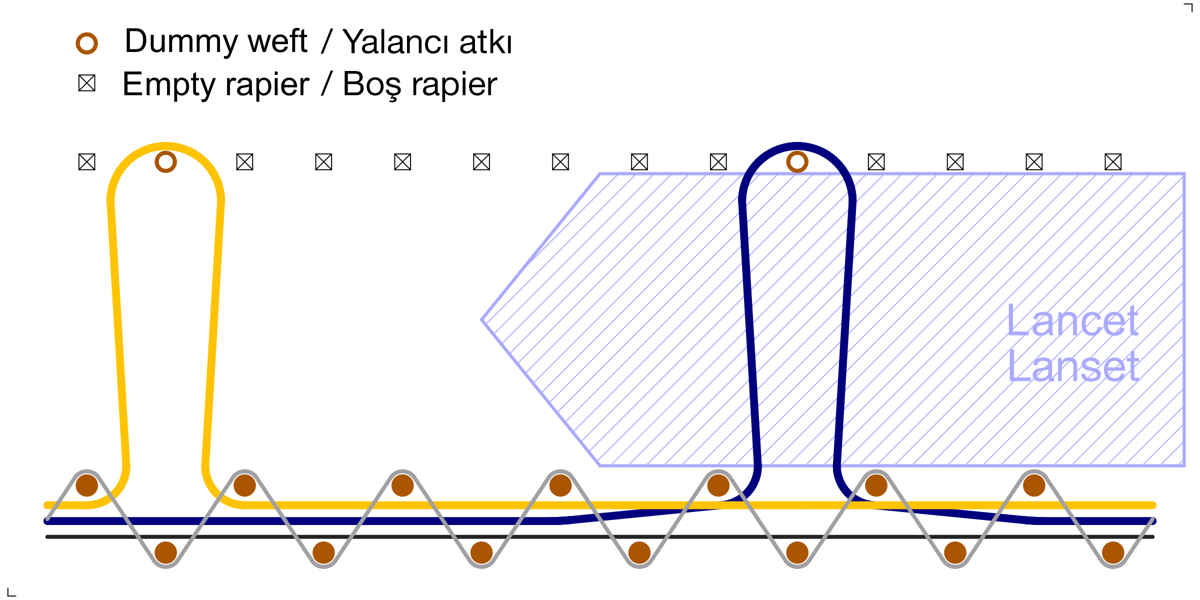 A perfect artificial skiing surface should have the performance characteristics of real snow. Producing such a material is challenging. The pile loops must be resilient and keep an upright position, and skis should glide in every directions equally well.
Using a woven-through weave structure gives the loops better side support, and this can be further improved by using the second pile thread to support the loops. See fig. 2, the second pile loop.
To make the surface non-directional, the loops should not be placed in straight lines, as in conventional weaving, but for example in a "satin‑4" pattern.
To give the loops greater side support and help them remain upright even under the load of skiing, they can be grouped together, placing the groups of for example four loops in a "satin‑4" pattern too.
Every skier knows that there is nothing better than skiing on a cold, sunny day on real snow.  Artificial snow surfaces will never replace the real thing, but they do offer a practical and attractive alternative for use with ski lifts and training facilities all year round.