Mimaki, a leading brand of large format inkjet printers and cutting plotters, expands its product portfolio and opens up new application possibilities for its users. Mimaki 3DGD-1800 3D printer provides sign makers with the opportunity to produce life-sized objects with its groundbreaking production speed. This printer can produce large-scale objects 3 times faster than conventional Fused Filament Fabrication (FFF) type 3D printers, and connects Mimaki's experience and expertise in 2D and 3D technologies. This solution, which has an innovative concept, will be offered to users commercially as of April 1, 2020.
Arjen Evertse, General Manager of Mimaki Eurasia, underlined the experience and expertise of Mimaki in 2D printing. Evertse said; "We have a rich and advanced product portfolio for inkjet printing. We are a leader in the market with our printing and cutting solutions for signage, textile and industrial applications. In order to meet the increasing demand in 3D printing, we have recently added solutions to our portfolio for the production of small-scale objects. Now, we are happy to introduce the 3DGD-1800 3D printer to the market for the production of large-sized objects demanded for signage and other decor applications. Our users can benefit from a single source with Mimaki for all print jobs from design to the final product".
Unique 3D production speed with 3DGD-1800 GDP technology
With its Gel Dispensing Printing (GDP) technology, Mimaki 3DGD-1800 can produce objects with a height of 1.8 meters in just seven hours. In addition, its assembly-based design makes it possible to produce larger designs. Contrary to other 3D printing methods involving hot-melt lamination, GDP provides exceptional production speed. The gel-type UV curable resin is extruded linearly. UV LED light is used to cure the resin instantly, thus objects are produced up to 350mm in height per hour.
Dual-head configuration saves time and cost
Featuring a range of smart features, Mimaki 3DGD-1800 offers its users extra benefits. For example, with the dual-head configuration, time and cost savings can be achieved in the production of large-sized objects. Support-free hollowed structures can be produced easily. These lightweight objects can easily be transported and are ideal for interior illumination applications. Today, these objects can be used in signage, events, creative artistic activities (theatre scenes and movie sets) and interior design (decorative objects in home or commercial spaces) and address a wide range of potential application areas.
In addition to opening doors to new applications with high added value, Mimaki 3DGD-1800 contributes to the increase in productivity with rapid delivery of products. Applications are not limited to signage and decoration. Industrial production parts such as moulds for vacuum forming can be produced quickly and efficiently.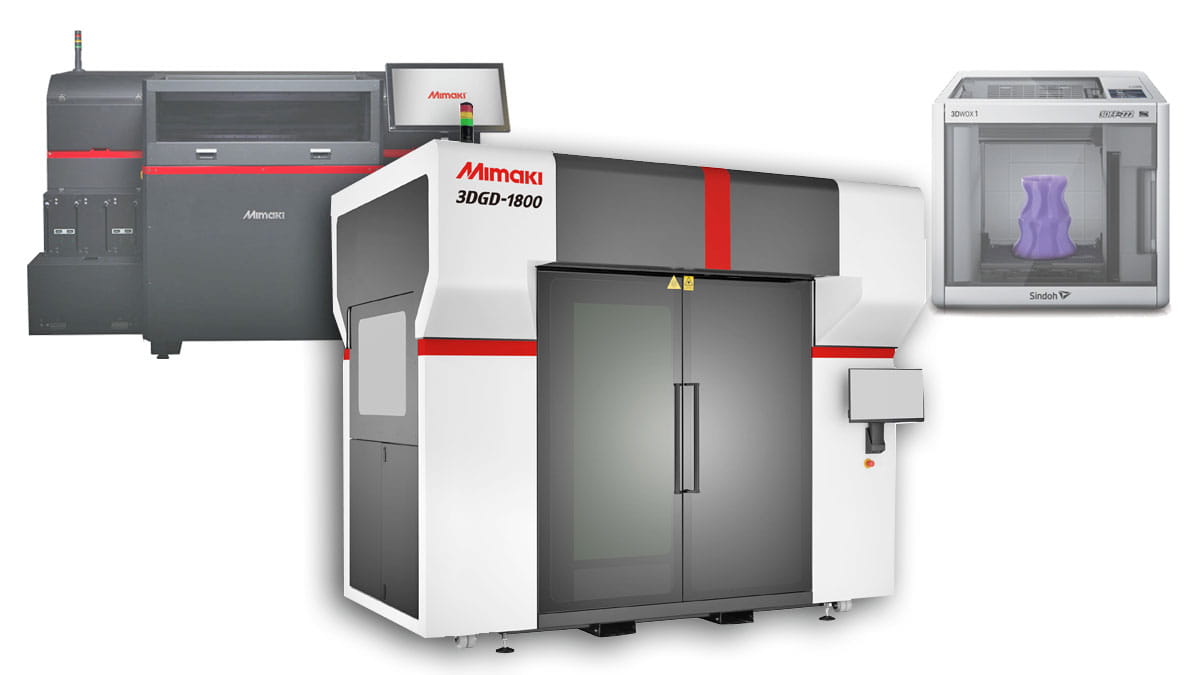 Mimaki strengthens its Total Solutions Provider position
Users can decorate objects printed in 3DGD-1800 at low cost using Mimaki's portfolio of expert 2D printing solutions. Mimaki reveals its position as a total solutions provider, from the production of three-dimensional large-scale objects to their lively and high-quality decoration.
Decorating fast-produced, large-scale 3D objects with Mimaki's superior inkjet printing solutions makes them more impressive and versatile. These added value products emerge as a symbol of Mimaki's deep-rooted wealth of experience and dedication to innovation. Mimaki continues to lead the signage industry with two and three dimensional printing solutions with the solutions it develops. For this reason, the introduction of 3DGD-1800 to the market is an important step.
Designs transform from data to object directly with 3DGD-1800
The launch of Mimaki 3DGD-1800 clearly revolutionizes the way large objects are produced. There is no need for production with traditional handcrafted methods that used to require expertise, and that were expensive and time consuming. Traditionally, large objects are hand-shaped using foam materials, while everything comes to life through data now. In other words, using a series of data with the 3D printing system, the concept goes directly to production. Objects of different sizes can be produced effortlessly and quickly with a single data set.
Mimaki 3DGD-1800 3D printer will meet the market as of April 1, 2020; and represents a real transformation in the production of large-sized objects. A new production standard is presented in terms of speed, convenience, low cost and application richness.