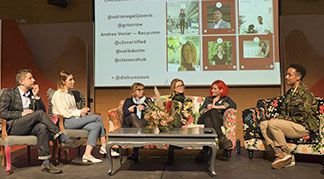 Taking important concrete steps for sustainability, Çalık Denim has made significant commitments for the environment and human health sensitive production. Important improvements include Laundry Less technology and D-Clear technology.
Çalık Denim attended the 4th Study Hall Conference held on April 27 in London with the 'Sustainability as a Culture' theme. Çalık Denim Marketing Manager Pınar Demirel highlighted at the conference that Çalık Denim has tried several concrete avenues in order to contribute to responsible fashion. In addition to Çalık Denim, global brands such as Adidas, YouTube and G-Star Raw supported the conference which took place at Central Saint Martins Design College of London as part of the Fashion Revolution Week.
The first international event of Study Hall, which signed a successful partnership with the United Nations (UN) in February 2019 brought together activists, academicians, artists, and production experts of fashion and textile. Within the framework of the 'Sustainability as a Culture' theme, subjects such as responsible resource production and manufacturing, circularity and originality in design were discussed.
Good for the world, good for people
Moderated by Dio Kurazawa from The Bear Scouts, with the theme 'Good for the world, good for people', an answer to the question: 'How can circularity show the way; How can we spark the discussion in the supply chain?' was sought. Attending the session, Çalık Denim Marketing Manager Pınar Demirel gave important messages.
Demirel said that Çalık Denim tried several concrete avenues; in order to contribute to responsible fashion and continued her words as follows; "In line with this perspective; we strive to create processes that minimize environmental impacts in the later stages of the supply chain. The technologies we have developed emerge with this belief. For example, we can produce fabrics that appear to be washed with Laundry Less technology. In this way, we will be able to eliminate the washing process in the supply chain in the next stage. In addition, the D-Clear technology we developed requires 40 percent less water in indigo dyeing; and 83 percent less water compared to traditional denim during the finishing process. In addition, we reduce the volume of chemical used per meter in denim fabric from 150 grams to 9 grams; which means a 94 percent reduction".
Pınar Demirel stated that Çalık Denim is committed to integrating D-Clear technology into 75% of their collections by 2023; and 100% by 2025.
It was announced that the next editions of this conference, which are closely followed by the industry; will take place on August 22nd with Google Collaboration in San Francisco; and the next on 31 January 2020 in New York at the United Nations.