During the Covid-19 pandemic, firms have faced new challenges not only in terms of market but also in business processes. Security and communication technologies can be the biggest help in this regard, so that businesses can continue their operations safely. Bosch Building Technologies has solutions that meet the demands on this issue and contribute to preventing the spread of pandemics.
Fire is one of the most important safety problems for businesses. Especially due to the use of highly flammable products, manufacturing companies need a system that can detect fire and smoke in less than 30 seconds. The companies, which determine employee safety and high-value machines not to be damaged, demand an innovative solution that is far beyond the performance of traditional detectors and detects fires in less than half a minute.
Fires are not a nightmare anymore with AVIOTEC IP Starlight 8000
The new version of the video-based fire detection system AVIOTEC IP Starlight 8000 has the features that provide the necessary trust. Fires can be detected by cameras even in a low-light environment of 2 lux.
Bosch has accomplished this by extending artificially proven video analytics on the camera that processes the results of more than 20 algorithms and makes an alarm decision accordingly. In this way, significantly improved sensitivity was obtained while false alarms prevented.
With the new firmware version 7.61, AVIOTEC IP Starlight 8000 is suitable for applications in low-light areas at night, such as factories, warehouses, and production facilities. Robustness and sensitivity can be adjusted according to changing environmental conditions. For example, while the robustness against false alarms is optimized during intense operations in the day, high sensitivity feature can be used for fastest detection at night.
Bosch's new solution works reliably with minimal ambient light, saving costs for planning, installation and operation of lighting. Cameras installed in all environments can be used simultaneously for fire detection and video surveillance, further reducing installation and operating costs.
Bosch further strengthened its intelligent fire detection system with remote maintenance. Thanks to Remote Services, system integrators offer the opportunity to switch to remote maintenance for on-site maintenance activities; without having to go to the end customers' factories or office buildings.
Less contact, more security – the pandemic cannot enter through the door
The security solutions offered by Bosch for businesses are not limited to fire alarm systems. Contactless and intelligent access control systems; especially in production facilities, are new technological solutions that will help prevent the spread of the pandemic. Door handles, keypads for entering PIN or finger sensors are points where the virus will nest to spread, creating a problem. Contactless access control systems of Bosch Building Technologies solve these problems radically.
The company is also working on an algorithm that tracks all movements of those in a building anonymously. If someone reports an infection, the algorithm will be able to produce a social graph; that shows that other people may have come together with the infected person. Many end customers are expected to invest new possibilities of access control solutions to better prepare for the pandemic. 24/7 security is guaranteed thanks to an integrated video security and access control system; managed on the Bosch Building Integration System.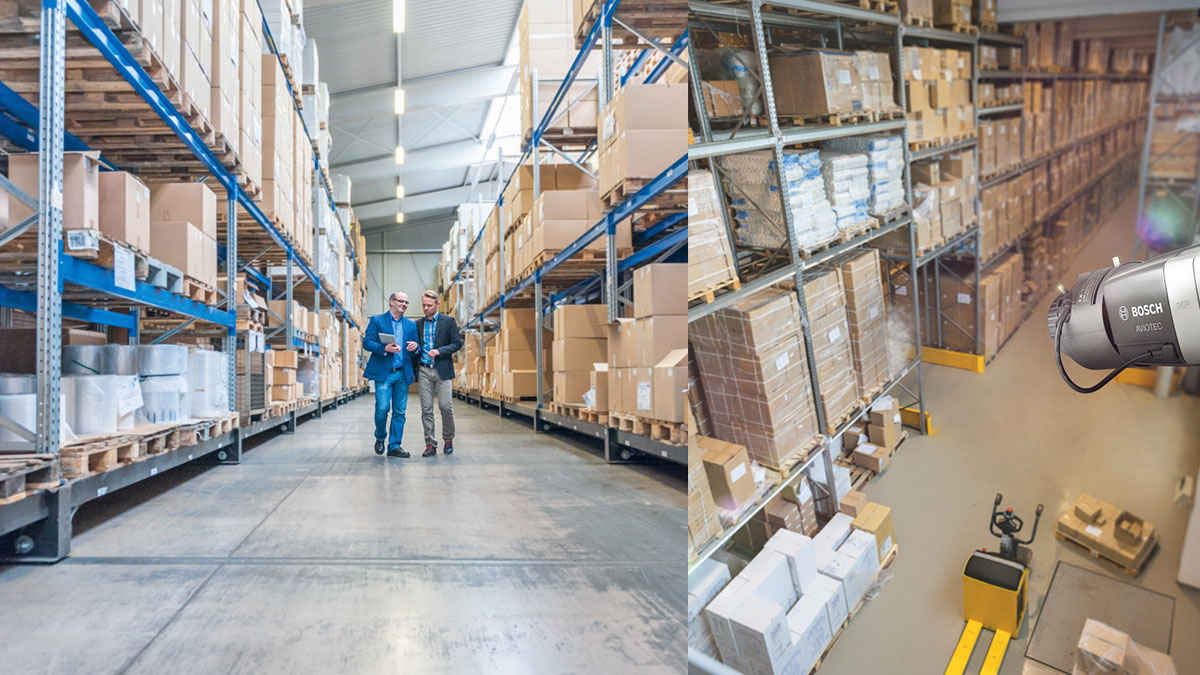 Camera and public address system promise more than security
Bosch video cameras provide intelligent data to improve security, increase efficiency and reduce costs with built-in analytics analysis. In this way, analyses such as facilitating inventory control, coordinating boxes on the production line, detecting objects left near the emergency exit doors and detecting the entrance of unauthorized persons can be carried out easily and quickly.
Bosch Public Address and Voice Alarm Systems provide solutions for alerts for crowd management and protection of physical distance. This system is used to make announcements; to remind people of the behaviours, directions, information and warnings that must be followed. In addition, with the new Public Address and Voice Alarm System PRAESENSA or EN54 certified Voice Evacuation System PAVIRO; a safe guidance and safe evacuation of the employees can be provided.