ITMA, the world's largest textile and garment technology fair, will continue to present and share innovative production technology and materials with the industry in its 19th edition in Milan. ITMA 2023 will take place on June 8-14, 2023 in Fiera Milano Rho, and will have the theme of 'Transforming the World of Textiles'. This concept is supported by four sub-themes; advanced materials, automation and digital future, innovative technologies, and sustainability and circularity.
Ernesto Maurer, president of CEMATEX, the European Committee of Textile Machinery Manufacturers, which owns the ITMA exhibition, commented; "ITMA 2023 will highlight innovations and new approaches that serve as catalysts to inspire and help textile and garment manufacturers grow their business, scale and sustain their transformation journey".
Maurer; "We are in the midst of the 4th Industrial Revolution that is filled with business and technological advances, hence, transformation is even more critical for the continued success of the textile and garment industry. Speed and agility are also of the essence to effectively tackle the ecological and medical challenges that we face today".
ITMA is an unrivalled platform
Charles Beauduin, chairman of ITMA Services, which organises ITMA, disclosed; "As the world's leading exhibition, ITMA offers the industry an unrivalled platform to present and share industry innovation and to collaborate with other stakeholders. As the Covid-19 pandemic has adversely affected the business environment, we will be monitoring the situation closely, mindful about the importance of health and safety of all participants and staff. At the same time, we will be launching several initiatives to create additional opportunities to help our exhibitors better connect and do business with potential customers. We will be announcing the new initiatives and enhancements to ITMA 2023 very soon".
Reminding that ITMA was successfully held in Milan in 2015, Beauduin said that a strong response is expected when the exhibition returns to Milan. Beauduin also invited all to visit the new ITMA 2023 website to get the latest updates on the exhibition.
The last ITMA exhibition, held in Barcelona in 2019, featured exhibits from the entire textile and garment making value-chain, including raw materials and fabrics. It drew a record-breaking participation of 1,717 exhibitors from 45 countries and visitorship of almost 105,000 from 136 countries.
New beginnings in a post-pandemic World
CEMATEX President Ernesto Maurer shares his views and hopes after a year of economic and social challenges in his ITMA Blog article. He described the year 2020 as a year of massive disruption caused by the global coronavirus pandemic, and underlined their great expectations and hopes for 2021.
Reminding the success of ITMA Barcelona in the summer of 2019, Maurer continued his words saying; "The success of ITMA parallels that of the textile industry – one of the oldest industries in the world. Despite the many challenges that have threatened entire industries, the textile industry has remarkably emerged stronger from each crisis. Today, advanced materials are used from day-to day use clothes and garments, up to space suits that keep astronauts alive in the very hostile vacuum conditions of space, and meltblown nonwoven fabric has become the material of choice for face masks and other personal protection equipment during this crisis".
Noting that the resilience of the industry can be credited to the continuous research and development needs, Maurer said that it is coupled with the willingness of textile industrialists to embrace innovative ideas and technologies, and to seize opportunities created by global trends and changes in consumer's behaviour. Maurer stated that the role of Industry 4.0 has also become even more critical during this pandemic, and emphasized that digital solutions are seen as necessary for doing business. Maurer said the following on this subject; "As the world pivots towards digitalisation, ITMA is also breaking new ground. It will be providing an online sourcing platform to connect sellers and buyers 24×7. The platform which complements the quadrennial exhibition will enable manufacturers to maximise opportunities and transact more effectively all year round".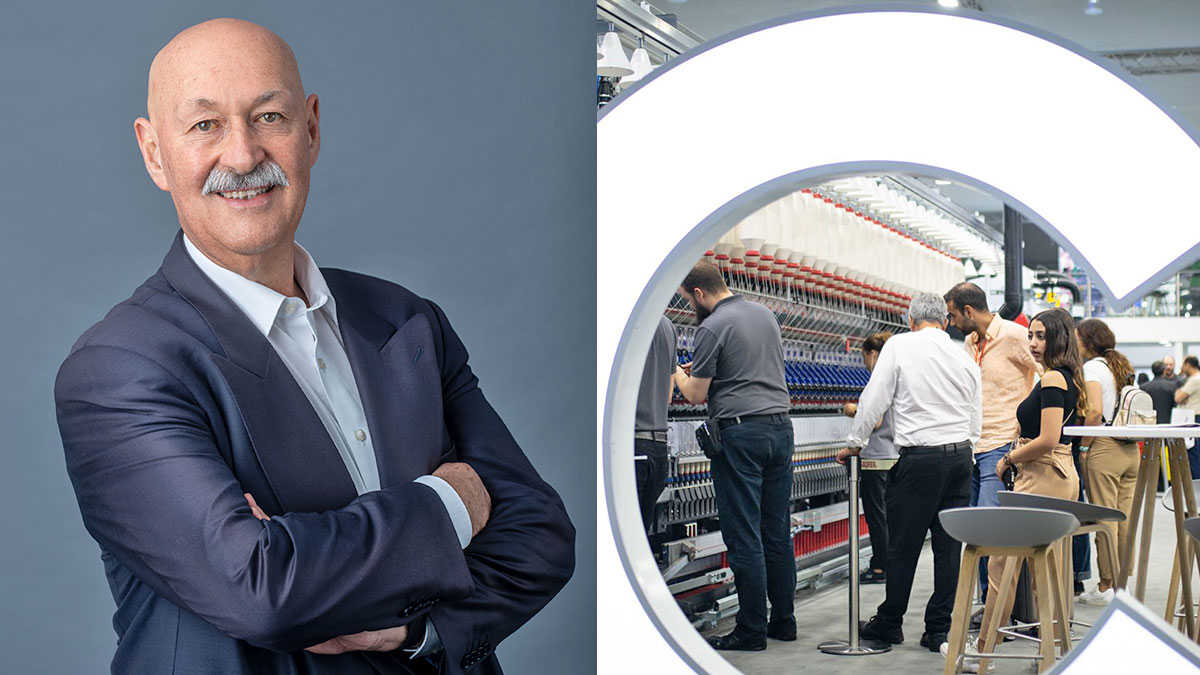 The four main themes of ITMA 2023 emphasize innovation and digitalization
Transforming the World of Textiles, the main theme of ITMA 2023, has four sub-themes. The Advanced Materials theme will cover advanced materials and functions for innovative and sustainable applications. In the Automation and Digital Future theme, groundbreaking developments in robotics and artificial intelligence (AI) and automation and digitalization solutions in textile production will come to the fore. Under the theme of Innovative Technologies, innovations in fiber and yarn processing processes are emphasized. With the theme of Sustainability and Circularity, the use of innovative materials for a greener world and the integration of advanced processes will be explained.