KARL MAYER (China) introduced the new TM 4-S tricot machine and MJ 92/1 B lace machine to the market a few months ago at an in-house event concurrently with the ITMA ASIA + CITME 2021, and it was met with great interest. Joining KARL MAYER's four-bar tricot machine product family that offers a wide variety of applications, TS 4-S focuses on the volume market with its high speed and maximum productivity advantages; another of the latest developments of the company, MJ 92/1 B is the JACQUARDTRONIC® LACE with the highest number of bars in the portfolio with its 92 bar. MJ 92/1 B offers unprecedented flexibility, variety and a clearly defined look and feel, while also enabling the production of premium elastic lace products at a competitive price thanks to its technical configuration.
KARL MAYER offers maximum productivity at an affordable price with the TS 4-S
Performance features of the new tricot machine include high speed with a maximum of 1,800 rpm and a working width of 280ʺ, which can be further expanded by 10ʺ. In this way, the TS 4-S provides maximum productivity at an affordable price. While the needle and guide bars in the machine are manufactured using proven carbon fibre technology to achieve high temperature stability and low weight, the TM 4-S provides ease of use thanks to its human-machine interface.
As with all models in the four-bar product family, this new machine covers a diverse production spectrum. Lightweight silk net and lingerie articles can be produced as easily and efficiently as raised velour fabrics, shoe fabrics, home textiles and even upholstery fabrics for the automotive industry, with the TM 4-S. The machine, which will be sold from the third quarter of 2021, is currently available in sizes E 28 and E 32 and includes standard equipment 4 x 32ʺ beam frame.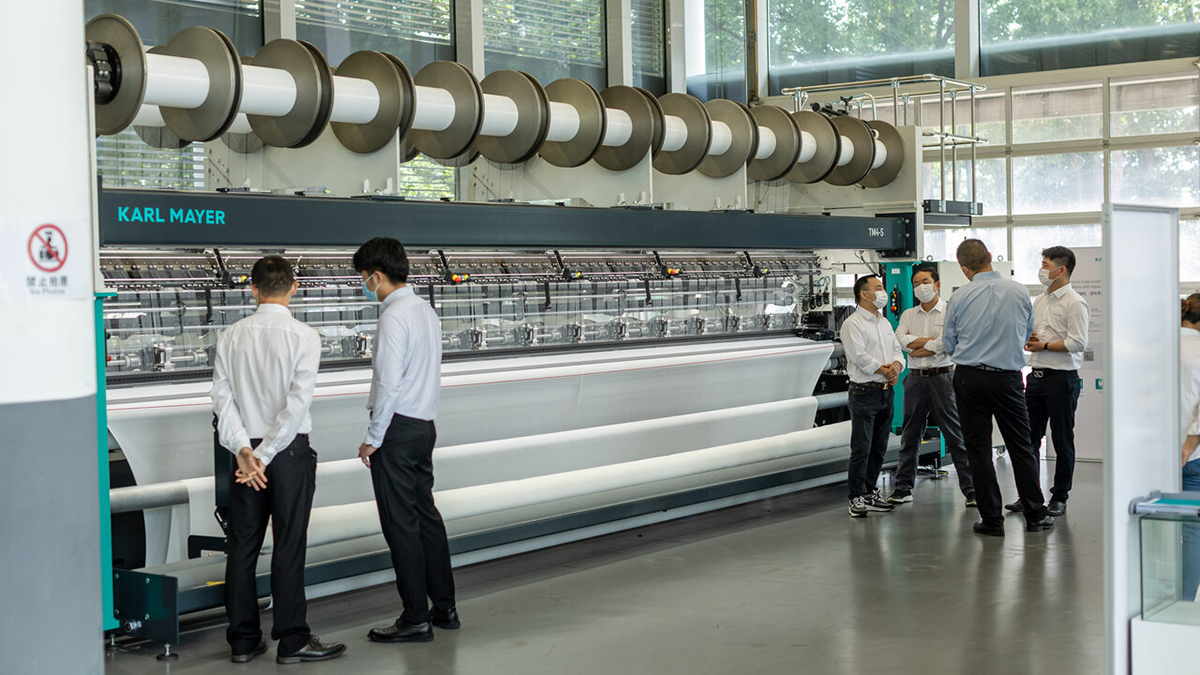 MJ 92/1 B: design flexibility in lace production
KARL MAYER produced the MJ 92/1 B, based on proven MJ technology, mainly for the production of elastic gallon lace, and also all-over lace for stylish lingerie items. In the new model, which has a good price/performance ratio, the products are characterized by an extremely distinct fabric appearance created by a clearly drawn and symmetrically designed jacquard ground.
The two split Jacquard bars work counterlapped and are split-threaded. In addition, the elastane is split into two bars that also work counterlapped mirroring the movement of the Jacquard, thus complete symmetry is achieved. In addition to modern counter-lapped jacquard patterns, traditional equal-lapped equivalents can also be produced in this model. Switching between the two options is almost seamless, while this flexibility offers customers a competitive advantage. The MJ 92/1 B presented to key customers in China in mid-May 2021, and worldwide shortly thereafter.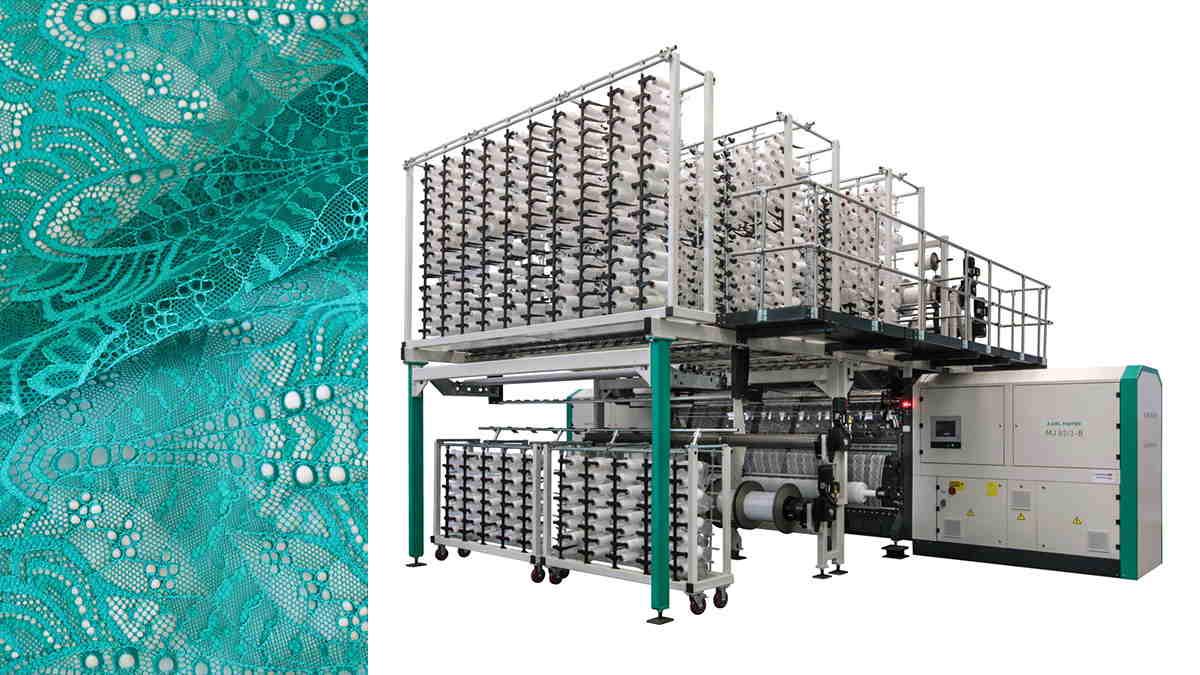 KARL MAYER moved to the new head office building
KARL MAYER Group has moved its corporate headquarters to its new building on the new KARL MAYER Campus, at the Obertshausen site. Covering an area of ​​5,600 m² and designed for 150 employees, the building complex has an ultra-modern architecture and recycled materials were also used in its construction. In the building equipped with sustainable methods such as LED technology and air source heat pumps that reduce power consumption, almost all roof surfaces consist of extensive greenery that provides habitat for insects and retains rainwater.