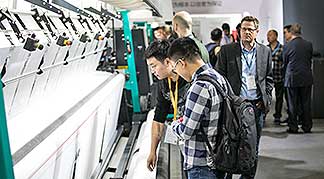 KARL MAYER participated in the ITMA ASIA + CITME 2018, and revealed how digital technologies will be integrated to and how big their potential is for the future of warp knitting. KARL MAYER hosted visitors from China, regional countries and other parts of Asia between 15th and 19th October while also hosting events at KARL MAYER CHINA simultaneously. The KARL MAYER booth, where the latest innovations in knitting, warp knitting and knitting preparation technologies were exhibited, attracted great attention especially with the products of digitalization strategy. The company's new KM.ON service was shared with the Asian market.
KARL MAYER emphasized more sustainability in production and showed its solutions for warp knitting under the heading of CLEANER.PRODUCTIONS. The company's TERRY.ECO solution stands out as a true competitor of weaving technologies in the production of environmentally-friendly towel fabrics. PROSIZE®, a sizing machine with less size, energy and effluent during production, was another focus point. KARL MAYER's HKS 3-M, 280'' and TM 3 tricot machines met with Asian textile manufacturers as well.
A start up for digitalization
General Managers of Karl Mayer Digital Factory, Maximilian Kürig and Antonia Gottschalk said they were pleased with the interest in digital solutions. They have underlined the advantages of digital technologies in their exclusive interview for Textilegence.
Maximilian Kürig stated that KARL MAYER Digital Factory is a new software start-up owned 100% by KARL MAYER, and its KM.ON solution offer customers new opportunities. Kürig; "This digital solution is KARL MAYER's 4th business area next to warp knitting, warp preparation and technical textiles. The company began to work last year and made good way already. With KM.ON, we never leave the textile manufacturers alone digitally and online during the supply and production process."
Describing their goals as developing long-term digital solutions and software for KARL MAYER customers and textile manufacturers, Kürig said; "We digitalize all the processes our customers have in order to run a company, such as production planning, control and maintenance of tasks, service tasks, and quality tasks. KM.ON actively took off with this idea in mind."
Digitalization expand into every step with KM.ON
Maximilian Kürig disclosed that the first steps of apps including management, maintenance and service were presented at the ITMA ASIA + CITME 2018. Kürig explained these as follows; "k.management enables the customer to look at the current production process, regardless of location and in real time. Production data can be clearly displayed on a dashboard. k.maintance is designed to support customers' own maintenance jobs. k.service's product world will, in the long term, include all the functions that manage the communication between the customer and KARL MAYER, should the client require assistance. Our customers can benefit from these digital solutions for free in the first steps."
Kürig recorded that the new digital applications and services accelerated the failure prevention and machine maintenance processes more than ever before; "While this time depends on the customer's location and timeline, k.service is like a digital highway for our technical teams." Kürig stated that customers can get instant feedback with k.service.
Explaining that they are working on k.innovation, Kürig said that this solution will shorten the time and steps of the customers' access to the market. Kürig said that k.innovation, which will shorten the development time of innovative and special products, will reach more usage next year. Kürig added that k.quality is related to fabric quality and quality control.
ADAMOS partnership strengthens KM.ON
Describing the KM.ON application being easily accessible with an industrial PC connection, Maximilian Kürig said that the hardware and software platform can be easily installed. Stating that the machines can be safely connected to the protected clouds, Kürig said that the strategic initiative ADAMOS, which they participated in the use of an open IIoT environment, was beneficial. Kürig continued his words as follows; "ADAMOS is an initiative of German brands for digital transformation. As part of this network we are developing KARL MAYER Digital Factory. We use ADAMOS' common infrastructure, which we are highly invested in, and we have our own software. In a nutshell, we created a very secure data field better than keeping the data either on the machine itself or on the customer's own server."
Indicating that in the long run they plan to collect all data from the machines, Kürig expressed that so far they have collected the speed data. Kürig underlined that this data is collected by the customers not themselves; "We offer our customers the technology to store the data, then to access it. So we don't have access to the data, if they want us to access the data; they need to allow us."
KARL MAYER Digital Factory looks ahead
Christine Wolters, Corporate Communications Manager at KARL MAYER, shed light on the development of digital technologies. Wolters said that this process started with KARL MAYER Digital Factory in Frankfurt in November and continued her words; "KM.ON includes the entire portfolio and brands of this company. We have created an ecosystem with 8 different solution groups. At ITMA ASIA + CITME 2018, we presented this new brand and 3 digital applications of KM.ON. Our booth concept also reflects our strategic view and goal; more digitalization and more green growth."