As a part of the protection against the Covid-19 outbreak, Sanko Tekstil, one of the leading companies in the Turkish textile industry, introduced the organic cotton washable face mask developed by intense R&D studies to the market with its Maisonette brand. The mask also meets EN 14683 medical face mask requirements.
The face mask, consisting of 98% cotton and 2% elastane, does not contain latex. Providing comfortable use and safe protection, Maisonette face mask saves and does not harm the nature with its durability up to 15 times washing. Sanko Tekstil Enterprises, which produces the Maisonette cotton washable face mask, became the first company to receive 'Covid-19 safe production certificate' as a result of the inspections carried out by the Turkish Standards Institute (TSE).
Maisonette face masks are compatible with international Type-1 standards including TS EN 14683: 2019 + AC, EN ISO 9001 and EN ISO 13485 standards and have the CE mark of the European Union. As it is known CE mark; shows that a product or product group meets the basic criteria of the European Union; known as product directives on health, safety, environment and consumer protection.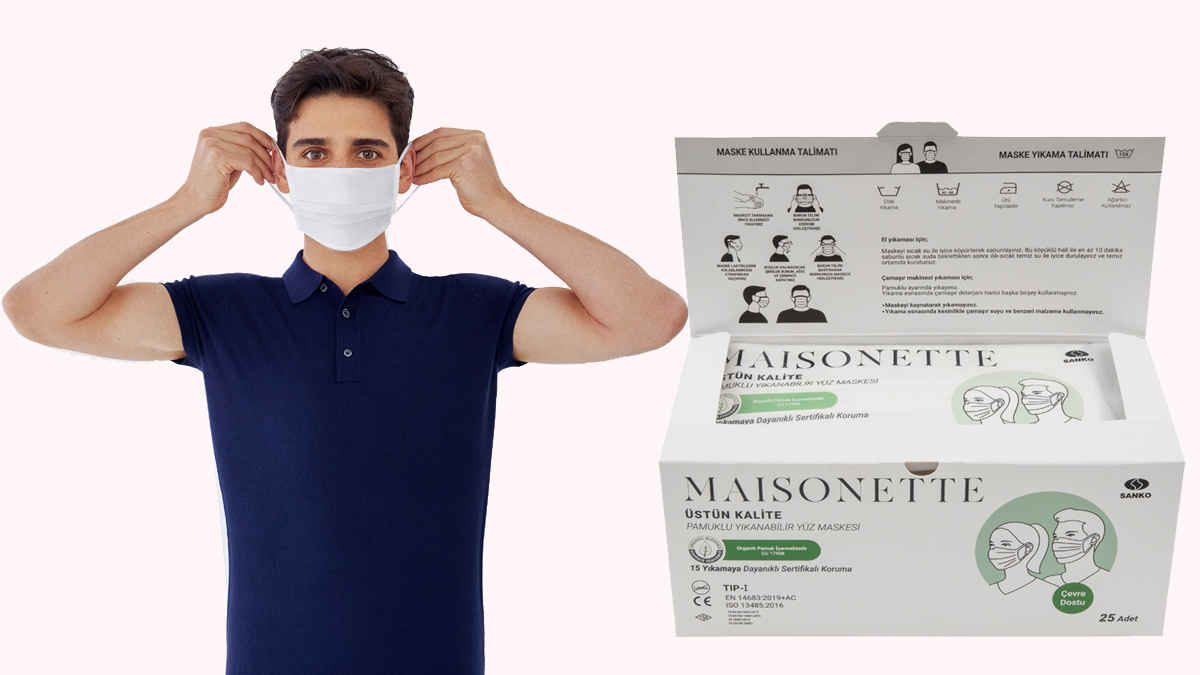 The mask can be reused 15 times with washing
Produced in fully integrated facilities of Sanko Tekstil Enterprises, Maisonette cotton face mask can be washed and reused. Masks should be washed at 40-60 degrees in the 'cotton' setting without bleach and should not be dry cleaned. During hand washing, it is recommended that the mask be washed thoroughly with hot water. With this kind of washing, it is sufficient to leave the mask foamed in soapy water for at least 10 minutes; then rinse with warm-hot water and dry it.
Thanks to the adjustable nose clip, the mask; which easily adapts to all face shapes, offers comfortable use all day long. The mask does not contain synthetic ingredients that cause sweating, allergies and bad smell in summer heat. The soft, breathable, latex-free flexible fabric of the cotton washable face mask; that provides comfort during use thanks to the flat rubbers is waterproof.
Maisonette cotton washable face mask contains environmentally friendly organic cotton; which has successfully passed the bacterial filtration efficiency, pressure difference and microbial cleaning level tests for performance requirements; for EN 14683 medical face masks. Masks were presented in packs of 5, 25 and 50.