Circular knitting machine manufacturer Mayer & Cie. reminds us that warm functional underwear is a must for athletes, coaches and spectators as the Winter Olympics got behind. These products are mostly knitted on circular knitting machines. High-tech sports and thermal underwear produced in Mayer & Cie. machines keep users warm and provide comfort at the same time. Head of the patterns department at the circular knitting machine manufacturer Mayer & Cie. Jürgen Müller says; "In view of the icy temperatures reported in coverage of the Olympics, thermal underwear would seem to me to be an obvious choice".
Extra warm thermal underwear with Mayer & Cie.
Extra warm thermal underwear produced from single jersey, plush and fine rib all deliver warmth and comfort. Made of thicker yarns such as microfibres of between 150/1 and 167/1 dtex, all in E28 gauge, the inside of the single jersey fabric is napped for a fleece effect. Jürgen Müller recommends MV 4 3.2. II and the S4-3.2 circular knitting machines for this purpose. In addition, Relanit machines suitable for the manufacture of thermal underwear are stated as Relanit 3.2 S, Relanit 3.2 HS and Relanit 4.0.
Plush fabric with a 1.5 mm short loop also feels like fleece on the skin. The MPU 1.6 knits this fabric in gauges E22 to E28. Müller explains that yarn that shrinks a little is especially good for this purpose and says; "It can be functional microfibre yarn, which is always multifilament". A 10 per cent admixture of elastomer yarn is also common.
The third alternative for circular machine-knitted thermal underwear is fine rib fabric napped inside. Elastic by definition does not require any elastomer content. Müller relays that underwear manufacturers often opt for a mixture of 75 per cent cotton and 25 per cent polyester, disclosing; "On an FV 2.0 or a D4 2.2 the double jersey fabric comes out fine in E22 to E24 gauge".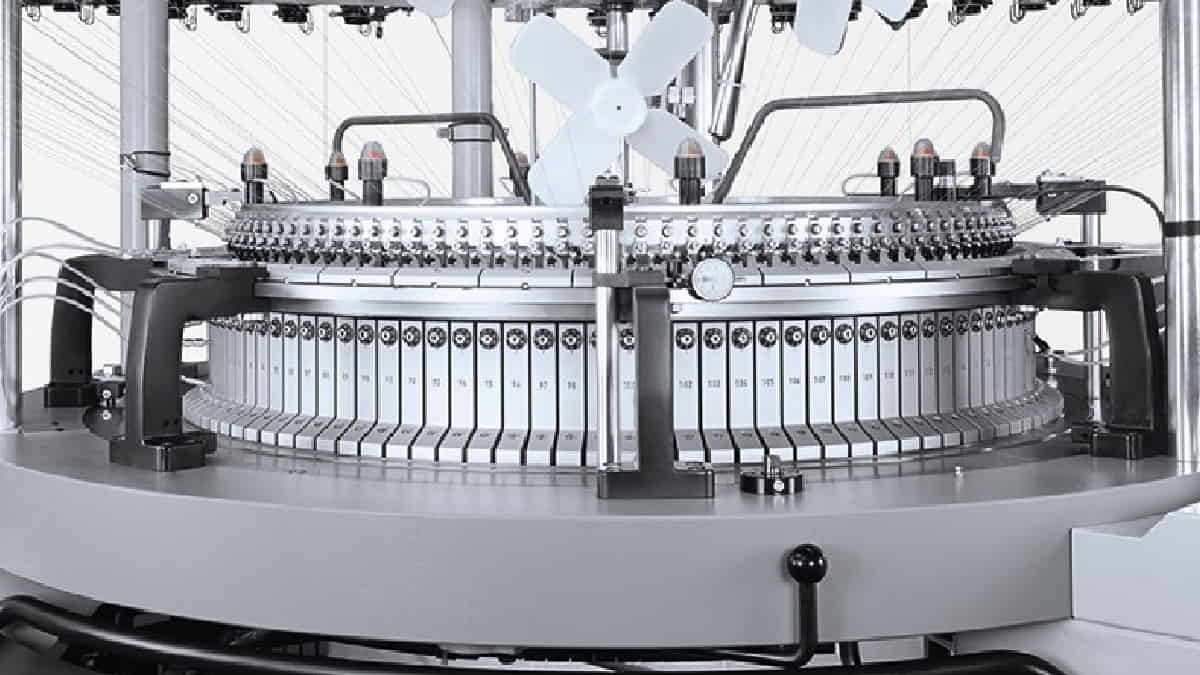 The trend in sports underwear; body mapping
Those who perform a physical activity with a high degree of intensity and are quick to perspire should wear as their first layer fine single jersey underwear. Jürgen Müller states that good results are achieved with polyester and polyamide yarns combined with a higher elastomer content of up to 18 per cent. While the fabric is knitted in fine gauges of E28 to E44 on, for example, an MV 4-3.2 II or an S4-3.2 II, the resulting compression effect makes fabrics especially breathable and easy and pleasant to wear.
Müller underlines that body mapping is another trend in sports underwear. Different perspiration areas of the human body are taken into account and patterns are made with double-sided plating. Body mapping requires larger plain segments in the back or stomach area as well as breathable jacquard areas underneath the armpits or on the sides. Body mapping structures almost without exception require elastomer plating. That means knitting with three yarns; basic, plated and elastomer. Müller says the right machine for this task is MJ 3.2 E.