Mimaki, the leading brand of large format inkjet printers and cutting plotters, is creating innovative solutions for the signage segment. The new Mimaki UJV100-160 UV roll to roll printer has been designed specifically for sign makers in emerging markets. The new printer reduces machine and ink costs to highly competitive levels, and brings UV technology to high-volume advertising and graphic printing business.
UJV100-160 stands out as a real alternative to the eco-solvent technologies used by sign makers. Known high quality, application richness and efficiency of UV printing is now combined with affordable costs. UJV100-160 is preparing to rewrite the rules of the game in the signage market, both with its machine and ink price.
Mimaki UJV100-160, meet a new piece of hardware: DAS
Production costs are of great importance for high volume jobs. UV technology, which is mostly preferred for niche and private works, can reach high volumes with UJV100-160. The first of the two innovations that provides this is two newly developed printheads. Another innovation that increases efficiency and speed is the DAS (Dot Adjustment System) feature.
DAS automates conventional dot placement (dot position and feeding correction) for maximum image quality, saving operators time and reducing manual errors.
VOC-free inks are cured fast, protect health and the environment
UJV100-160 can reach a maximum speed of 23 m2/hour in draft mode. Another of its superior aspects is the inks it uses. UV-curable inks are used for efficient production and do not contain Volatile Organic Chemicals (VOC), thus contributing to the protection of human health and the environment.
The environmentally friendly UV inks are cured immediately after printing and the printed material is ready for application. It eliminates the drying time that water-based or solvent ink requires. This may become the most important advantage, especially for busy sign makers. UJV100-160 offers them the opportunity to speed up their work schedule like never before. Faster production and faster product delivery mean more orders and higher added value.
One ink, one machine for several different materials in Mimaki UJV100-160
The ink used in UJV100-160 provides successful results in printing on several materials. PVC, tarpaulin and paper with no acceptance layer, PET film, and even fabric are among the most used materials in the signage industry, and they can be printed on easily and rapidly. Being able to work with different materials with a single machine and ink contributes to associated substrate cost efficiencies and an increased variety of application possibilities.
For example, the UJV100-160 can produce a two-layer print, in which white ink is used for transparent PET film. Products with high added value can be produced in varnish print by using clear ink. This ink will be introduced to the market in the near future. The printing system encourages its users to open up to new markets with its creative application variety.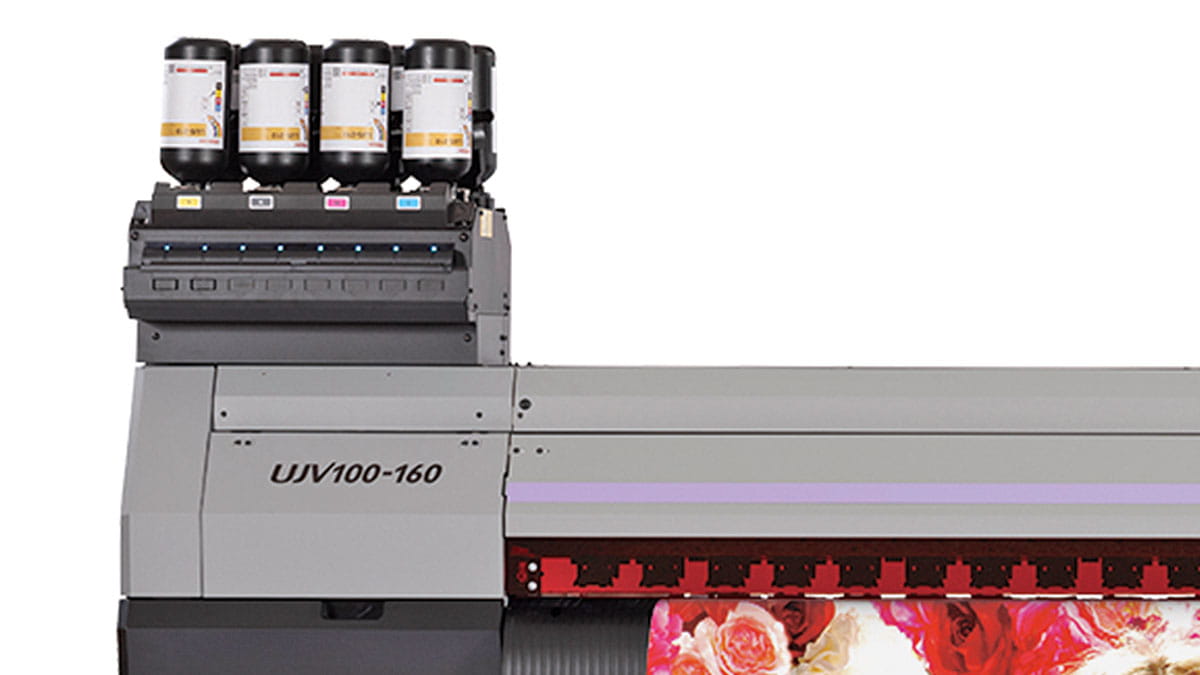 Seamless printing with Mimaki Core Technologies
Well-known Mimaki Core Technologies are also featured in the UJV100-160 UV roll to roll printer. These technologies bring print quality and process reliability to high standards. The Nozzle Control Unit (NCU) performs nozzle detection and automatic cleaning function. The Nozzle Recovery System (NRS) automatically replaces defective nozzles. Thanks to these equipment, uninterrupted printing and a stable high image quality can be achieved. Possible banding (band effect), irregular colours and bright lines are minimized with the Mimaki Advanced Pass System (MAPS4) enabling a gradual transition in printing. Mimaki Advanced Pass System (MAPS4) prints pass boundaries in gradation to reduce banding, uneven colour, and glossy streaks.
Hüseyin Şarerler, Regional Sales Manager, Mimaki Eurasia, said that they offered an innovation that would change the game in the signage market. Şarerler said; "Signage professionals who want to grow their business and increase their profitability get the versatile solution they are looking for with the UJV100-160. They can produce more without increasing machine and ink costs. In addition to standard signage and banner printing, a single printer is sufficient for POP, soft signage, stickers, and window decoration".